One thing I can't live without is jewelry. My fascination with jewelry started at a young age growing up in a Trinidadian household. Being a Caribbean daughter means you'll likely get an ear piercing as a baby and rock a few bangles before you can walk or say a word. As a teenager and young adult, I loved collecting costume jewelry from places like Claire's and Forever 21. Now as a full-fledged adult, I enjoy collecting jewelry on my travels and using my rings, earrings, necklaces, and bracelets to communicate my personal style and experiences with the world.
I've struggled to keep my jewelry organized for as long as I can remember. Each year, I would spend the weekend going through my pieces and giving away jewelry I'd outgrown stylistically or throwing away costume jewelry that was now tarnished or broken. I'd try to organize my jewelry on hooks or jewelry stands but wasted time and money on organizers that took up too much space and didn't reflect my design style.
View this post on Instagram
Last year, I invested in a jewelry organizer that doubled as decor. I love versatile, functional pieces that match my aesthetic when decorating my space. This approach has been so helpful as I am currently in the process of designing my new space. Having a jewelry organizer that doubles as decor help me see all the pieces I own, keeps them untangled and pristine, and makes my space look put together.
If you're a jewelry enthusiast like I am, one of the best things you can do for your pieces is to get an organizer that displays them beautifully. It's time we give our pieces more love. Organizers don't have to take up much room. Plenty of mirrors and stunning boxes allow you to display your jewelry pieces in an artistic, organized way.
Jump to Products
---
5 Jewelry Organizers That Double As Decor
Wide Jewelry Armoire With Mirror
Try this armoire with a mirror if your jewelry collection is too much to store on a dresser or surface. You won't have to feel frustrated with scattered jewelry in boxes or baskets. The armoire lets you beautifully display your jewelry, save space and feel organized.  The armoire is simple yet chic and works well in spaces with a coastal vibe. There are 20 earring hooks, a top storage box for your bracelets and necklaces, and seven felt-lined drawers. After putting your jewelry on, use the flip-top mirror to apply makeup and ensure your hair is picture-perfect. The armoire is 40" tall.
Floating Jewelry Holder
This open triangle concept jewelry holder works well in spaces with a bohemian design style. It mounts on your wall and is perfect for storing earrings, rings, necklaces, and bracelets. If your personal style is minimalist and you tend to wear more dainty pieces, this is a great choice for organizing your jewelry.  Made with solid white oak, brass rods, and brass hooks, this wall-mounted floating jewelry organizer is sturdy and was designed and handmade in Los Angeles. The wood used was sourced and handpicked from local lumber yards in California. Not only is this piece great for storing and organizing your jewelry, but it's an art piece that is pleasing to the eye. 
Lacquer Jewelry Box Tower
Whether for your teenager's room or yours, this lacquer jewelry box tower is every fashionista's dream. The acrylic and gold handles make this tower perfect for those with an eye for a luxe legacy design style. Add a fur throw, gold accents, and plush bedding to complete your space.  The jewelry box tower perfectly stores our earrings, bracelets, necklaces, rings, bangles, and more. With an all-in-one design, you'll have side doors with hanging hooks, divided linen-lined drawers, and a padded ring holder. The finish is lacquered, adding a glam appeal to your bedroom. This piece has four drawers, five compartments, and 18 hooks. 
Large Quartz Box
This stunning box is a minimalist's dream. Not only is it beautiful on the eye, but it's practical and stores all your favorite jewelry without being overpowering or clunky. This large quartz box will fit all your jewelry necessities, from earrings and rings to necklaces and bangles.  Made in India, this box is made from quartz and resin, and no two boxes are alike. You can display this box as is on your dresser or layer it with the smaller version of the box, also available on CB2. To clean, dust with a soft, dry cloth. Avoid using abrasive cleaners on this beautiful quartz box. 
Swivel Jewelry Cabinet With Full-Length Mirror
Having a good full-length mirror is a fashion and jewelry lover's dream. After all, how can you go out into the world without properly seeing your entire outfit? What's best about this swivel full-length mirror is that there's a built-in jewelry armoire. From the outside, it appears to be just a mirror, but open it, and you'll see tons of space for your earrings, rings, necklaces, and bracelets. There's even room for your fragrances, makeup brushes, and toiletries.  This is a great piece to add to your bedroom or studio if you live in a small space. It also works with most design styles. Your jewelry will be organized and displayed beautifully with 54 earring slots, 78 ring slots, 12 hooks for tour necklaces, three acrylic storage boxes, five storage racks, and 3 tier storage shelves. 
Our editors love finding you the best products and offers! If you purchase something by clicking on one of the affiliate links on our website, we may earn a commission at no extra cost to you.
---
---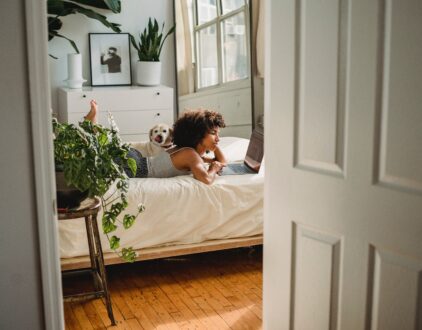 FOLLOW ALONG ON INSTAGRAM
Find us on social for more home inspiration where culture, personal style, and sophisticated shopping intersect to help you create a home where you love to live.