One of the best things about summer holidays is the guaranteed sales at our favorite retailers and brands. If you're a new homeowner or looking to find essentials for your home, now is the best time to score deals on items you've been eyeing for a while. And we've got good news for those who love cooking and being in the kitchen — Le Creuset, yes the Le Creuset, is having a sale.
The iconic French cookware brand is discounting some of its most popular cookware by up to 35%. These investment pieces are not only durable and long-lasting, but they add an exceptionally polished finish to any kitchen aesthetic. If you've always wanted the brand's beloved Dutch oven, now is your time to add it to your cart because it's also on sale. With beautiful enamel and vibrant glaze finishes, Le Creuset's pieces come in a variety of striking colors to align with your design style. The sale includes everything from single pieces to sets like the Toughened Nonstick PRO 10-Piece Cookware Set, Stainless Steel Mixing Bowls with Lids, 16-Piece Dinnerware Set, and more.
Summer is all about embracing the sun, spending time with your loved ones, and enjoying good food. Treat yourself by investing in Le Creuset pieces that will last for years to come and may even inspire you to test out new recipes when hosting your next summer soiree.
Keep scrolling for the items we're adding to our carts from the Le Creuset sale.
Signature Stainless Steel 2-Piece Fry Pan Set
This best-selling stainless steel fry pan set is durable, versatile, and beautifully fits with most kitchen aesthetics. You can use these fry pans on the stovetop as well as in the oven, making them a versatile choice. The try-ply stainless steel has a full aluminum core that extends up the sides of the pans and to the rim. This allows the pans to have quick and even heat distribution. It also makes these pans durable and resistant to discoloration. The set includes an 8" and 10" stainless steel fry pan. The fully sealed dripless precision pour rim helps keep spills to a minimum. Each pan has an ergonomic stay-cool handle, which allows for comfortable movement on the stovetop. These pans are safe for the dishwasher and metal utensils.
Toughened Nonstick PRO 10-Piece Cookware Set
Purchase the brand's best-selling pots and pans at once by getting this 10-piece cookware set. It's the perfect set for those moving into a new home. These nonstick pans are four times stronger and are great for cooking omelets, searing fish, and sautéing vegetables. Each pan has a textured triple-reinforced coating that is perfect for browning and searing with and without oil. The pots are easy to wipe clean and are dishwasher safe. This set includes an 8-inch Toughened Nonstick PRO fry pan, 11-inch Toughened Nonstick PRO fry pan, 2-quart Toughened Nonstick PRO saucepan, 3-quart Toughened Nonstick PRO saucepan, 3 1/2-quart Toughened Nonstick PRO saute pan, and 6 1/3-quart Toughened Nonstick PRO stockpot.
Stainless Steel Mixing Bowls with Lids, Set of 3
There's a reason why these stainless steel mixing bowls have a 5-star rating and are best sellers. Not only are they easy to clean, but they're a versatile kitchen essential that can be used for everything from mixing batters to storing leftovers. There's a slip-resistant bottom that ensures stability while mixing ingredients. The lids have an airtight seal, keeping your food fresher for longer. These mixing bowls are designed to fit inside each other, making them easy to store. The stainless steel material does not absorb odors or flavors, so you never have to worry about limiting these bowls' use to storing only a certain type of food. These bowls are safe for the dishwasher and freezer and for use with metal utensils.
Le Creuset 16-Piece Dinnerware Set
Step up your dinnerware game with this 16-piece set. This set includes four of the brand's best-selling dinner plates, salad plates, soup bowls, and mugs. Each piece in this collection was crafted from premium stoneware and available in beautiful colors. The vibrant glaze finish of each piece makes it easy to clean, safe for the dishwasher, and resistant to chips, scratches, and stains. You can use these dishes daily and they will stay looking beautiful, adding an elegant touch to your tablescape. The pieces in this set have great heat retention and keep food warm or cold, perfect for serving. You can use these pieces in the oven, microwave, broiler, freezer, and with metal utensils.
Signature Enameled Cast Iron 7-Piece Cookware Set with Gold Knobs
This 7-piece cookware set features Le Creuset's best-selling pots and pans including their iconic Dutch oven. This is the perfect set if you're starting to build your Le Creuset collection as it has all of the essential cookware pieces for your kitchen. At an unbelievable price, buying this set on sale is a must. Each piece is made with enameled cast iron, which has great heat distribution and retention. All of the pieces are ready to use and do not require seasoning beforehand. They're easy to clean and are resistant to dulling, chipping, cracking, and staining. The ergonomic handles make it easy to lift around the kitchen. These pieces and dishwasher-safe and safe to use with metal utensils.
Our editors love finding you the best products and offers! If you purchase something by clicking on one of the affiliate links on our website, we may earn a commission at no extra cost to you.
---
---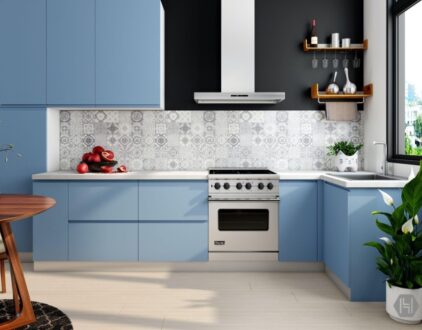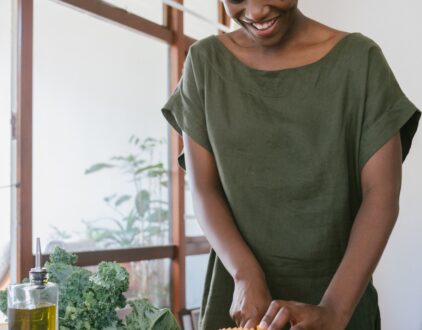 ---
Spaces
Whether it's luxury or ease, every area of your home should be as fabulous and unique as you.
FOLLOW ALONG ON INSTAGRAM
Find us on social for more home inspiration where culture, personal style, and sophisticated shopping intersect to help you create a home where you love to live.