October is in full swing, and along with it comes the crisp breeze and warm, rich hues of fall. While the scenic beauty of fall's orange, yellow, and red leaves is undeniable, raking them is not just about maintaining the aesthetic of your lawn. It's about lawn health as well.
Leaves left on the ground can smother your lawn, resulting in blocked light and reduced water evaporation. Unraked leaves create a wet, spongy environment and a breeding ground for molds and fungi, which can lead to lawn diseases. If you want to take care of our outdoor space this season, a reliable leaf rake is a must-have tool during this season.
Whether you have a large lawn or a cozy backyard patch, there's a rake tailored to your needs.
For expansive lawns, consider investing in rakes with a broader head span and longer handle. These rakes cover more ground, making it easier to gather leaves. Opt for rakes made from lightweight materials such as aluminum or plastic tines. This allows for extended use without causing strain.
If you have a smaller lawn or areas with delicate plants and landscaping, use a narrower rake head. These rake heads offer precision and ensure you don't accidentally damage plants in your garden. Having flexible, adjustable tines allows you to reach tight spaces or adjust for varying leaf volumes.
When choosing a rake, consider its ergonomic design. Handles with cushioned grips are great for reducing back strain and can make the chore of raking easier.
With the right rake in hand, your lawn will thank you, and you'll have the satisfaction of knowing you're preserving its vitality.
Keep scrolling to discover the rakes we're adding to our carts ASAP. Whether your lawn is big or small, these rakes are great to keep your yard pristine this fall.
True Temper 71-inch, 39 Tine Poly Leaf Rake
Embrace the fall season with the True Temper innovative leaf rake. This rake is perfectly crafted for homeowners aiming for a quick and efficient leaf cleanup. Its dual tines offer a seamless sweep, breezing through grass and layers of fallen leaves. Tailored to cater to both expansive lawns and small garden patches, the versatility of this rake is unmatched. Its comfort grip handle ensures that each raking session is productive and comfortable. This rake is definitely a must-have for big and small lawns this fall.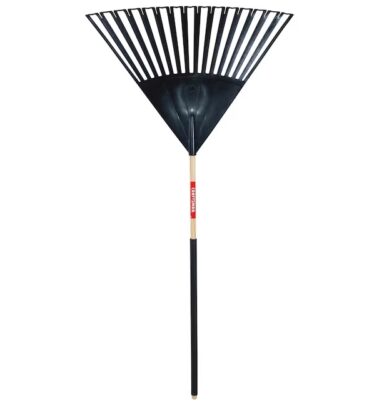 CRAFTSMAN Clog-Free 30-inch Lawn and Leaf Rake
Make leaf collecting a breeze this fall with the CRAFTSMAN 30-inch wood handle leaf rake. This rake is specially designed for both expansive gardens and cozy yards and boasts a large leaf raking capacity to ensure efficient coverage with each pass. Its 30-inch head features a unique clog-free teeth design, preventing leaves from sticking and slowing down your cleanup. Coupled with a durable 48-inch hardwood handle and a cushioned end grip, this rake is both efficient and easy to use. Whether you're tending to a large lawn or a modest garden patch, this rake is a fall essential for homes of all sizes.
True Tough 24-inch Lawn and Leaf Rake
Prepare for fall with this 24-inch lawn and leaf rake, the go-to tool for seamless raking sessions. Whether you're dealing with a large lawn or a quaint garden patch, this rake's 24-steel tine head ensures efficient leaf collecting, making it perfect for an efficient raking job. This rake is designed for durability and longevity, with the steelhead being securely bolted to the handle, eliminating any wobbliness during use. Complementing its robust head is a heavy-duty fiberglass handle, enhanced with an end grip for additional strength. Navigate through the leafy seasons with this rake, ensuring your lawn remains pristine, big or small.
Field Tuff 60-inch Steel Spring Coil Tine Tow Behind Landscape Rake
Tackling large lawns during fall is a breeze with the Field Tuff 60-inch Steel 3-point Pine Straw Rake. This rake is tailored for efficiency and equipped with 26 robust steel stones, making the removal of pine needles, straw, leaves, and grass effortless. It has a user-friendly design that allows it to be conveniently towed behind any utility tractor equipped with a category 13-point hitch. The coiled spring tines on this rake ensure an efficient operation that promises longevity. It can cover a generous 5-foot path in one sweep to expedite your lawn maintenance.
AMES 26-inch Dual Tine Poly Leaf Rake with Hand Rake
Enhance your fall lawn care routine with the AMES Dual-Tine Poly Leaf Rake. This innovative rake boasts dual tines, ensuring a 45% faster and more efficient raking experience. Expertly designed, this rake glides seamlessly through grass and fallen leaves, providing a spotless clean sweep. Its adaptable design caters to both expansive areas and compact nooks because of its detachable hand rake feature. The rake's handles are designed with a full-length textured grip, which ensures comfort and precision with every sweep.
Our editors love finding you the best products and offers! If you purchase something by clicking on one of the affiliate links on our website, we may earn a commission at no extra cost to you.
---
---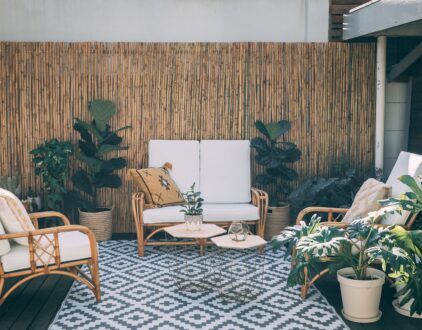 ---
Spaces
Whether it's luxury or ease, every area of your home should be as fabulous and unique as you.
FOLLOW ALONG ON INSTAGRAM
Find us on social for more home inspiration where culture, personal style, and sophisticated shopping intersect to help you create a home where you love to live.