Leather sofas are a great addition to any living room, providing elegance and sophistication that you can sink comfortably into. However, they require proper care to keep them looking their best. While they may be slightly more "high-maintenance" than their cloth counterparts, taking care of them is simple and will reward you with years and years of long-lasting furniture. Check out these tips for how to clean leather sofas and our picks for the best leather cleaners you can find online.
Understanding the Different Types of Leather
Before we delve into the cleaning process, it's essential to understand the different types of leather. There are two main types of leather used in sofas: aniline and pigmented leather. Aniline leather is natural and untreated, while pigmented leather is treated with a protective coating. Sometimes, you'll find semi-aniline leather, which is a combination of the two.
Routine Cleaning of Leather Sofas
Routine cleaning is crucial to keep your leather sofa in good condition. Here are some steps to follow:
Dust your sofa regularly with a soft cloth or vacuum with a soft brush attachment.
Use a mild, non-alkaline leather cleaner to wipe down the sofa gently.
Avoid using water or any abrasive cleaners as they can damage the leather.
Condition the leather once every six months to keep it supple.
Deep Cleaning of Leather Sofas
Over time, your leather sofa may accumulate dirt, grime, and stains, requiring a more thorough cleaning. Here are the steps to follow:
Vacuum the sofa to remove any loose dirt or debris every couple of weeks.
Use a soft cloth with your solution and wring it out thoroughly.
Gently wipe down the sofa, making sure to cover all areas.
Wipe the sofa again with a clean, damp cloth to remove any residue.
Let the sofa air dry and avoid using a hairdryer or heater to speed up the drying process.
Jump to Products
---
1
Leather Honey Leather Cleaner
This ready-to-use formula is powerful, odorless, and chemical-free, making it safe for use on your leather couches, as well as vinyl, faux leather, plastic, and rubber. It effectively removes dirt, oil, tough stains, and grime from new and old leather of all colors, including black, white, brown, red, and yellow. It even works on exotic leather! The solution is premixed and ready to use right out of the bottle. Simply moisten a lint-free cloth with the cleaner and gently apply it to your leather. No need to scrub or rub – just wipe down the dirty leather and allow it to dry.
2
Leather CPR Cleaner & Conditioner
Restore your leather sofas with Leather CPR. It features a deep moisturizing cream formula that's perfect for reviving other leather items, including jackets, shoes, purses, motorcycle gear, automobile seats, saddles, and other tack. What sets it apart is its commitment to using 100% cosmetic skincare ingredients that are dermatologist tested, making it safe for you and your family's skin. The cream formula deeply moisturizes leather, reducing scratches and softening the material. Plus, it cleans, conditions, restores, and protects leather all in one easy step, saving you time and money.
3
MiracleWipes for Leather Cleaning & Conditioning
These multipurpose wipes can be used not only on your leather sofas but also on upholstery, car seats, purses, bags, dress shoes, jackets, coats, and more. Each canister is designed for portable home or vehicle use. The easy-pull tab on the inside lets you remove a single wipe with each pull. In addition to cleaning, the wipes can also strengthen leather. By using them regularly, you can safely remove dirt, oils, and impurities from leather while also keeping the material soft, smooth, and strong. With these, you can enjoy the convenience of a portable cleaning solution that is effective and easy to use.
4
Weiman Leather Cleaner and Conditioner
If your leather items are looking dull and neglected, it's time to bring them back to life with the Weiman Leather Conditioner. This multi-action formula is designed to safely remove dirt, soil, and residue from leather surfaces, while also moisturizing, strengthening, and softening your leather couches. Its multi-action formula conditions and protects in one simple step, saving time and effort. This versatile product is perfect for use on a wide range of other leather accessories, including purses, shoes, boots, briefcases, and handbags. And with its UVX-15 sunscreen, this conditioner protects all types of leather from sun damage, fading, drying, and cracking.
5
Chemical Guys Leather Cleaner and Leather Conditioner Kit
This kit is a must-have if you're looking to restore and maintain leather couches in your home. The leather cleaner in this kit is pH balanced, colorless, and odorless, making it safe for use on a wide range of leather items. It penetrates the pores of the leather to remove dirt and oils, preparing the surface for conditioning. The leather conditioner in the kit has a subtle leather scent and contains Vitamin E to nourish the leather and help reduce daily damage. Both products in the kit are also proudly produced in the USA by Chemical Guys.
Our editors love finding you the best products and offers! If you purchase something by clicking on one of the affiliate links on our website, we may earn a commission at no extra cost to you.
---
---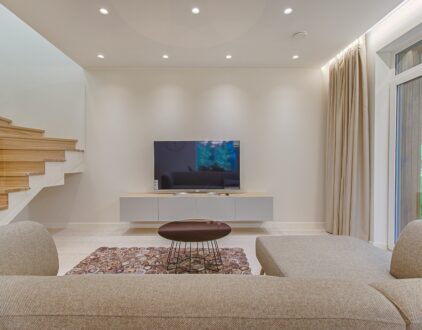 ---
Spaces
Whether it's luxury or ease, every area of your home should be as fabulous and unique as you.
FOLLOW ALONG ON INSTAGRAM
Find us on social for more home inspiration where culture, personal style, and sophisticated shopping intersect to help you create a home where you love to live.