Paris has been a city romanticized by millennials for years and with good reason. The city of love, art, and fashion is filled with stunning architecture, renowned art museums and galleries, and charming cafes. Paris has served as a muse for fashion lovers, artists, designers, and homeowners. The Parisian-inspired decor is elegant, chic, and timeless. Much like Parisian fashion, their interior design blends traditional and contemporary elements. Parisian's way of life blends into their home design to create an effortlessly glamorous, livable, and picturesque space.
Curating a Parisian Home
When curating a home that exudes Parisian energy, you should focus on a space with a muted color palette. Start with neutral shades of beige, cream, gray, and white. Pops of color can be added throughout your space with art pieces or cushions. Most Parisians incorporate jewel tones into their color palette. This can look like emerald green, gold, red, and navy blue shades. The Parisian color palette is one that is inviting and adds a touch of glam.
There should be attention to detail, well-crafted furniture, and elements like crown molding, marble, and fireplaces. These details are commonly found in Parisian homes and accented with furniture with curved lines and plush seating. Choosing investment pieces that will last the test of time is key when curating a home reminiscent of Parisian design. Consider furniture with fabrics like linen and velvet and layer it with a textured throw blanket.
No Parisian home is complete without accessories. Mixing antique and contemporary accessories are critical to a Parisian-inspired home. This means adding pieces like chandeliers, antique wallpaper with floral designs, or a gilded mirror. Parisian homes are decked out in texture, elegance, and class.
Jump to Products
---
Foley Faux Mohair Grey Dining Room Armchair
Parisians like to keep things elevated yet simple. Simplicity and elegance should be at the forefront when decorating a Parisian-inspired living room. Whether in your dining room, living room, or nook, this grey dining room armchair is a beautiful addition. The arms and legs of the chair are designed as one to flow together and give a base to a comfortable seat. This type of chair is commonly found in Parisian lofts. It's simple enough for a dining room chair and well-designed to pass as an accent chair. We love to place this chair next to a beautiful coffee table with books about art, style, and architecture.
Grinstead Arch Wall Mirror
Parisians love white walls as much as they love the items that adorn them. Inspired by 18th-century wallpapers, Parisian love decorating their homes with an antique and classy feel. In addition to wallpaper and decorative panels, gilded mirrors are loved in Parisian households. They are typically placed above the fireplace in the living room. They can also be placed in bedrooms and dressing rooms. Mirrors are great for brightening a room and making a room look more spacious. This mirror will be a stunning addition to your home and oozes Parisian flair. Whether by itself or with a stack of your favorite novels to complement the mirror, this home accessory is quintessentially Parisian.
Le Creuset White French Press
We love an item that is functional and serves as decor. That's exactly what this white French press is by the beloved brand Le Creuset. Wake up and make fresh coffee with this stoneware and glazed classic white French press. With a glossy enamel finish, this piece is scratch-resistant, and the interior is nonstick. This French press can hold 27 ounces of liquid and is great for ground coffee or tea leaves. In addition to being scratch resistant, it's also resistant to staining, cracking, crazing, and rippling. With beauty and function, this piece can be left out on your counter to exude a Parisian household.
Grand Waterfall Cascading Chandelier
Most Parisian apartments feature a chandelier. These sparkling features are a classic Parisian design element, whether a traditional crystal chandelier, mid-century, or contemporary. Exchange your current light fixture for a chandelier and watch your space transform into a Parisian abode. We love this chandelier for its rows of cascading glass to make a beautiful grant waterfall piece of art. The chandelier is both industrial and elegant and is the perfect accent for entrances, living rooms, and even kitchens. It has an adjustable hanging height and can be hung from a sloped ceiling. This chandelier accommodates ten incandescent bulbs with a maximum wattage of 40.
Whitman Sofa (86")
Parisian design is all about mixing traditional pieces with contemporary ones. Incorporating antique furniture and trinkets from your travels with minimal furniture curates a space that is personal and reminiscent of Parisian interior design. This West Elm sofa comes in a beautiful stone white color that works perfectly in a Parisian-inspired home. With both comfort and contemporary beauty, this is a sofa that will enhance any space it's in. There are deep, wide seats that are perfect for welcoming guests. The cushions are versatile and have reversible cushions with zip-off covers, so you can always switch up your room's aesthetic.
Our editors love finding you the best products and offers! If you purchase something by clicking on one of the affiliate links on our website, we may earn a commission at no extra cost to you.
---
---
Decorate
Access design inspiration that infuses personality and culture into your spaces.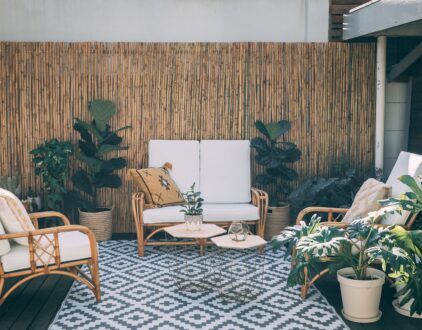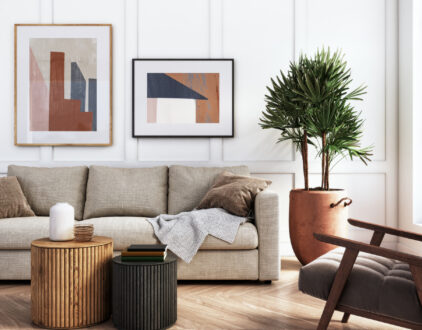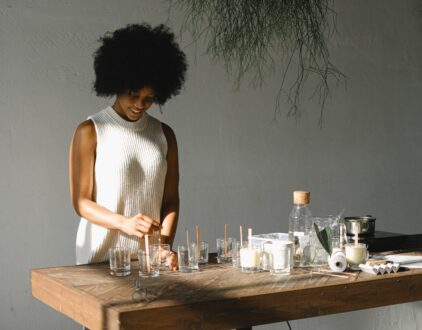 ---
Spaces
Whether it's luxury or ease, every area of your home should be as fabulous and unique as you.
FOLLOW ALONG ON INSTAGRAM
Find us on social for more home inspiration where culture, personal style, and sophisticated shopping intersect to help you create a home where you love to live.