After a long day of work, checking off tasks, and being "on," getting into your bed at night is a much-needed time to rest and rejuvenate for the next day. Creating the comfiest bed possible is an endeavor that can transform your sleep experience into a luxurious and restful haven. To create the comfiest bed on earth, you have to pay attention to various elements of your bed, from the mattress to the bedding. Intentionally focusing on the details of your bed helps with creating a level of comfort that feels like pure bliss.
Here are tips for making the comfiest bed on earth.
Invest in a High-Quality Mattress
Creating an ultra-comfortable bed starts with the foundation. Choose a high-quality mattress that suits your sleeping preferences. There are plenty of types of mattresses to choose from, including innerspring, hybrid, or memory foam. Consider the mattress's firmness, support, and temperature regulation to choose a mattress that is both comfortable and supports your body.
Layer With a Mattress Topper
Add an extra layer of softness and cushioning to your bed with a plush mattress topper. Memory foam and down-filled toppers are great for providing contouring support for your body as well as additional comfort.
Use Luxe Bedding
The quality of your bedding matters when making the comfiest bed in the world. Choose high-quality bedding made from soft and breathable materials. Select sheets with a high thread count, like bamboo or Egyptian cotton. These materials will feel smooth and luxurious against your skin. Add a duvet or comforter filled with down or alternative down to create a cozy and luxe sleeping experience.
Remember Pillows Matter
It's important to select the right pillows for your sleeping style. Great pillows should provide adequate support for your neck and head. You can find the right balance of softness and support by choosing pillows made with memory foam, down, or a combination of the materials. Experiment with a variety of pillow densities and shapes to discover what best aligns with your preferences.
Layer Pillow Sizes
Create a luxurious and inviting look by layering your bed with various sizes of pillows. Start with a larger European or king-sized pillow against your headboard, then layer with standard or queen-sized pillows in front. Complete your pillow layering with decorative accent pillows for visual appeal.
Add Cozy Throws and Blankets
When making the comfiest bed in the world, add plush throws and blankets in the mix. Opt for materials like soft knits, fleece, or faux fur. These textures create a cozy and inviting atmosphere. Drape them at the foot of your bed or layer them over your comforter or duvet for an aesthetically pleasing and functional touch.
Set an Optimal Sleeping Temperature
Create the comfiest bed in the world by maintaining an optimal sleeping temperature. Use breathable, moisture-wicking sheets to prevent overheating while sleeping. If you get cold, use extra blankets or invest in an electric blanket or heated mattress pad.
Fluff Regularly
Make it a habit to fluff and arrange your pillows, throw blankets, and duvet regularly. This maintains a cozy appearance and even distribution of fill. Fluffing can also prolong the life of your bedding.
Incorporate Canopies or Drapes
Create a dreamy bed by adding a canopy or drapes. Choose light and airy fabrics to create an ethereal atmosphere. Canopies and drapes are great for creating coziness and privacy, transforming your bed into your personal retreat.
---
---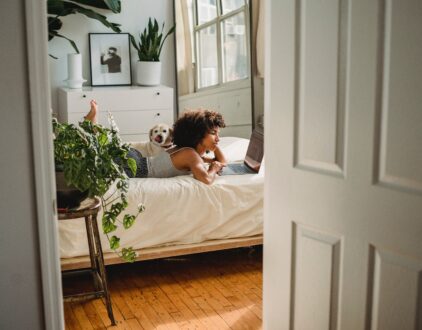 ---
Spaces
Whether it's luxury or ease, every area of your home should be as fabulous and unique as you.
FOLLOW ALONG ON INSTAGRAM
Find us on social for more home inspiration where culture, personal style, and sophisticated shopping intersect to help you create a home where you love to live.