When it comes to home decor and comfort, bedding plays an important role in shaping the ambiance of your bedroom, from the curation of its look to sinking into its comfort. It's all about layers, and each element contributes uniquely to your sleep sanctuary. Discover the differences of each piece that, when combined, make for the ultimate sleep experience.
Sheets: The Foundation of Comfort
Naturally, you'll want to start with sheets. These provide a soft and smooth foundation for your slumber. Typically crafted from materials like cotton, linen, or microfiber, sheets come in various thread counts and designs to cater to individual preferences. The thread count, which measures the number of threads woven into a square inch, determines the smoothness and durability of the sheets. Higher thread counts sometimes offer a more luxurious feel, but it's ultimately a little more complex than that.
When selecting sheets, cotton is a perennial favorite. Its natural breathability and moisture-wicking properties make it an excellent choice for year-round comfort. Linen sheets, on the other hand, are known for their unmatched breathability, perfect for hot summer nights. Microfiber sheets are prized for their softness and affordability, making them a popular choice for those on a budget.
Coverlets: Elegance and Versatility
Coverlets add sophistication to your bed while maintaining a lightweight and versatile appeal. These coverings are typically quilted or woven, featuring intricate patterns and designs. Coverlets are ideal for layering, as they can be paired with other bedding components to create a visually appealing and cozy bed.
The beauty of coverlets lies in their versatility. They can serve as the topmost layer on your bed during warmer months, offering just the right amount of coverage. When the temperature drops, they can be effortlessly combined with quilts or comforters for extra warmth. Coverlets also come in a variety of sizes, from twin to king, ensuring a snug fit for any bed.
Throws: Casual Comfort and Style
Throws are the ultimate expression of casual comfort and style. These smaller blankets are perfect for draping over the foot of the bed or tossing over a chair. Throws come in a variety of materials, from knitted and woven to faux fur and fleece. They provide an extra layer of warmth when needed and add a pop of color or texture to your bedroom decor. They're that final touch that ties your bedding look together.
A throw's lightweight nature makes it easy to switch up your bedroom's look with minimal effort. They are excellent for adding a splash of color or introducing a new texture to your bedding. Throws also serve as quick and convenient solutions for keeping warm on chilly evenings without the need for heavy blankets.
Quilts: Handcrafted Artistry
These bed coverings are made by stitching together layers of fabric, often with intricate patterns or designs. Quilts not only provide warmth but also serve as works of art for your bed. They are known for their timeless appeal and are passed down through generations, making them cherished family heirlooms if that's your vibe.
Quilting is an art form in itself, with intricate patchwork or stitching that tells a unique story. Beyond their aesthetic appeal, quilts offer warmth and coziness, making them a favorite during colder seasons.
Comforters: Luxurious Warmth
These thick, fluffy blankets are filled with insulating materials such as down, feathers, or synthetic fibers. Comforters are known for their ability to provide exceptional warmth and comfort. They are available in various sizes and are designed to fit snugly inside a duvet cover for easy maintenance.
---
---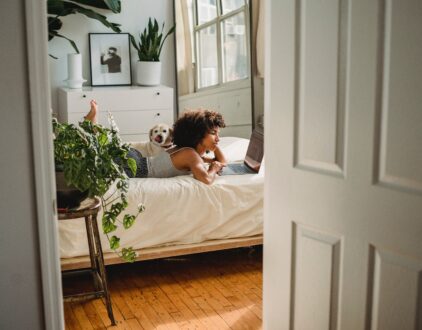 ---
Spaces
Whether it's luxury or ease, every area of your home should be as fabulous and unique as you.
FOLLOW ALONG ON INSTAGRAM
Find us on social for more home inspiration where culture, personal style, and sophisticated shopping intersect to help you create a home where you love to live.