Walk into a home decor store, and you'll notice that most items cater to women. Although many women take charge when it comes to curating a warm and welcoming home, men need love too. Whether you're a man looking to elevate your bachelor pad or a family man wanting to curate a man cave, there are stylish options out there for you to decorate the walls. Wallpaper is one of the best ways to add a touch of masculinity to your space. Masculine wallpaper designs often emphasize bold, clean lines, sophisticated patterns and rich colors.
Here's how you can find the perfect stylish masculine wallpaper for your bachelor pad or man cave.
Color Palette
When looking for stylish masculine wallpaper, look for a color palette with deep shades of blue, black, gray or earthy tones. These colors exude strength and sophistication. Select wallpaper designs with contrasting colors or subtle textures to add depth and visual interest to your space.
Geometric Patterns
Wallpaper with geometric patterns adds a modern and masculine touch to a room. Select wallpapers with stripes, herringbone, hexagons and chevrons. These patterns add structure and order to your space.
Industrial Elements
Choose wallpaper designs with an industrial vibe to add a masculine touch to your home. Wallpapers with a brick or concrete pattern can add a rugged feel to a space, while still being elevated and contemporary.
Nature-Inspired
Add a touch of nature to your space with wallpapers featuring natural motifs. Designs with wood grain, botanical patterns and tree bark bring a masculine connection to the outdoors to your space.
Subtle Patterns
If patterns aren't your thing, there are understated options, such as pinstripes, houndstooth or subtle damask patterns. These small scale designs add sophistication to your home without being overwhelming.
Keep scrolling to start your stylish masculine wallpaper journey.
Lex Geometric Wallpaper
Liven up the look of your walls with this modern and minimalist geometric print wallpaper. With a touch of masculine glamor, this bold geometric print perfectly complements different types of furniture. The matte geometric shapes are outlined in gold or gray, giving it a bold contemporary appeal. This wallpaper is unpasted vinyl on non-woven wallpaper. You can choose from a black background with gold outlines or a white background with gray-outlined geometric shapes. It's also a great look for an elevated man cave, creating the perfect vibe to unwind with a drink in hand.
Alianne Geometric Wallpaper
This stunning non-pasted wallpaper brings a modern look to any space. The repeating geometric pattern is made with vinyl and has a smooth texture and matte finish. The embossed squares have a 3-D look, adding dimension to your space. It's easy to clean this washable wallpaper. It's a great wallpaper for high-traffic areas in your home. Its minimalist design makes it perfect for the man who loves a simple, sleek and elevated aesthetic.
Ammirato Abstract Wallpaper
Give your wall an innovative, modern upgrade with this abstract patterned wallpaper. This non-pasted wallpaper is eco-friendly and non-toxic. It has a smooth texture and matte finish. The print is of great quality because it was printed in high resolution. This wallpaper works well in homes with a modern or minimalist style. It's works well with most color palettes. It's the perfect addition to a man cave area. It also works great in a home office or bedroom. It's masculine while still appealing to women. You can keep it simple or add maximalism to this wallpaper with layered decor, art and unique furniture pieces.
Equestrian Plaid Green Wallpaper
This classic tartan plaid wallpaper channels the aesthetic and vibe of the Scottish Highlands. It's a simple design with layers of tonal stripes. The tradition of equestrian plaid is characterized by multiple shades woven in wool. The rich tales of red and green or deep blue and green are accented with hints of orange and yellow or nude and pale blue. This wallpaper is non-woven with a satin matte texture. It's a great look for a man cave and for men who love sports. Add a brown leather couch to complement this iconic wallpaper. With this wallpaper, you can sit back in your space with a cigar in hand and enjoy the little luxuries in life.
Caldwell Peel & Stick Abstract Wallpaper
Inspired by the rich heritage of South Africa's Zulu tribe, this wallpaper honors the tribe's design. This peel-and-stick wallpaper has a black background with a jute beige layered roping effect stacked in continuous rectangles. It gives any room an elegant and royal look. It works well in bedrooms, living rooms and home offices. The beautiful thing about this wallpaper is that it appeals to all genders. It's masculine enough for a man who lives by himself and sleek enough for the entire family to enjoy. Leather and rich wood furniture pieces, along with natural textures will complement this wallpaper well.
Our editors love finding you the best products and offers! If you purchase something by clicking on one of the affiliate links on our website, we may earn a commission at no extra cost to you.
---
---
Decorate
Access design inspiration that infuses personality and culture into your spaces.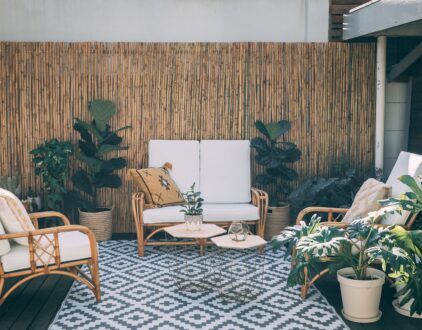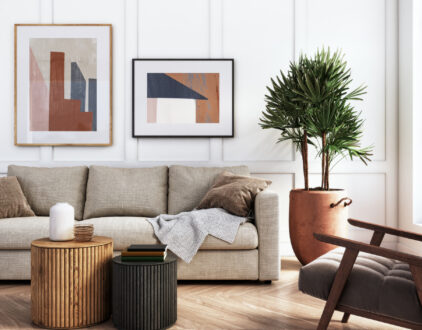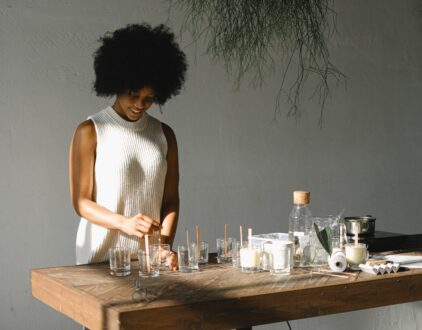 ---
Spaces
Whether it's luxury or ease, every area of your home should be as fabulous and unique as you.
FOLLOW ALONG ON INSTAGRAM
Find us on social for more home inspiration where culture, personal style, and sophisticated shopping intersect to help you create a home where you love to live.