When you think of the word earth tone, do you think of boring, bland colors? If you do, then you need to become reacquainted with these colors because you'd be surprised at what you can do with earth-tone wallpaper. Earth-toned wallpaper can elevate a room's mood, and we came across some must-have earth-toned wallpaper designs that are perfect for any space.
For most people, earth tones remind them of places like the doctor's office or church. But earth tones can really surprise you, especially if you are already torn on what to do with your walls. Here's your sign that it is time to ditch those paint swatches and try something new.
How To Incorporate Earth Tone Wallpapers
View this post on Instagram
Earth tones can be rich and sophisticated, and they can also be used in any room. With earth-toned wallpaper, you can decorate your home with colors that will complement your home's aesthetic now but also allow you to build upon it over time. It's hard to clash with earth-toned colors, as they pair well with just about any color and texture.
Earth-toned wallpapers can be minimalistic, too. If you want something subtle, you can go for a more demure earth tone like gray or khaki color. The darker the earth tone is, the more reserved it can be.
But, if you want to use earth-tone wallpaper to make a room more glamorous and bold, consider selecting earth-toned wallpaper that focuses on abstract and different geometrical lines. You can even play with wallpaper that has different textures that will make your walls stand out even more.
Benefits of Earth Tone Wallpaper
Choosing wallpaper over paint has many upsides to it, as it can be more durable and long-lasting, easier to clean and maintain, and able to cover up imperfections on walls more effectively.
Earth-tone wallpaper specifically also creates a calming and grounding effect, making them ideal for creating a relaxing atmosphere in any room. When you select earth tones as the foundation for your walls, you can create a clean, modern aesthetic for the rooms in your home.
It was hard to choose just seven wallpaper options. Take a look at what made the cut and start planning your Pinterest board accordingly.
Jump to Products
---
Antoinette Geometric Wallpaper
This wallpaper subtly brings out femininity in a space with its elegant botanical pattern inspired by Art Deco motifs. Perfect for bohemian design styles, you can complement this Antoinette Geometric Wallpaper with a Bird of Paradise plant or any other plant that suits your fancy. The arches in the wallpaper's print resemble medallion florals with its dotted technique. The geometric influence adds an artsy element to the design. With a matte finish, this wallpaper can easily be cleaned. You can gently scrub the wallpaper with soapy lukewarm water if there's a mark or scuff. When you're ready for a change in aesthetics, the wallpaper can easily be removed.
Modern Abstract Mural Wallpaper
This is not your typical earth-toned wallpaper! For those who have a more adventurous design look they want to achieve, this wallpaper is a showstopper. This incredible 3D wallpaper looks like an art piece itself. You have the option to select either the textured stick-and-peel wallpaper or the non-woven fabric. This wallpaper looks like a beautiful wall you would find in South America or Eastern Europe. With a mixture of colors such as blue, green, beige, white, and brown, this wallpaper will make a wonderful addition to any room. We think this would be perfect for an office space or an indoor nursery, as it instantly brightens any area.
Tempaper Urban Bronze Wallpaper
If you don't want to bother with long-term decor commitments, then this Tempaper Urban Bronze Wallpaper by Genevieve Gorder at  Crate & Barrel is right up your alley. Upgrade your hallways, bedroom, and eating areas with this wallpaper that is beautifully decorated with bronze geometric patterns that resemble triangular-woven shapes. The bronzed illustration pattern also has flecks of warm gold that will instantly light up any room. This wallpaper is best applied to walls that are in relatively good condition. Walls that have semi-gloss paint, satin, or eggshell coloring also work, too. We would love to see this wallpaper in a room with beautiful lamps and plants.
Graham & Brown Eternal Wallpaper
Ditch the monochrome look and opt for the decadent Graham & Brown Eternal Wallpaper in Charcoal and Bronze. Inspired by nature, this wallpaper captures the beauty of outdoor life with elegant, dark brown earth tones. This wallpaper will stand out in any room with its intricate glitter textures. The subtle black and orange colors provide just enough pop to spruce up your decor. This wallpaper is packaged into two feet per package. You can use it for just one wall or you can transform a nook area into a warm, nature-inspired fantasy room that will certainly bring a smile to anyone's face.
Romosa Textured Beige Wallpaper
This Romosa Textured Beige Wallpaper is dainty and it encompasses everything to love about earth-toned wallpaper. It has a luxury appeal with its premium paper that adds just enough sheen to your wall. To sweeten this deal, this wallpaper is also easy to clean and is stain and grease resistant. This wallpaper is also mold resistant so you can enjoy this design for years to come. With warm gray and silver being the additional color options, you can use this wallpaper throughout your home. Even though this wallpaper is a bit more muted than the rest on this list, it still sparkles.
Peel & Stick Geometric Wallpaper
This bold Peel & Stick Geometric Wallpaper from AllModern is for homeowners who want earth tones that make a big statement. This wallpaper bridges the influences from Keith Harring with the art deco style from the early 20th century. This wallpaper is in an exquisite terracotta color but also comes in a blue and taupe color option with the same art illustration. This terracotta color will look great against furniture made of dark wood or other neutral, earth-toned colors.
NextWall Lotus Floral Wallpaper
Now, if you want an earth-toned wallpaper that will add more softness and subtlety to your room, this Lotus Floral Wallpaper from NextWall is the answer you've been waiting for. This wallpaper infuses metallic golds and muted greys to create a delightful, warm aesthetic that is easy to install. All you have to do is peel and stick and it won't destroy your original walls. This wallpaper also comes in gray and ebony, metallic gold and cream, and metallic gold and grey. This wallpaper also illustrates a beautiful flower that really makes the metallic gold pop. This wallpaper will accentuate mirrors, vases, and statues in any room.
Our editors love finding you the best products and offers! If you purchase something by clicking on one of the affiliate links on our website, we may earn a commission at no extra cost to you.
---
---
Decorate
Access design inspiration that infuses personality and culture into your spaces.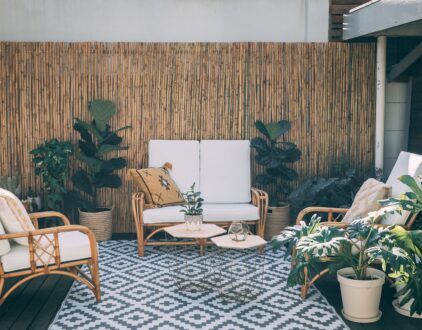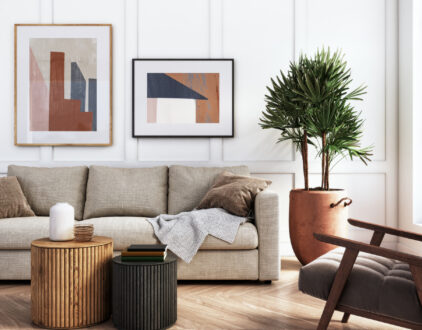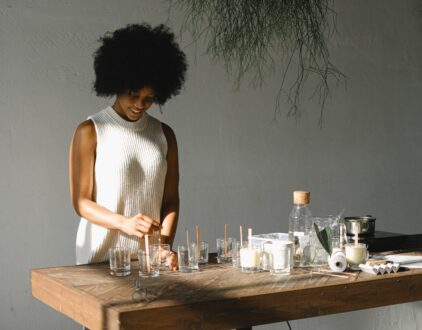 ---
Spaces
Whether it's luxury or ease, every area of your home should be as fabulous and unique as you.
FOLLOW ALONG ON INSTAGRAM
Find us on social for more home inspiration where culture, personal style, and sophisticated shopping intersect to help you create a home where you love to live.