Believe it or not, ottomans are extremely useful, and any home can benefit from one. It's often an underappreciated staple in your living room that doesn't get much use, but ottomans offer storage, extra seating, and multi-functional purpose while adding style to your home. For example, you can kick your feet up and use it as an extra footstool, or when guests are over, pull it out for extra seating. Or why not set a tray on top of it to use as a table to hold snacks for a family night or home decor to display your favorite knick-knacks? It offers a lot more than just something nice to look at, so here are some tips for making the most of it.
Choosing the Right Ottoman
When searching for the right ottoman, think about where and how you plan on using it. Understanding your purpose for this practical piece of furniture will help determine the size, style, and what fits you and your home. Ottomans come in different styles, textures, and colors. Using your ottoman to incorporate color in your home is a great way to add flair and character. Find different textures like velvet, mud cloth, and leather that will convey different moods in your home.
You can also get creative and bold and select ottomans that are attention grabbers with distinct shapes. On the other hand, if your home is minimal and neutral based, go for an ottoman with an understated look. Something that is noticeable but not too overpowering when added to other pieces of furniture. No matter the style, color, or fabric used, select an ottoman that doesn't clash but adds a touch of style and personality.
Making the Most of Your Ottoman
Get the most from your ottoman by understanding the ways that it can bring value to your home:
It's a space-saving savior.
Ottomans are practical and versatile pieces of furniture that many use for extra storage. Most of them come in sets of two: a smaller one for decorative purposes, and a larger one that allows you to place items inside to store. Other times you can purchase ottomans that are big in size with an opening for storage. What you decide to store in your ottoman depends on your needs. You could store extra blankets for when guests come over, or if you frequently leave your house on multiple occasions, store your sneakers or sandals for quick access. Use it as storage for anything you see fit.
It's just like a chair.
When purchasing your ottomans, think of them as extra chairs in a room. After all, that's what they are. Place them across from your sofa or coffee table in place of a dining bench. When they aren't being used and you have an entry area, store them under your entry table and take them out when needed. Or, keep them as part of your living room furniture on display.
They can double as centerpieces and coffee tables.
Ottomans offer a more modern and alternative approach when used as a coffee table. If you've decided to use an ottoman in place of a table, one that is sturdy will go a long way. This is an opportunity to be intentional with the fabric or texture you choose for your ottoman. Even if you decide on a comfy ottoman, you can still transform it into a table by placing a tray on top of it for home decor items. If your furniture set comes with an ottoman, you'll have a matching centerpiece that ties everything together.
They can give your legs a break.
Commonly used for footstools, ottomans offer comfort more than anything. If you decide on using an ottoman as a footstool, you'll want to have one that is typically an inch lower than your sofa set. Rest your legs and feet after a long day and relax knowing that your ottoman has your well-deserved comfort in mind.
---
---
Decorate
Access design inspiration that infuses personality and culture into your spaces.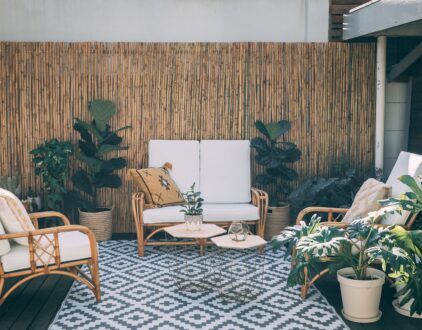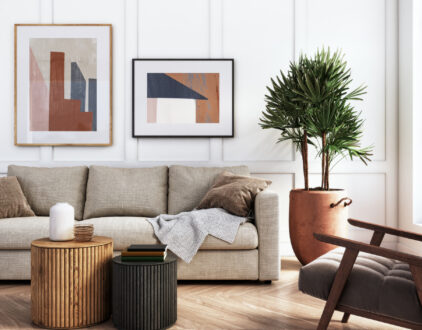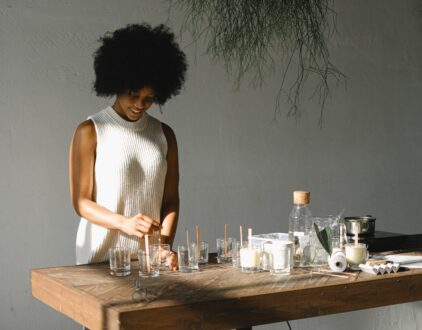 ---
Spaces
Whether it's luxury or ease, every area of your home should be as fabulous and unique as you.
FOLLOW ALONG ON INSTAGRAM
Find us on social for more home inspiration where culture, personal style, and sophisticated shopping intersect to help you create a home where you love to live.