Don't let the summer escape without you finally getting the chance to dive into your must-read book collection. Some of the best reading is done outside and, now that you have a home, there's no reason to rush to the busy beach all the time. You can set up your very own staycation in your backyard by adding outdoor chaise lounge chairs to complete your living space outdoors.
Everyone needs vitamin D, so don't miss the chance to enjoy the sun (while wearing your SPF, of course) and catch up on your favorite books this summer. These lovely outdoor chaise lounge chairs will make you feel like an old Hollywood star. With their luxe appeal and comfortability, you can't go wrong with adding these beautiful chairs to your yard.
Outdoor Chaise Lounge Chairs To Spend The Rest Of Your Summer In
It's hard to not feel like a Barbie girl in these relaxing seats. These aren't your outdoor seats from yesteryear that your parents and grandparents had, either. They aren't hard and uncomfortable or bad on your back. These chairs are designed with comfort in mind and not just the bare minimum comfort.
Now, you can leave your troubles behind or at least temporarily by gifting yourself much-needed outdoor seating. Now you can comfortably fall asleep in your backyard, under the sun without thinking twice. Let the sun kiss your skin as you immerse yourself in your favorite books.
Don't let the summer pass you by without shopping for an outdoor chaise so you can appreciate nature. While you may not be able to travel as much as you used to, you can still appreciate the small, simple things around you from your own backyard.
Now, make sure you bookmark this because these chairs are an absolute dream and you know you are not going to read all those books if you aren't comfortable. So do yourself a favor and get yourself a new chaise lounge chair and enjoy your staycation.
Lodi Woven Outdoor Chaise Lounge
Now this is an outdoor chair that will make you feel like you are on vacation. The Lodi Woven Outdoor Chaise Lounge from CB2 is an exclusive design by Jannis Ellenberger and is absolutely stunning. It is made out of teak wood in a subtle but warm gray color making it a great addition to your already established outdoor decor. This chair was made for outdoor reading and relaxing so indulge in the comfort of this chair that will transform your outdoor area into a staycation. You also have the option to remove the head cushion if you wish but just know it is soft, so if you enjoy outdoor naps, this is the chair for you.
Altje Outdoor Metal Chaise Lounge Set
Bring more modern appeal to your backyard with this sleek 4-Piece Altje Outdoor Metal Chaise Lounge Set from Wayfair. Now, you and your family or friends can relax in the sun together and enjoy nature right from the comfort of your backyard. These chairs are made of a durable, aluminum frame with water-resistant cushions that are detachable. Perfect for homeowners who live in regions where it's mild all year or even those who live in regions where the weather transitions slowly, these lounge chairs are great for reading your favorite books, sitting by the fire pit, or just having a nice, glass of wine and unwind.
Ariana 2pk Acacia Wood Chaise Lounge
Do you know what's better than one outdoor chaise lounge chair? Two, of course! This Ariana 2pk Acacia Wood Chaise Lounge kills two birds but not only giving you the ultimate outdoor comfort but giving you a pair to share. Now available at Target, these water-resistant lounge chairs have adjustable backrests which will allow you to set your chair in the most comfortable position according to your needs. Get lost in a steamy romance read or an enticing thriller as you enjoy the sunrays in this lounge chair. These chairs have a posh and luxurious look that will instantly upgrade your outdoor living area.
Adirondack Outdoor Chaise Lounge
We all know that Barbie loves a good chaise lounge chair to relax in the sun and there's no reason why you can't have one either. This Adirondack Outdoor Chaise Lounge for Patio Garden Poolside at Macy's is dripping in a retro, old Hollywood style that will make relaxing on your patio and backyard a vibe. It comes in 11 colors, from bright turquoise to a spectrum of neutrals. These chaise lounges are weather resistant, too, so you won't have to worry about them melting in the sun as they are coated with HDPE material. Not only is the lounge chair tough enough to withstand weather, but it's also comfortable, and you can adjust the backrest in five different positions.
Harnden Outdoor Metal Chaise Lounge
To experience the ultimate relaxation experience, try this Harnden Outdoor Chaise Lounge Chair from Freeport Park. Designed to provide comfort and convenience, its double-seated design and sunshade canopy is perfect for cozying up with your beau. The polyester canopy also protects you from sun damage by preventing UV rays from penetrating your skin. It's also waterproof so you can avoid getting it soaked if you sit near the pool.
Acacia Double Chaise with Cushions
This double chaise lounge set with matching cushions is the perfect way to relax outdoors in style. This set is fully adjustable so you can recline back and relax in the comfort of your own backyard. Bright lime green cushions can brighten up any outdoor area, whether for a summer party or a date night. Plus, with its easy assembly, you'll be able to enjoy it in no time!
Our editors love finding you the best products and offers! If you purchase something by clicking on one of the affiliate links on our website, we may earn a commission at no extra cost to you.
---
---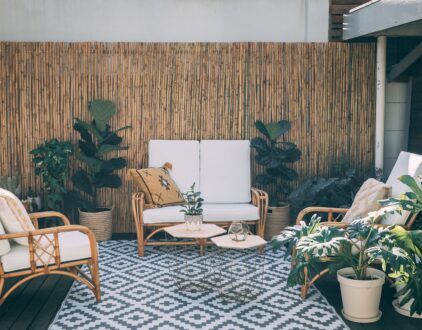 ---
Spaces
Whether it's luxury or ease, every area of your home should be as fabulous and unique as you.
FOLLOW ALONG ON INSTAGRAM
Find us on social for more home inspiration where culture, personal style, and sophisticated shopping intersect to help you create a home where you love to live.