The warm summer days provide a picture-perfect opportunity to go out, be active and enjoy the sunshine. Waterparks, lakes and beaches are cute, but this summer's best kept secret is closer than you think. It's an area that is just steps away and in your own backyard. It can be both relaxing and entertaining with plenty of things to do for you, your friends and your family to enjoy. Fill your days with these outdoor summer activities from gardening and barbecues to outdoor games and stargazing.
1. Relax in an Outdoor Lounge Area
Let your inspiration soar by creating your dream backyard space. Designing a comfortable outdoor lounge space is exciting because it can transform your backyard into a haven of relaxation. It also can open your world up to new activities and provide a space for entertaining.
Start by selecting durable and stylish furniture that is for the outdoors. Some key items include cozy outdoor sofas, lounge chairs and a dining set. Additionally, incorporate some shade options, such as umbrellas or a pergola. They can provide relief from the hot summer sun.
2. Host Backyard Barbecues and Cookouts
Take advantage of the warm weather by hosting backyard barbecues and cookouts. They're a great way to bring friends and loved ones together. You can make them as extravagant or as low-key as you want. Plan a mouthwatering menu, featuring grilled favorites, like burgers, hot dogs, grilled vegetables and delish desserts. Explore different marinades and seasonings to add flavor to your dishes.
Set up a cozy dining area with a table and chairs and add some lanterns for lighting, so you're ready for fun outdoor summer activities.
3. Update the Space with Gardening and Landscaping
Summer is the perfect time to nurture your green thumb and engage in gardening and landscaping activities. You can always start small, like planting vegetables or herbs.
Select plants that thrive in the summer heat, such as tomatoes, peppers, basil and rosemary. If you're ready for it, enhance your backyard with beautiful landscaping ideas, such as planting colorful flowers, creating a rock garden or installing a small pond.
4. Explore Outdoor Games and Sports
No matter what size your backyard, you can DIY several sports to fill up an entire afternoon. Set up a mini-golf course with obstacles and challenges, get two nets and a soccer ball for an instant soccer field or toss around a football.
Add some friendly competition to the mix and invite friends and family for a friendly game of volleyball or badminton.You can also try classic outside summer activities, like horseshoes or cornhole. These activities are not only fun, but a great way to stay active and avoid the temptation of vegging out in the comfort of your air conditioning.
5. Plan a Movie Night Under the Stars
If you and your family are big on movie nights, take it to a whole new setting and create a magical experience by setting up an outdoor movie screening in your backyard. You don't need to invest in a pricey system, a projector and a portable screen can create an instant outdoor theater.
Comfort is key, so focus on setting up cozy seating with blankets, pillows and outdoor chairs. Don't forget to prepare some delicious snacks to enhance your movie night.
6. Enjoy a Refreshing Pool Party
If you have a pool or are considering installing one, you can host a pool party with friends and family. Set up a designated pool area with lounge chairs, umbrellas and inflatable floats. Provide various pool games and activities, such as water volleyball or diving contests, to keep everyone entertained.
7. Host a DIY Craft or Art Workshop
If you're a creative at heart, or maybe have a bestie that knows a cool skill like macrame or candle-making, let creativity shine with a DIY craft or art workshop. Other outdoor summer activities could include painting, pottery or jewelry making. Set up an outdoor art studio with easels, tables and art supplies.
8. One Word: S'mores
A fire pit is enough to bring a whole neighborhood together. Throw in some marshmallows, graham crackers and chocolate for the perfect outdoor summer activity. Make sure you have plenty of seating, sticks and ingredients. The warm glow of the fire and the crackling sounds provide the perfect backdrop for a memorable evening.
9. Get Active with Outdoor Yoga or Exercise
Embrace the beauty of nature while prioritizing your physical and mental well-being. Practice yoga or engage in outdoor exercise routines in your backyard.
Roll out your yoga mat and enjoy the serenity and fresh air as you flow. You also can use your backyard space for fitness activities, like circuit training, pilates or calisthenics.
10. Discover Stargazing and Night Sky Photography
Spend serene evenings under the starry sky by indulging in stargazing and night sky photography. Learn about constellations and celestial bodies using stargazing apps or books. Set up comfortable seating like reclining chairs or blankets.
Capture breathtaking images of the night sky by using a camera with manual settings or a smartphone with night mode capabilities. Immerse yourself in the tranquility of the night and marvel at the vastness of the universe.
---
---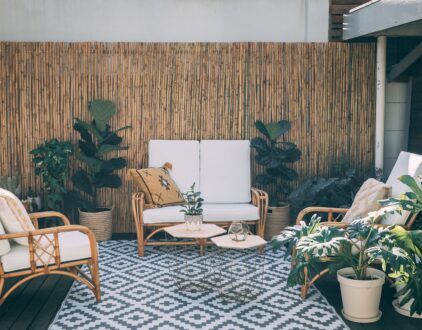 ---
Spaces
Whether it's luxury or ease, every area of your home should be as fabulous and unique as you.
FOLLOW ALONG ON INSTAGRAM
Find us on social for more home inspiration where culture, personal style, and sophisticated shopping intersect to help you create a home where you love to live.