The way you paint your home speaks to your personal style. While there are hundreds of colors, brands and finishes, homeowners typically choose white for their trim. Though whites and neutrals are the safest options to complement a room's wider decor, you can paint your trim any color.
Going with a darker color than the shade on your walls for your trim adds depth and impact, whereas matching your trim to your walls is best for an understated and modern look.
Oil-based vs. Water-based (Acrylic or Latex) Paint
Oil-based paint was once the ideal choice. With it's thick formula and longer drying time, this type of paint leaves a smooth finish free of streaky brush strokes and imperfections. The binders used in these paints make them more moisture and wear-and-tear resistant than water-based options.
There also are more water-based formulas suitable for use on trim. These paints are made with additives that imitate the durable and smooth finish of oil-based ones. Since oil-based paints contain volatile organic compounds that release harmful fumes, water-based paint is safer and more environmentally friendly. It's also quick drying and easier to clean up if it spills.
High Gloss, Satin, Semi-Gloss or Matte?
Each finish has pros and cons, but semi-gloss is the standard for painting trim. While high gloss adds dimension with its reflective properties, it draws attention to flaws. Matte finishes aren't likely to survive normal dirt and dust for long, so with this finish you will need to do touch ups frequently. Semi-gloss is the perfect balance for a polished look. It's sheeny and resistant enough, but doesn't lean to one property more than the other. If you're not sold on semi-gloss, satin finishes offer subtle sheen, but they're not as smooth or reflective.
Home and Texture researched paints for your trim that will keep your home's interior in mint condition for decades.
Rust-Oleum Multi-Purpose Enamel Paint, 1 Quarts (Pack of 1), Semi-Gloss White, 32 Fl Oz
With over 25,000 reviews, this semi-gloss paint has a nearly five star rating on Amazon. Suitable for indoor and outdoor use, its water-based formula is low odor, fade resistant, and chip resistant. Though listed here in white, there are 28 options to choose from in different colors and finishes. Extremely versatile, you can apply this paint to wood, metal, plaster, and other surfaces. Budget-friendly, one can covers around 120 sq. ft. for only $17. It is also fast-drying with a touch time of 30 minutes.
BACKDROP | ROAD TO TODOS SANTOS – Cool, muted, green-gray | 1 Gallon
The 2022 Color of the Year Award winner, Backdrop offers a variety of unique and bold colors. This cool, muted blend of green, gray and blue is perfect for adding depth to any wall in your home. Plus, it's fade and chip resistant, self-priming, washable, eco-friendly, low odor, and has a drying time of 60 minutes to touch. While on the pricier side, Backdrop's acrylic semi-gloss option offers professional grade, premium coverage for walls that are sure to stand the test of time.
THE ONE Paint & Primer: White, Satin Finish, 8.5oz
A paint and primer in one, this paint is so good it is currently sold out in the larger size. It doesn't come in a semi-gloss finish, but the satin option is perfect for anyone who wants that subtle sheen. Suitable for use on multiple surfaces, apply it to wood, laminate, metal, exposed brick, and more. It's advanced water-based formula is free of harsh chemicals for a non-toxic painting experience. With little to no prep work required, just wipe down your trim and get started!
Prestige Paints Interior Paint and Primer in One, 1 gallon, White
For those looking for a semi-gloss paint that's between high and low price points, this is for you. One gallon of this ultra premium water-based paint and primer is only about $50. Smooth application, durability, and easy clean-up are just a few of the perks of covering your trim in this white lustrous finish. Not a true white, this paint has a slight hue of gray that will blend seamlessly with your decor and design choices. Use this on a trim that complements a colorful wall or a deep, but neutral shade like dark gray.
Glidden Interior Paint + Primer: Gray/Black Magic, One Coat, Semi-Gloss, 1 Quart
Contrasting your trim shade with the color on your wall adds drama to your space. Bring in this deep, blackish gray. If it's too dark for your home, no worries! Glidden One Coat is available in 300 colors, including several hues of white and gray for creating any look. It also comes in three finishes: semi-gloss, satin, and eggshell. One coat of this full coverage paint and primer is all you need for gorgeous walls that last!
Our editors love finding you the best products and offers! If you purchase something by clicking on one of the affiliate links on our website, we may earn a commission at no extra cost to you.
---
---
Decorate
Access design inspiration that infuses personality and culture into your spaces.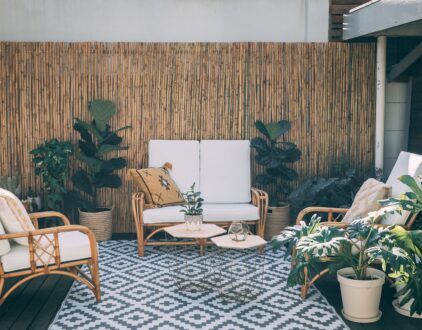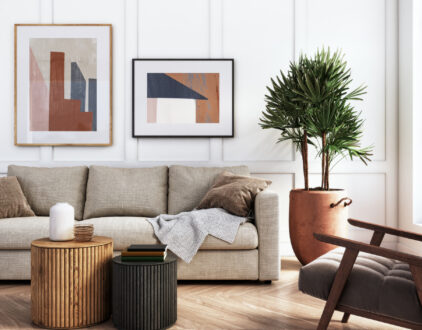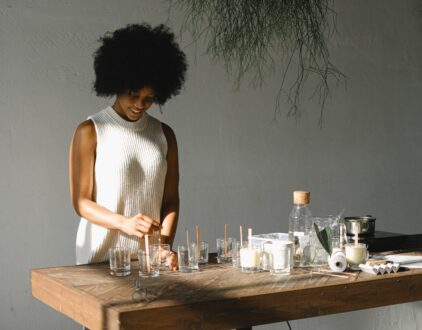 ---
Spaces
Whether it's luxury or ease, every area of your home should be as fabulous and unique as you.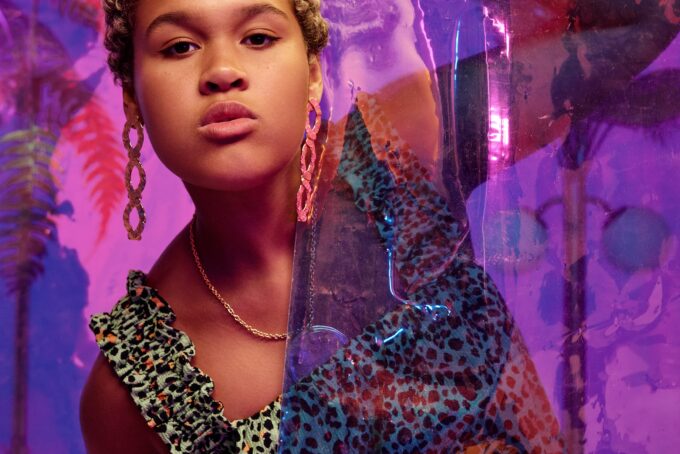 FOLLOW ALONG ON INSTAGRAM
Find us on social for more home inspiration where culture, personal style, and sophisticated shopping intersect to help you create a home where you love to live.