Our four-legged friends aren't just pets — they're family. They shower us with unconditional love, so they deserve a space that is all their own. Creating a cozy corner for your furry loved one not only shows them that they're a vital part of your family, but it can also contribute to their happiness and overall well-being.
Here's how you can curate a perfect retreat for your pet that aligns with your home's aesthetics.
Pick the Perfect Location
Choose a corner, nook, or space that can become your pet's dedicated area. This space should be somewhere that is easily accessible, free from heavy foot traffic, and quiet. If you have a cat, having their space near a window is great so they can spend their days observing and feeding their curiosity.
Prioritize Comfort
Your furry friend's comfort is extremely important. Select bedding, cushions, or a pet bed that fits your pet's size and preferences. If you have an older pet, memory foam options are great. Washable covers are a perfect low-maintenance choice. Add a few toys as the finishing touches to your pet's cozy haven.
Integrate Stylish Storage
Pets have an array of accessories, from leashes to toys. Keep everything organized by integrating stylish storage solutions that match your home's aesthetic. From sleek shelves and baskets to hidden compartments within furniture, this will keep everything neat while blending in with your interior design.
Play With Aesthetics
Pet spaces can be fashionable too. Have fun playing with colors, patterns, and designs that resonate with your home's aesthetic. This can make your pet's space functional and visually appealing.
Prioritize Safety
Ensure that your pet's space is safe by making sure it's free from sharp objects, electrical cords, or toxic plants. Add a safety gate or designated playpen to provide a secure environment for young and energetic pets.
Think Beyond the Indoors
Take advantage of your outdoor space by creating a pet-friendly garden. Ensure that the area is securely fenced and that all plants are non-toxic. This can be a great space for your pet to dig patches and feel free to run around and play.
---
---
Spaces
Whether it's luxury or ease, every area of your home should be as fabulous and unique as you.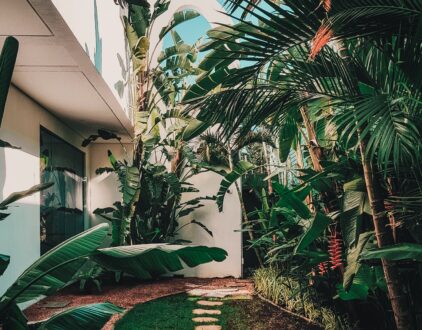 ---
Spaces
Whether it's luxury or ease, every area of your home should be as fabulous and unique as you.
FOLLOW ALONG ON INSTAGRAM
Find us on social for more home inspiration where culture, personal style, and sophisticated shopping intersect to help you create a home where you love to live.