Adding florals to your home can breathe vibrance, charm, and fresh scents into just about any space. A fresh bouquet or bespoke floral arrangement instantly brightens any room with striking hues and natural beauty. Still, despite their whimsical and energizing appearance, they eventually wilt. It seems their petals fall off after mere moments of admiring them, then it's time for your bi-weekly — and sometimes, expensive — trip to your florist.
While it's totally possible to DIY a gorgeous bouquet at home with botanicals from your favorite grocery store (hello, Trader Joe's), you're likely to shop from a limited selection. Plus, to create an entire arrangement, you could end up spending just as much as you would at a floral boutique and still have to do all the work yourself. Instead, consider investing in quality preserved arrangements to save yourself a lifetime — or at least a year — of flower money.
The coolest and most practical thing about preserved arrangements is that they are dried. So, once you buy these handcrafted bundles, they're yours forever. This option is super sustainable because, for the most part, their appearance won't change over time. The only true downside is a little shedding and breakage here and there.
The fix for this is a hint of hairspray, a delicate hand, and creativity to extend the life of your dried florals. To add to the allure, these bouquets and arrangements usually aren't glued together, but securely tied with thread or twine for a more handcrafted look. The simple packaging makes it easy to combine bunches to make a custom creation of your own. They're also available in seasonal styles and include other foliage for added color, like grasses and leaves.
Naturally grown, harvested, and dyed, you'll love having these organic pieces that require little to no upkeep in your home. Keep reading for floral decor that will revitalize your space and positively affect your mood so you can stay in full bloom.
Roxanne's Dried Flowers Garden Grown DIY Bouquet Kit
For the DIY enthusiast, this bouquet kit includes flowers, a glass vase, and a guide to floristry. Choose from peony, lavender, eucalyptus, broom bloom, starflower, happy flower, okra, and palm spear to design an arrangement that speaks to you! Perfect for spaces that need a pop of color or the designer seeking an even mix of textures and elements. To further customize the bouquet, switch out the vase for one that complements your home's decor.
Strawflower Sunset Dried Bouquet
Decorating your home for autumn? The Strawflower Sunset Dried Bouquet is a deep hued mix of seasonal botanicals. Golden tones, hints of orange, and pops of purple make this arrangement stand out. It includes pampas grass, strawflower, papaver, alsi grass, and nigella pods sourced from the Netherlands. Instead of traditional glass, a modern ceramic vase in shades like terracotta, slate, or stone would be a gorgeous addition to complete this look!
Venus et Fleur Small Round Roses
A cult-favorite, these eternity roses last a year or more! This timeless arrangement includes a Parisian hat box-inspired vase. As customizable as it gets, the vase and roses come in various colors. While these are a great pick up for yourself, they're lovely gifts, too! Send your love with the classic red set, or let a friend know you're thinking of them with an elegant yellow floral experience.
Flower Bell
These vibrant dried flowers are made with presentation and sustainability in mind. Sourced directly from France and enclosed in a glass case, place this arrangement in your kitchen or bathroom without worrying about damage. Each piece is unique, making a special addition to your home. Designed a space with a neutral, minimalistic feel? The beige option provides a stunning display without disrupting the decor around it.
Mixed Bouquet of Dried Flowers
Affordable and gorgeous, get ready for fall with this striking bouquet! The bold orange and yellow bouquet includes everlasting daisies, phalaris grass, triticum wheat, and oats. Hand-arranged and sourced from the Netherlands, these breathtaking flowers deserve to be in full view. For an autumn home that deserves a second glance, add a few of these bouquets to your entryway. Likewise, use these flowers as a dining table centerpiece or place them on a console.
---
---
Decorate
Access design inspiration that infuses personality and culture into your spaces.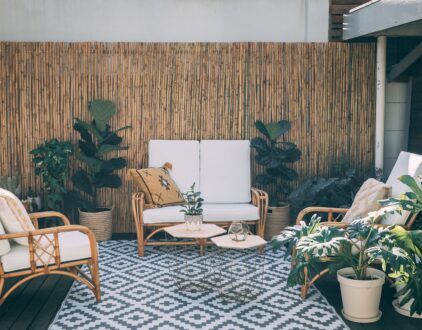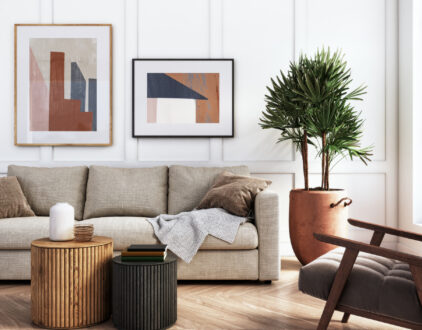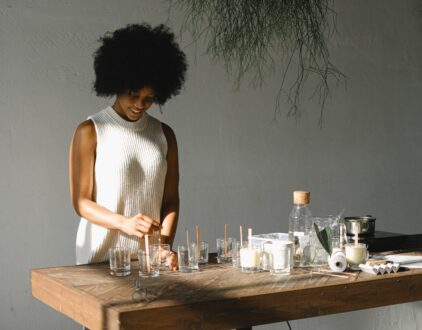 ---
Spaces
Whether it's luxury or ease, every area of your home should be as fabulous and unique as you.
FOLLOW ALONG ON INSTAGRAM
Find us on social for more home inspiration where culture, personal style, and sophisticated shopping intersect to help you create a home where you love to live.