And just like that, summer has come to an end, and the chilly temperatures of fall and winter are on the way. Summer nights lounging on your patio with a chilled drink in hand are winding down to be replaced with cozy nights indoors, snuggled with a warm beverage. The change in weather leaves homeowners wondering what to do with their outdoor furniture. If left unprotected, the elements of Mother Nature can wreak havoc on these pieces, leading to wear and tear that could leave them unusable by next spring. Fortunately, there are effective ways to take care of your outdoor furniture during the fall and winter seasons, ensuring long-term use.
Store furniture indoors.
The best way to protect your outdoor furniture during the colder months is to bring it indoors. Your garage, basement, or shed are great sheltered environments to shield your pieces from the elements of fall and winter. This is particularly important for outdoor furniture made from wicker, wood, or fabric.
Use high-quality furniture covers.
If you're not able to store your outdoor furniture indoors, invest in high-quality furniture covers. Opt for covers that are water-resistant, breathable, and UV-protected. This ensures that moisture can escape, which will prevent mold and mildew while still protecting against rain, snow, and harsh winds. Make sure that the covers fit snugly around your furniture, and secure them with straps or drawstrings to prevent the covers from blowing away.
Use protective coatings.
Add another layer of defense with protective coatings. There are different types of coatings for the material of your furniture, like metal, wood, and fabric. Coatings like a weatherproof sealant are a great way to extend the life of wooden furniture. On the other hand, a rust-resistant spray is excellent for metal pieces.
Clean before storing.
Before covering your furniture and storing it, make sure it is clean. Any existing moisture can lead to mold or mildew. To clean, use a gentle soap and water mixture. Let your pieces completely dry before covering them and moving them indoors.
Elevate furniture off the ground.
If you're not able to move heavier pieces like wrought-iron furniture, elevate them on concrete blocks or wooden planks. This prevents them from freezing to the ground and protects the legs of the pieces from absorbing ground moisture, which can lead to rust or rot.
Take care of your cushions.
Don't forget to care for your cushions and pillows. These should be stored indoors. If it's not possible, place them in a weatherproof storage bin outside.
---
---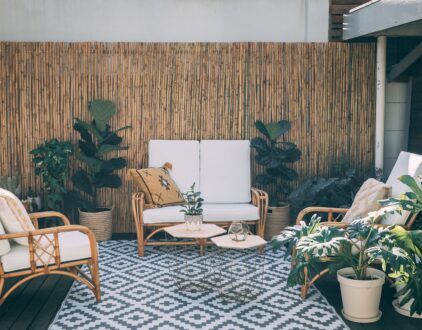 ---
Spaces
Whether it's luxury or ease, every area of your home should be as fabulous and unique as you.
FOLLOW ALONG ON INSTAGRAM
Find us on social for more home inspiration where culture, personal style, and sophisticated shopping intersect to help you create a home where you love to live.