Fall is practically knocking at the door, ready to be let in. As the crisp autumn air invites us to swap our lightweight summer linens for cozy throws, fall 2023 brings fresh trends that are as delicious as warm apple pie. Whether you're looking to completely revamp your decor or sprinkle a bit of autumnal charm, here are the top fall 2023 trends we're excited about.
Furniture With Dark Finishes
Furniture with dark finishes is having its moment. These pieces are elegant and bring the drama. To accomplish this look, think of ebony-finished cabinets or dark walnut coffee tables.
Personalized Color Palettes
Homeowners are really desiring spaces that reflect their individuality. Personalized color palettes are the go-to design trend this season. It's all about curating hues that resonate with you and evoke emotion while providing a comforting atmosphere.
Sustainable Textiles
Sustainability in home decor and beyond is more than a trendy buzzword; it's a lifestyle. Incorporating sustainable textiles made from organic or recycled materials is going to be huge this fall. Think of hemp bedding or organic cotton curtains. These pieces are both stylish and eco-conscious.
Using the Formal Space in Your Home
The pandemic had us occupying every nook and cranny in our home for makeshift offices and gyms. As we return to pre-pandemic living, formal spaces like dining rooms and living rooms are making a comeback. These spaces are reclaiming their formality and will be utilized for entertainment and hosting.
Geometric Patterns
Add visual interest to your space with geometric patterns. You can execute this with geometric textiles, wallpapers, and flooring. The repetitive shapes make a fun and structured design statement.
Statement Glassware
Your at-home dining experience isn't complete without statement glassware. Opt for bold, colorful designs that elevate your table setting and serve as conversational pieces.
Black as an Accent Color
Never underestimate the power of black as an accent color. Whether it's a black-framed mirror or a black wall, using this hue as an accent color adds sophistication and class that contrasts beautifully with softer colors.
---
---
Decorate
Access design inspiration that infuses personality and culture into your spaces.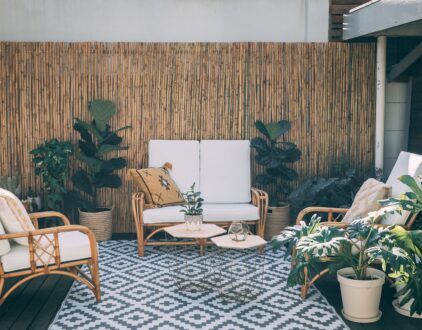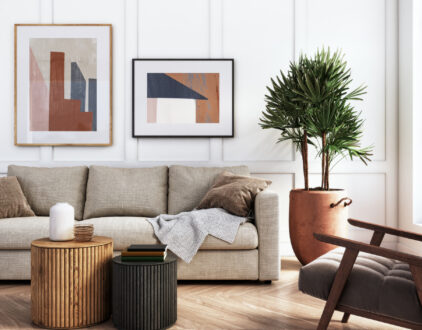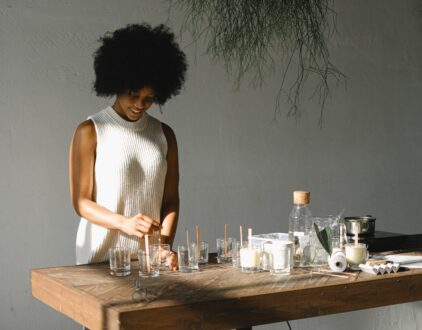 ---
Spaces
Whether it's luxury or ease, every area of your home should be as fabulous and unique as you.
FOLLOW ALONG ON INSTAGRAM
Find us on social for more home inspiration where culture, personal style, and sophisticated shopping intersect to help you create a home where you love to live.