Hair health is more than the products you use or the protective styles you wear. It's about taking the steps needed to maintain your tresses' health. From the food you eat to the tools you use, investing in your hair helps preserve its health. One way to ensure your hair stays healthy is to sleep with a silk pillowcase. Sleeping on silk sounds luxurious, but there are also really great benefits that come with it.
Here's why you should be sleeping with a silk pillowcase to maintain your hair health:
Reduce Hair Breakage
While cotton pillowcases tend to dry your hair out, silk ones reduce hair breakage and are gentle on your hair follicles. They reduce friction and tugging of your strands as you move in your sleep. Silk pillowcases are especially needed for those who have fragile hair. A silk pillowcase is a great starting point if you want to prevent split ends and breakage.
Prevents Tangling
Gone are the mornings waking up in fright as you notice your bonnet slipped off in your sleep. Silk pillowcases will save you and prevent your hair from getting tangled and matted. They are especially great for curly hair, creating less friction than other materials.
Maintain Natural Oils
Cotton pillowcases absorb natural oils in your hair, which leads to your hair getting dry and frizzy. Silk pillowcases, however, are less absorbent, which means your hair can retain its natural oils. This leaves your hair looking shiny and healthy.
Great for Sensitive Scalps
Scalp health is the root of hair health, literally. The soft texture of silk pillowcases is great for people with sensitive skin and scalps. This can prevent irritation and inflammation.
Investing in a silk pillowcase is a great way to preserve the health of your hair. Keep scrolling for our favorite silk pillowcases to add to your nighttime wellness routine.
Jump to Products
---
Casaluna Standard Solid Silk Pillowcase
The next time you're perusing the aisles of Target, don't forget to check out Casaluna's standard solid silk pillowcase. This luxurious addition to your bedding collection offers style and function. In addition to being great for your hair, this silk pillowcase is gentle on your skin and a perfect addition to your self-care routine. Silk helps regulate your body temperature, so you'll stay cool through the night. You'll be able to sleep knowing that the smooth surface of this silk pillowcase reduces friction on your hair and prevents absorbing natural oils from your hair. Nothing feels better than waking up with healthy, nourished hair.
SLPBABY Silk Pillowcase With Hidden Zipper
This silk pillowcase comes in a variety of patterns and colors to go with your bedroom's aesthetic. Made from 100% mulberry silk, there's a reason why over 20,000 people gave this pillowcase a 4.7-star rating on Amazon. This ultra-soft, eco-friendly pillowcase has a hidden zipper to maintain its chic look. This pillowcase is a great solution if you want to prevent your hair from getting tangled and dried out. It's also a natural anti-aging product that is perfect for sensitive skin. To clean, machine wash on a gentle cycle and hang dry. The brand also can custom-make duvet covers and bedding in the same color and pattern as your pillowcase.
Lunar Silks Pure Mulberry Real Silk Pillowcase
Wake up with a refreshing glow after sleeping on this pure mulberry silk pillowcase by Lunar Silks. The brand prides itself on having its pillowcases made with the highest quality of silk that is super soft, non-absorbent, and cooling. In addition to being great for your hair, this pillowcase works to help prevent breakouts and wrinkles in your skin. It's beneficial to sleep with this silk pillowcase nightly as an anti-aging treatment. The pillowcase has amino acids, making it a great sleeping essential for sensitive skin. It's also rich in proteins, keeping your hair and skin looking and feeling their best.
Blissy Silk Pillowcase Mulberry Silk
These handmade pillows are made from 100% mulberry silk. Blissy ensures the highest quality and durability after testing its products for countless hours. You can say goodbye to dry hair and wake up with tangles thanks to this non-absorbent silk pillowcase. This pillowcase has temperature-regulating properties to ensure that you stay cool during the night, eliminating tossing and turning in your sleep. The pillowcase is moisture-wicking and allows your hair to retain its moisture and shine. Silk is hypoallergenic, which also reduces the signs of puffiness, blemishes, and redness in your skin. There are no toxic chemicals in this pillowcase, and its bug-resistant.
Brooklinen Mulberry Silk Pillowcase
A Brooklinen fan favorite, this pillowcase protects your hair and skin from dryness and friction damage. These mulberry silk pillowcases are breathable and cooling, making them a great addition to your sleep routine all year long. The silk used to make these pillowcases comes from silkworms that were fed exclusively mulberry leaves. This is the technique that was used centuries ago and that Brooklinen is still honoring. You won't have to visit the dry cleaner to clean these pillowcases. They are perfectly compatible with being washed in the washing machine at home. With beautiful pastels and neutral colors to choose from, these pillowcases are perfect for any aesthetic.
Our editors love finding you the best products and offers! If you purchase something by clicking on one of the affiliate links on our website, we may earn a commission at no extra cost to you.
---
---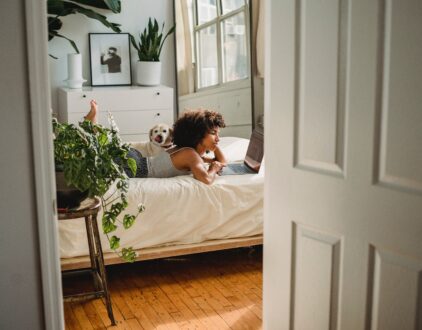 ---
Spaces
Whether it's luxury or ease, every area of your home should be as fabulous and unique as you.
FOLLOW ALONG ON INSTAGRAM
Find us on social for more home inspiration where culture, personal style, and sophisticated shopping intersect to help you create a home where you love to live.