Navigating IKEA may feel like a confusing maze to some, but to a DIY lover, the mega-store is a paradise. The iconic Swedish brand is the perfect playground for those who love simple IKEA hacks.
After a long day perusing each aisle looking for the perfect piece, you  can take a break and treat yourself to the brand's ever-popular imeatballs. It's at that moment you'll realize you've reached  bliss. That peaceful mental state may not last long because once you get home you'll face those famously complicated Ikea directions. After looking up a few YouTube videos, you're sure to power through and have a completed piece that's the perfect finishing touch to your home.
IKEA has built a cult following among millennials and Generation Z. The furniture brand is loved because of its accessibility and contemporary and minimalist designs. Whether you live in a small space in New York City or a large home in Atlanta, IKEA furniture has excellent storage options, furniture, plants, and more.
View this post on Instagram
A Brand Made For Hacking
The brand also offers DIY lovers the ability to customize its products to their needs. Search the #IkeaHacks hashtag on Instagram and TikTok, and you'll find thousands of videos and images. They detail how to fully optimize IKEA furniture and products. IKEA fans have been customizing their homes by transforming pieces purchased from the famous furniture store. Customers make them into decor that aligns with their design styles.
View this post on Instagram
DIY expert Brittany of @ThisGeorgiaClay shares amazing hacks, such as painting an IKEA Regissor cabinet to look like a Pottery Barn cabinet for a fraction of the price.
"It took some time, but in the end, it really challenged our DIY skills and took it up a notch," she said in her DIY IKEA Hack YouTube video.
You too can create dupes of pricey products for your home using simple IKEA hacks. Keep reading for details on some easy options that will transform your space!
Jump to Products
---
5 Simple IKEA Hacks You Should Try
KALLAX Shelving Unit As A Bench
The KALLAX is excellent on its own, with plenty of storage space in a simple design. It has open shelves to display items or add inserts for closed storage. This storage unit is a great piece to be transformed into a bench. You can place it in front of your office or bedroom window for a cozy reading nook. It's an affordable way to get a functional piece that is great for storing items. All you have to do is get a cushion that fits on the bench. This is an excellent opportunity to explore your design style through cushion colors, fabrics, patterns, and more.
LURÖY Slatted Bed Base As A Hanging Wall Organizer
Who knew you could use a bed base to organize things on your wall? The LURÖY Slatted Bed Base is fantastic for hanging paper, magazines, and clipboards. You can even hang a basket on the bed base to store pens, staplers, and knickknacks. This is an excellent addition to your home office, entryway, or garage. To install this storage hack, mount hooks to the wall and hang the slatted bed base on the hooks. This hack is super easy and saves you money, space, and time. Depending on the needed storage space, you can use the twin, queen, or king size.
Add Tiles To The LACK Side Table
You may or may not have seen this viral TikTok trend. If not, we'll let you in on the not-so-secret hack: the dimensions of the LACK side table fits perfectly with 2x2" tiles. Choose tiles that reflect your design style and stick them on the table for a stunning upgrade. This table is perfect for a bohemian or eclectic patio or breakfast nook. The LACK side table is beloved because it's easy to assemble, affordable, and a great addition to any room in your home. Adding tiles to this piece will elevate it, add a personal touch, and be a great conversation starter when guests visit your home.
Hanging STOCKHOLM Mirror With Leather Belts
The STOCKHOLM Mirror is beautiful on its own, with the frame around the bottom acting as a shelf to store items like your lipstick, keys, wallet, or phone. Instead of mounting it on your wall, why not add beautiful belts around the mirror to create an accent piece? You can use leather belts to attach to the top of the mirror. This can be hung on your wall and works beautifully in homes with a contemporary design style. You don't have to break the bank with the leather belts. Head to Zara or H&M for great choices. The belts add a unique and elevated touch to the mirror.
Turn The BORRBY Lantern Into A Terrarium
The BORRBY Lantern is intended to be used inside and outside to provide light and create a cozy atmosphere. It's a tool for welcoming guests but can also be utilized for those with a green thumb. To get the lantern terrarium ready, add sealant in the gaps in the corners and at the bottom of the lantern. Smooth the sealant and allow it to dry before putting in a layer of gravel. Add a garden screen screen above the gravel before adding dirt and plants. Make sure the plants aren't too close to the door. You can decorate the terrarium with rocks. Make sure to place it in a cool area and enjoy the beautiful greenery in your new, affordable terrarium.
Our editors love finding you the best products and offers! If you purchase something by clicking on one of the affiliate links on our website, we may earn a commission at no extra cost to you.
---
---
Decorate
Access design inspiration that infuses personality and culture into your spaces.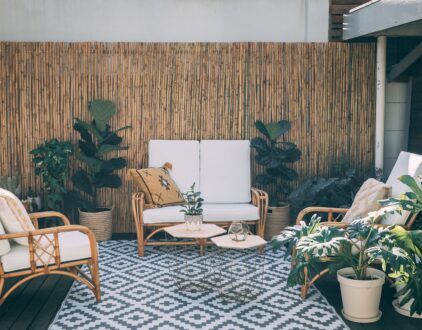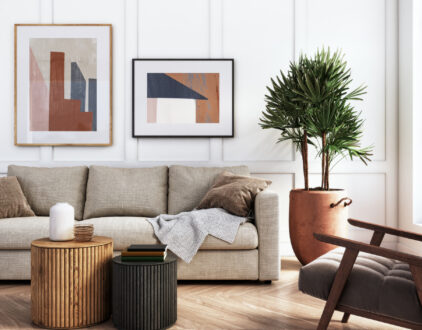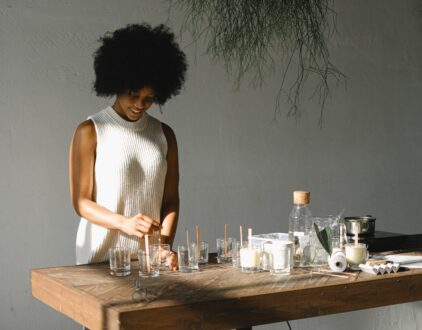 ---
Spaces
Whether it's luxury or ease, every area of your home should be as fabulous and unique as you.
FOLLOW ALONG ON INSTAGRAM
Find us on social for more home inspiration where culture, personal style, and sophisticated shopping intersect to help you create a home where you love to live.