The key to a happy, healthy life is good quality sleep. Sleeping allows our bodies to rest and recharge after a long day so that we can feel refreshed when we wake up. A good way to get quality sleep is by furnishing our bedrooms with cozy elements to promote a peaceful atmosphere, which is where blankets can help.
How Blankets Improve Sleep Quality
Having a quality blanket can work magic for your sleep health. For example, if you struggle with anxiety, weighted blankets are great for calming your mind and body so that you can sleep easier. They're made using teeny tiny beads or rice that add weight, making you feel like you're on the receiving end of a soothing hug as you rest.
Or for a quick decorative fix, a throw blanket is the perfect solution. Throw blankets come in many different colors, materials, and styles to fit any design aesthetic. If you have a minimalist aesthetic, a throw blanket in a neutral color can be a great match. Or, if you prefer a Bohemian design, a tribal print blanket with frilly tassels is an ideal decorative option.
About Sleep Foundation
If you want to learn more about sleep health, Sleep Foundation is your best bet. Sleep Foundation is a leading resource for information and education related to sleep. From informative blog posts to product reviews, this company is dedicated to providing the most up-to-date and accurate information to users so they can take better charge of their health.
Sleep Foundation 2023 Best Blankets
There are so many different types of blankets to choose from, each with its own unique features and benefits, and Sleep Foundation's list of best blankets of 2023 can help you decide which blanket is right for you so you can skip the research.
Best Overall – Luxome Ultra Plush Throw
At the top of the list is a blanket that can do it all: the Luxome Ultra Plush Throw. This "breathtakingly soft" blanket is not only super cozy to cuddle under, but it's also oversized so you can drape it over your chair, couch, or bed.
Most Comfortable – Cozy Earth Bamboo Blanket
When it comes to shopping for a quality blanket, comfort is key. And fortunately, this soft and cozy blanket leads the pack in comfort. Made from premium bamboo viscose, the Cozy Earth Bamboo Blanket is not only soft, but it also regulates your temperature so you can stay cool as you sleep.
Best Luxury – Saatva Organic Velvet Diamond Quilt
If you have a taste for the finer things in life, try this Saatva Organic Velvet Diamond Quilt. Made from 100% organic cotton velvet, this quilt is the epitome of luxury. It includes a beautiful Percale cotton backing that allows for better breathability, and its diamond quilt pattern adds a sophisticated charm to any space.
Best Weighted Blanket – Silk & Snow Knit Weighted Blanket
For quick relief from stress and anxiety, the Hand Knit Weighted Blanket from Silk & Snow is a great option. It's soft, it's cozy, and its knit detail is nothing short of beautiful. Plus, it's available in multiple colors so you can mix and match it with the rest of your decor.
Best Temperature Regulating – Luxome Lightweight Blanket
If you prefer a cooler environment as you sleep, try this Lightweight Blanket from Luxome. It's made from bamboo viscose for a natural temperature-regulating effect. Not to mention, it's super lightweight so you can keep cool as you sleep no matter the season.
---
---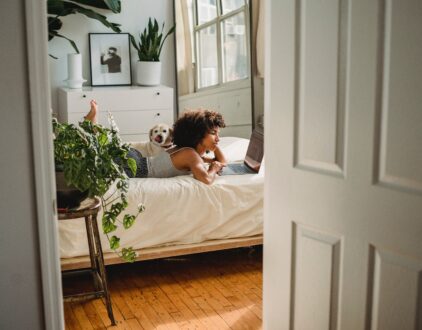 ---
Spaces
Whether it's luxury or ease, every area of your home should be as fabulous and unique as you.
FOLLOW ALONG ON INSTAGRAM
Find us on social for more home inspiration where culture, personal style, and sophisticated shopping intersect to help you create a home where you love to live.