TikTok home influencer Jeannie Jacobs (@justjeanniejacobs) wowed her followers on social media by showing her "Carrie Bradshaw" inspired intimate closet. In the video, Jacobs explains the process behind creating the closet of her dreams.
If you have been thinking about what it takes to create the ultimate closet of your own, check out her TikTok video for inspiration.
Take A Peek Inside This Intimate Closet
How To Add A More Intimate Appeal To Your Home Closet
1. Incorporate Mirrors
Who doesn't love a good mirror? Create your dream closet by incorporating a beautiful mirror—or several beautiful mirrors—throughout. You can mix and match mirror sizes and widths in your closet, too. You can have a full-length mirror to see your outfits from head to toe and half mirrors to focus on your makeup and skincare routine. Mirrors will add the perfect, intimate charm to your closet.
2. Organize, Organize, Organize
The key to an intimate space is organizing. You can have all the square footage in the world, but if you don't have locations for the items you have, it can become overwhelming. Find an organizer for everything: your shoes, hats, bags, and accessories. Organizers also will make your space look clean and tidy.
3. Add Furniture Pieces That Lift Your Mood
Transform your dream space into a reality by adding furniture and art you love. If you have the space, splurge on a comfortable chaise chair that you can lounge on. Add some decorative trunks that could double as table surfaces, too. You can also add art and posters to the wall to make it more cozy.
4. Add Lighting That Makes You Look Great
An intimate closet should not only feel good but make you look good, too. Find lights that will make every outfit you put on look great. If you want, you can also choose lighting that's great for recording reels and TikToks as well. The more uses you have for your private sanctuary, the more you will use it.
5. Add A Special Lock To The Door
One way to ensure you get all the quiet time you want is to lock the door. Get away from the day's problems by locking yourself in your dream closet. With a little quiet time, you can organize, clean, or just relax in your new favorite space.
These tips are sure to help you create your perfect closet sanctuary.
---
---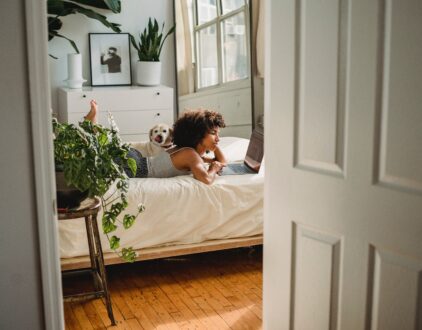 ---
Spaces
Whether it's luxury or ease, every area of your home should be as fabulous and unique as you.
FOLLOW ALONG ON INSTAGRAM
Find us on social for more home inspiration where culture, personal style, and sophisticated shopping intersect to help you create a home where you love to live.