Entryway rugs are a portal into your home. They're the first chance to express your personal design style and taste. Entryway rugs are practical and help shield unwanted dirt, mud, and debris from making their way through your home. They set the tone for the rest of your interior, so it's important to choose one that represents you and is high-quality and made to last.
Here are some entryway ideas to make a great first impression in your home.
Classic
The great thing about classic pieces is that they will always be in style. A classic welcome mat is a great and timeless choice for your entryway. Look for a weather-resistant and durable entryway mat made with rubber or coir. These mats come in a variety of shapes, sizes, and patterns. It makes it easy to find one that suits your design style.
Bold and Beautiful
Make a statement by selecting a bold and patterned entryway rug. Vibrant colors, geometric patterns, and intricate designs add visual interest to your home. A bold entryway rug is great for setting a fun and vibrant tone for your home.
Natural Fiber
Add warmth and a touch of nature to your home with an entryway rug made with natural fiber. These rugs are great for bohemian design styles and can go with any color palette. They are easy to clean and durable, which makes them an excellent choice.
Monochromatic
Maintain a sleek and minimalist look to your home with a monochromatic entryway rug. Choose a gray, beige, or black rug to create this polished aesthetic. Add visual interest with subtle patterns and textures.
Vintage
Choose a vintage entryway rug if you want to add character and charm to your entryway. These rugs are characterized as having a distressed appearance, faded colors, and intricate patterns. They bring an eclectic vibe to your home and are welcoming.
Round or Oval
Try something new and opt for a round or oval entryway rug. These shapes can create a unique focal point and soften the look of your home. It's a great option if your entryway has curved walls or furniture.
Personalized
There's no better way to add a personal touch to your home than with a customized entryway rug. Look for options that allow you to add a monogram or your family's name.
When deciding on an entryway rug, you should consider the size, ease of cleaning, and durability. The rug should be proportionate to your entryway space and be able to withstand heavy foot traffic. It should also create a cohesive and inviting portal to your abode.
Keep scrolling to discover interesting entryway rugs for your home.
Indoor Non-Slip Entrance Rug
Welcome guests into your home while keeping your entryway dry and clean with this entrance rug. The rug is durable and beautiful and helps get rid of dirty footprints when entering your home. The entrance room is great for preventing dirt, water, grid, sand, mud, slush, grass, and more. It's also non-slip and won't scuff your floors. The low profile design makes it perfect for a home with pets or children, and won't get stuck under doors. Made with sturdy rubber backing, this entrance rug is eco-friendly, non-toxic, odorless, and recyclable. It's easy to clean — you can either regularly sweep with a broom, vacuum, or machine wash.
Blue Oval Braided Jute Entryway Rug
Inspired by denim, this rug has variations of denim blue shades, including stone-washed, faded, and rinsed denim. This rug is versatile and can be used in multiple areas in your home, including the front entryway, kitchen, laundry room, bathroom, and more. It's perfect for bohemian, farmhouse, and traditional design aesthetics and adds a pop of color to your home. Made with jute, this rug is durable. The braided design is great for hiding dirt and maintaining a clean, neat look. These rugs can handle high-traffic areas and water exposure. It's also pet friendly and reversible. It's definitely a great purchase, and you'll get your money's worth.
Family Name Personalized Entryway Rug
Add a personal touch to your home's entryway with a personalized entryway rug. These rugs come in modern colorways to complement your home's color palette and aesthetic. You can personalize it to have your family name and the date your family was established. This is a great entryway rug choice for newlyweds and families moving into their forever home. This rug is washable and easy to clean — it is recommended to vacuum this rug regularly. It's also very comfortable to walk on and is anti-slip. You can choose from different sizes and have the option of having your customization in either vertical or horizontal orientation.
Geometric Mat For Front Door
Add an artful touch to your front entryway with this geometric mat. There are seven styles and 13 sizes to choose from, making it a great choice for any entryway area. The mats are available in horizontal and vertical print styles. The mat has a non-slip design and is easy to clean and washable. It is made and measured by hand and is as durable as it is beautiful. It's great for preventing your floors from being scraped and helps stop mud and soil from being tracked into your home. This beautiful geometric entryway rug can handle high traffic and is a stunning way to welcome guests into your home.
Solid Shag Area Rug
This soft, plush and stain-resistant rug is the perfect addition to your home's front entryway. It's a cozy welcome for guests and will make them want to take their shoes off to immediately feel the luxurious softness of this shag rug. Its design is simple and easily goes with any style, from minimalist to contemporary and bohemian. Before putting the rug out for the first time, make sure to gently fluff it with a stiff brush. This rug is vacuum-safe and shields against dirt, mud, and spills. The back of the rug is made with jute, and it's durable in addition to being incredibly soft and cozy.
Our editors love finding you the best products and offers! If you purchase something by clicking on one of the affiliate links on our website, we may earn a commission at no extra cost to you.
---
---
Decorate
Access design inspiration that infuses personality and culture into your spaces.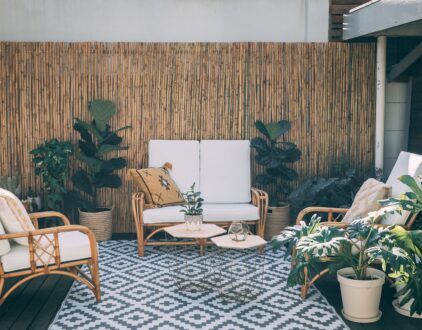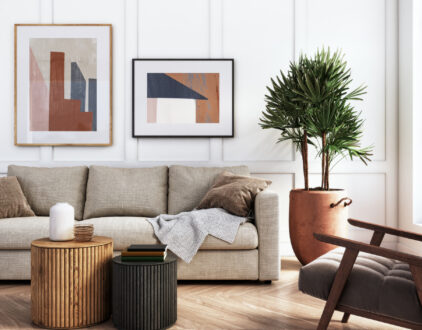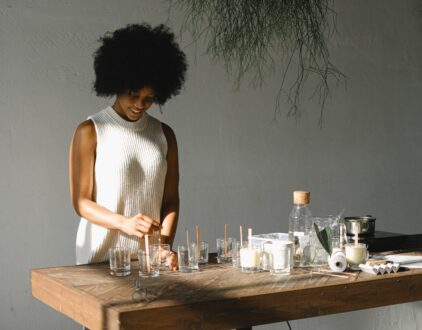 ---
Spaces
Whether it's luxury or ease, every area of your home should be as fabulous and unique as you.
FOLLOW ALONG ON INSTAGRAM
Find us on social for more home inspiration where culture, personal style, and sophisticated shopping intersect to help you create a home where you love to live.