A beautiful rug has the power to add the finishing touch to a room, bringing together all of the room's colors, textures, and patterns. They also are great for defining the boundaries of a space, especially in open-concept homes. If you're looking to add texture, color, and warmth to your room, a rug is your answer. As we all lead busy lives, choosing a rug that is easy to care for is important. Washable rugs are ideal for ensuring that your space remains just as clean as it is beautiful. They're also amazing for homes with pets and young children.
This stylish solution keeps your floors tidy and comes in a variety of sizes, colors, designs, and textures. Machine-washable rugs are usually compatible with most washing machines. It's recommended that they be washed in cold water with mild, non-bleach detergent. To dry, you can pop it in the dryer on low or tumble dry. Another drying alternative is to lay it flat to air dry. Between washes, you can vacuum, shake, or sweep your rug to get rid of dust, debris, and dirt.
Here are the reasons why we love washable rugs:
Easy to Clean
If your space is filled with art, different textures, and sculptures, the last thing you want to be concerned about is how to clean your rug. Washable rugs are easy to clean and can be done on laundry day.
Affordability
Washable rugs are a fraction of the price of traditional rugs. They're a great budget-friendly option, and you won't have to sacrifice style or aesthetic. These rugs are also long-lasting and durable.
Protects Your Floors
One of the benefits of adding a rug to your space is to protect your floors. This is especially beneficial in high-traffic areas like your kitchen and living room. Rugs help to prevent scratching on your floors by trapping dirt and debris. They're also a buffer that can absorb and prevent spills and stains from seeping into your floors.
Fits Any Aesthetic
Whether you're eclectic and love a variety of colors and patterns or a minimalist that thrives with a neutral color palette, there is a washable rug for you. These rugs come in a variety of styles to complement your decor.
Jump to Products
---
Here are 5 of our favorite washable rugs:
Birds Of A Feather Rug
This beautiful, bold, and bright rug is an homage to the magnificence of tropical birds. Richly colored depictions of flamingos, parrots, and toucans are featured on this rug in a mirrored design. With a warm color palette of blue, orange, pink, and yellow, this rug will be a stunning addition to your space. To bring this rug to life in an eclectic way, place it in a room with a jewel-toned painted wall, warm furniture tone, and a gallery wall filled with acrylic paintings, portraits, and mixed media artwork. Easy to take care of, this rug is stain-resistant, water-resistant, and machine-washable. To clean, detach the rug from the rug pad, throw it in the washer and the dryer, and reattach the rug to the pad when fully dried.
Op Art Teal Rug
Rugs are great for bringing your room together and adding the finishing touch. Do so in an artful way with this stunning graphic rug. This piece makes a statement and commands attention. It's inspired by mid-century modern design, and its linear pattern is captivating. This rug features beautiful shades of coral, teal, mauve, and terracotta. It looks perfect in a room with bold furniture, unique coffee tables, and vibrant art. This rug is easy to clean and is water-resistant, stain-resistant, and machine-washable. Made to order, this rug is eco-friendly and helps to reduce waste. Just pop it in the washing machine and attach it to its rug pad once fully dried.
Vintage Kitchen Rugs Boho Runner Rug
Having a runner in your kitchen is a great way to add color and dimension to your space as well as add a visual boundary if you have an open-concept kitchen. Runners are great for protecting your floors since the kitchen is a high-traffic area in your home. It also provides comfort and can prevent slips and falls. We love this boho runner because the medallion design works well with most color palettes, and it's a great addition to an eclectically designed kitchen. This runner is very easy to clean. Pop it in the washing machine with cold water and mild detergent. To upkeep the rug, vacuum regularly.
Outdoor Riviera Stripe Multicolor Rug
Patio season is approaching, so it's only right to get your outdoor space together asap. Adding an outdoor rug to your patio is a great way to add style and comfort to your outdoor living space. Outdoor rugs are great for protecting the wear and tear of your patio surface, defining space, and adding comfort. We love this multicolored stripe outdoor rug for its beautiful pattern, shades of deep red, mustard yellow, teal, black, and cream, and wonderful texture. Besides its style and aesthetic, we love that this durable, machine-washable rug is designed to withstand dirt, dust, and heavy foot traffic. To wash, pop it in the washing machine with cold water and a non-bleach detergent. Tumble dry or lay flat outside to air dry. To maintain daily, sweep or shape your rug to remove dust, debris, and dirt.
Jean-Michel Basquiat Samo Skull Multicolor Rug
Get a fine art-inspired piece in your home with this Ruggable and Jean-Michel Basquiat collaboration. This rug represents one of the iconic artist's skull paintings. The rug features heavy, stylized brushstrokes with a warm color palette of red, yellow, and blue with black and grey accents to balance the colors. Basquiat is known for using the crown and halo in his work, and they are both present in this piece. This rug is water and stain resistant and machine washable. Ruggable rugs are compatible with most standard washing machines. All you have to do is detach, wash, and reattach.
Our editors love finding you the best products and offers! If you purchase something by clicking on one of the affiliate links on our website, we may earn a commission at no extra cost to you.
---
---
Decorate
Access design inspiration that infuses personality and culture into your spaces.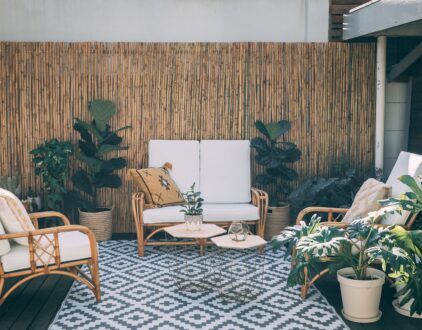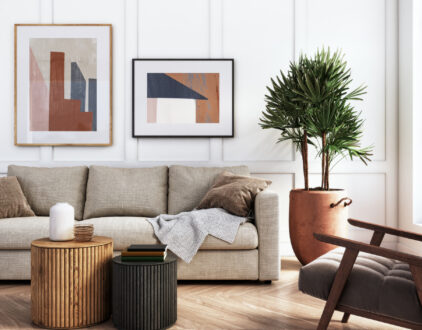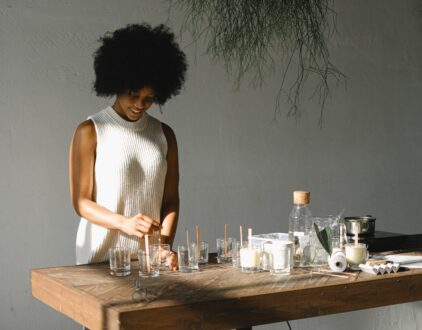 ---
Spaces
Whether it's luxury or ease, every area of your home should be as fabulous and unique as you.
FOLLOW ALONG ON INSTAGRAM
Find us on social for more home inspiration where culture, personal style, and sophisticated shopping intersect to help you create a home where you love to live.