Wallpaper is a popular part of interior design that can truly transform your home. But for a lot of people, installing it can be quite the headache. There are quite a few steps involved in installing wallpaper, which is why so many forgo doing it altogether. But even though many people find changing wallpaper to be frustrating and overwhelming, according to one TikTok user, it doesn't have to be.
The Secret To Achieving a Wallpaper Effect
Recently, a creator known as @roominbloomnyc posted a video explaining how she absolutely hates having to install her wallpaper. But instead of leaving her space as is, she came up with a strategy for how to enhance her walls with little effort:
If you're just as in love with this stencil hack as we are, you're in luck. According to @roominbloomnyc, the process for achieving this look is pretty simple and straightforward. When asked how she completed the design, she told commenters that she used a matte paint for the all-over color and a gloss paint in the same color over a stencil.
How To Get This Look in Your Own Home
Clean the wall: Ensure that the wall is clean and dry before starting. Remove any dirt, dust, or debris to ensure that the stencil sticks properly.
Choose your stencil: Select a stencil that suits your style and taste. You can find stencils online or in craft stores.
Apply adhesive: Apply a spray adhesive to the back of the stencil to ensure that it sticks to the wall.
Position the stencil: Choose the position you want to place the stencil on the wall and then stick it firmly in place. Use a level to ensure that it is straight.
Paint: Using a small roller or brush, apply paint to the stencil. Be careful not to use too much paint, as it can cause the paint to bleed under the stencil.
Remove the stencil: Once the paint is dry, carefully remove the stencil from the wall.
Repeat: Repeat the process with the same stencil or with a different design until you have covered the entire wall.
The Benefits of a Stenciled Wallpaper Effect
Stencils are a great way to achieve a wallpaper effect without using wallpaper. They are cost-effective, reusable, and come in a variety of designs. You can choose the colors, patterns, and designs that match your decor or preferences, creating a truly unique look. With stencils, you can also have precise control over where the design appears on the wall, which is especially helpful if you want to create a symmetrical or centered pattern.
Best of all, stencils eliminate the need to deal with wallpaper removal in the future. Removing wallpaper can be a labor-intensive and time-consuming process, whereas stenciled walls can be painted over or stenciled again easily, making them the perfect choice for adding a bit of personality to your walls.
---
---
---
Spaces
Whether it's luxury or ease, every area of your home should be as fabulous and unique as you.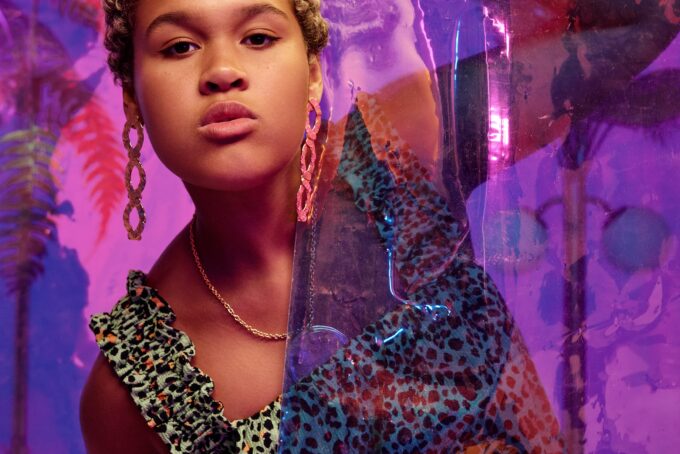 FOLLOW ALONG ON INSTAGRAM
Find us on social for more home inspiration where culture, personal style, and sophisticated shopping intersect to help you create a home where you love to live.