Looking to add character to your space while also doing your part for the environment? Upcycling is the perfect solution. Transforming old or unused items into brand-new, useful home decor not only reduces waste and saves you money but adds a unique touch to your home. With upcycling, you can practice sustainability while creating a space that truly reflects your style and personality.
Ideas for Upcycling Household Items Into Home Decor
Whether you want to spruce up your living room or completely transform your bedroom, you can come up with fun and creative ideas to help you turn unwanted items into your most prized possessions. Here are five ideas for upcycling your existing household products for decorative purposes:
Vintage Suitcase Shelves
To transform an old, vintage suitcase, remove the top and attach the bottom part to the wall. This can help create a one-of-a-kind display shelf. You can use it to show off your favorite books, houseplants, or other decorative pieces for a touch of nostalgia that your guests are sure to admire.
Mason Jar Lanterns
Mason jars are popular in the home decor space, but instead of purchasing brand-new jars, why not try upcycling your old, used ones? You can enjoy a whimsical outdoor space by transforming your mason jars into lanterns.
First, clean your jars to create a blank canvas. Then, paint them in your desired color(s) before inserting battery-operated candles or fairy lights inside. From there, you can hang them from trees or place them on tables for a charming way to entertain guests as the sun sets.
Wine Cork Bulletin Board
To make use of wine corks, collect them after indulging in your favorite wine. Then, you can repurpose them into an interesting, one-of-a-kind bulletin board. To do this, use a backing board to glue the corks together in your desired pattern or shape. Creating a DIY bulletin board is a great way to keep up with notes, memos, and photographs in style.
Repurposed Window Frame
Searching for a way to add personality to your walls? Considering upcycling an old window frame into a special decorative wall accent. To start, replace the glass panes with mirrors or decorative wallpaper. Then, mount your new window frame on the wall to create an innovative focal point.
Tin Can Planters
If you have any old tin cans lying around, make use of them by transforming them into beautiful planters for herbs, flowers, or succulents. First, wash your cans before painting them in bright colors or patterns. Next, drill a few drainage holes at the bottom of each tin can. And finally, fill your cans with soil so you can start planting your herbs, plants, and flowers. Set your new planters on your windowsill or inside your garden to enjoy a natural touch of beauty in your home.
---
---
Decorate
Access design inspiration that infuses personality and culture into your spaces.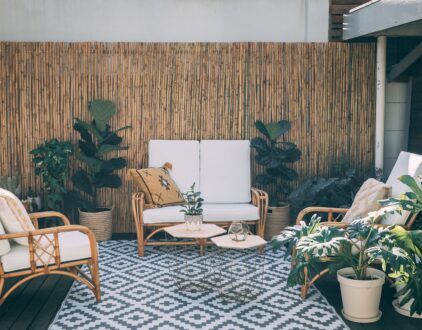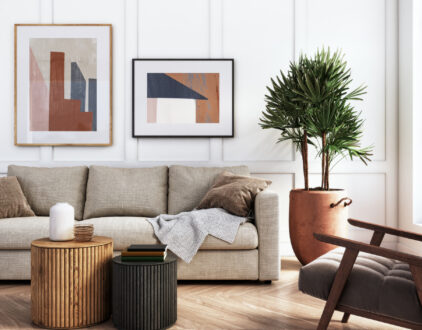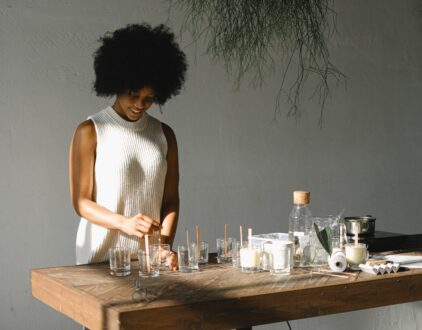 ---
Spaces
Whether it's luxury or ease, every area of your home should be as fabulous and unique as you.
FOLLOW ALONG ON INSTAGRAM
Find us on social for more home inspiration where culture, personal style, and sophisticated shopping intersect to help you create a home where you love to live.