From barking dogs to honking cars, a lot can disturb your peace as you sleep. This is especially true if you live in a major city or other densely populated area where noise can be a major problem. Even worse, sleep disturbances not only disrupt your sleep but can also have a negative impact on your overall health and well-being, too. Fortunately, this is where white noise machines can help.
How White Noise Machines Can Help You Sleep Better
White noise sound machines are small but mighty appliances that create white noise — a constant, soothing sound that drowns out other noises — to help distract your mind from sleep distractions. Many of them emit the sounds of nature to calm the mind, from the sound of trickling rain to that of crackling firewood. But you can also find many that create other calming sounds, too, from the hum of a fan to the sloshing of a dishwasher.
Their Benefits
White noise machines are popular for many reasons. Obviously, they can help you fall asleep much faster and stay asleep for longer so you can wake up feeling refreshed and revived.
They can also help reduce stress and anxiety or other medical conditions such as tinnitus, a condition characterized by a ringing in your ears. On top of that, you can even use them outside of sleeping as a way to improve your concentration as you work.
The 7 Best White Noise Machines To Shop
If you have trouble sleeping at night, consider adding a white noise machine to your nighttime routine. Not only can they help you sleep peacefully, but many of them include cool features that can truly transform your bedroom into a sleep sanctuary. Here are seven of the best white noise machines to help you drown out sleep distractions:
1
SNOOZ Smart White Noise Machine
Enjoy the best sleep of your life with this white noise machine from SNOOZ. It uses a real fan to emit non-looping white noise that can drown out even the loudest sleep distractions. Plus, it features 10 adjustable tone and volume settings for your convenience.
2
The Original White Noise Sound Machine
Touted as "The Original White Noise Sound Machine" since 1962, this white noise machine from Yogasleep is the perfect tool to lull you to sleep. It includes adjustable tone and volume settings for maximum comfort. You can even purchase a travel case to transport it with you on vacation!
3
Reacher White Noise Sound Machine
Featuring 31 non-looping white noise sounds, this powerful sound machine is the perfect companion to your bedtime routine. Listen to the sounds of nature including ocean waves, thunderstorms, and rain, plus white, pink, and brown noise.
4
Serene Evolution White Noise Machine for Adults
If you become easily bored of hearing the same sounds over and over again, try this versatile white noise machine from Serene Evolution. It includes a whopping 60 white noise sounds, from the tranquil sound of ocean waves to the more lively sound of the rainforest.
5
Dreamegg White Noise Machine
Looking for a quality sound machine that won't break the bank? Then this innovative machine is the one for you. Featuring a super advanced speaker, it clearly emits 29 different sounds including a campfire, music box, pendulum, gentle surf, and shushing — making it perfect for babies and adults.
6
HOUSBAY White Noise Machine
The HOUSBAY White Noise Machine is an ideal tool for your evening routine. Not only does it help drown out noise as your sleep, but it includes nine adjustable night light colors for a more relaxed ambiance. And to help you adjust more easily in the morning, it can even gradually illuminate to mimic the rising of the sun.
7
Medcursor Sound Machine for Sleeping
The Medcursor Sound Machine for Sleeping includes 29 sounds that can transform your quality of sleep, from cricket chirping to fan noises. Plus, this machine is multi-functional, acting as a timer, alarm, and light, too.
Our editors love finding you the best products and offers! If you purchase something by clicking on one of the affiliate links on our website, we may earn a commission at no extra cost to you.
---
---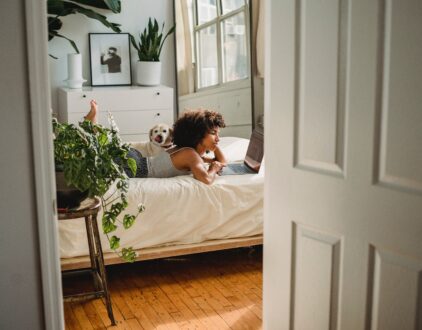 ---
Spaces
Whether it's luxury or ease, every area of your home should be as fabulous and unique as you.
FOLLOW ALONG ON INSTAGRAM
Find us on social for more home inspiration where culture, personal style, and sophisticated shopping intersect to help you create a home where you love to live.