White walls and black trim is a modern approach to home design. Whether you design your entire home using this color scheme or a single room, there are plenty of options for how to go about it.
The Advantages of Having White Walls and Black Trim
Rooms that feature white walls and black trim are popular among homeowners for good reason. This contrasting color scheme not only provides a clean and minimalistic aesthetic, but also includes a number benefits.  Black and white never really goes out of style. As a result, designing your white walls with black trim can have classic appeal. This striking color scheme can adapt to multiple decor styles from art deco to contemporary. Adding a pop of color really can make your space come alive.
Another advantage is the stark contrast between the two colors creating a dramatic effect that adds depth and dimension to your space. This color combination allows you to show off your design skills with little effort. White walls and black trim also can help create a sense of openness and airiness. By using white walls, you can make a room appear bigger and brighter as they reflect natural light. Adding a black trim can provide a noticeable accent, creating architectural interest.
Using white and black colors together creates a clean and minimalistic aesthetic. This emphasizes the beauty of other objects in the room, such as furniture and decorations. The two colors provide a blank canvas that encourage a clutter-free space, fostering a sense of tranquility and calmness.
White Walls and Black Trim Inspiration for Your Home
Black and white is a classic color combo that can take your home decor from drab to fab. Having white walls and black trim has a lot of advantages. If you want a space that is clean and attractive, consider making use of this brilliant color scheme. Here are design ideas to get you started.
Natural
The use of the wooden accents on the staircase and table makes for a stunning natural presentation. A small houseplant provides a warm welcome to guests who enter. This black and white combo promotes a sense of calm and tranquility, while its snazzy checkerboard tiles provide a classic and modern aesthetic.
Elaborate
The white walls and black trim in this room enhance the beautiful, deep red dining set. The golden framed picture and sophisticated chandelier evoke a sense of beauty and luxury. You and your guests are sure to enjoy the opulent ambiance as you converse over a delicious meal.
Specialty
You can add white walls and black trim to any space in your home. To make the colors truly stand out, use them in a specialty room, such as a game room or home library. This black and white color scheme is simple, making the pool table the focal point of this game room.
Romantic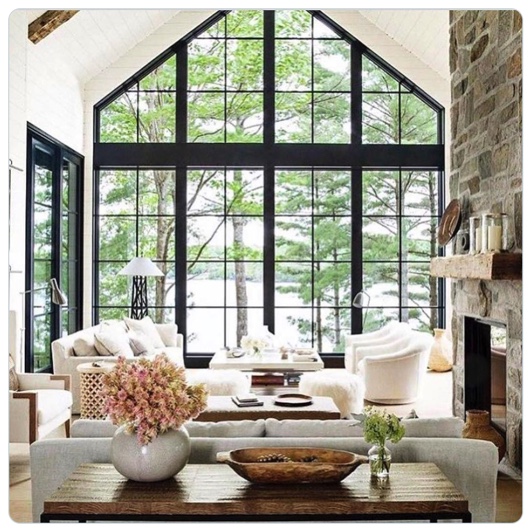 This dreamy space is perfect for sitting back to reflect or read a book. The white candles on the mantle and vases of pink and white flowers add a touch of femininity to the room. Its plush white seating is a great for cuddling up for a romantic night in or taking a nap near the fireplace.
Wide Open Spaces
The white walls and black trim in this room add plenty of depth and dimension, creating a more spacious effect. Its extra tall windows also provide a view of the Great Outdoors, giving you a sense of peace and tranquility. Its decor that features a treasure chest end table,  and culturally inspired throw pillows and blankets are the perfect accents for travel enthusiasts.
Textured
This living room is full of interesting patterns and textures that create great visual interest. Its textured, gold end table evokes a feeling of luxury, while the two velvet pillows add a coziness to the space. A bouquet of white flowers complements the black trim, and the two black and white patterned pillows provide enough contrast to attract the eye.
---
---
---
Spaces
Whether it's luxury or ease, every area of your home should be as fabulous and unique as you.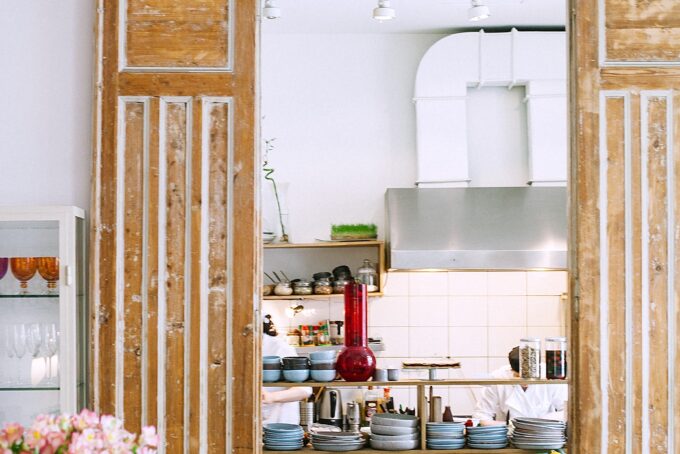 FOLLOW ALONG ON INSTAGRAM
Find us on social for more home inspiration where culture, personal style, and sophisticated shopping intersect to help you create a home where you love to live.