Countertops can make a world of difference in the aesthetic of your kitchen. Choosing the right countertop is essential when designing the kitchen of your dreams. However, they can be quite pricy. It's important to assess your budget before selecting a countertop. Materials like marble and granite are visually stunning but can be a budget buster. Fortunately, there are countertop materials that are also beautiful and wallet-friendly.
When selecting a budget-friendly countertop material, factoring in your lifestyle is important. You'll need a low-maintenance countertop if you cook a lot and your kitchen is a high-traffic area. If your top priority is aesthetics and your kitchen doesn't get used much, you can try budget-friendly materials that aren't as low-maintenance.
Keep reading for the best stylish, budget-friendly countertop materials.
1. Laminate
View this post on Instagram

This is a popular choice of countertop. Laminate countertops are made from layers of plastic surface over a particleboard or plywood core. The finished product is a countertop with a smooth and easy-to-clean surface. They come in a variety of colors, finishes, and patterns. There are even designs that look like natural stone or wood. These countertops are durable and resistant to scratches and stains.
2. Ceramic Tile
View this post on Instagram

Ceramic tile countertops come in a variety of shapes, sizes, and colors. They are great for creating personalized designs. These countertops are resistant to heat, scratches, and stains. They are a great cost-effective choice for bathrooms and kitchens. While laminate countertops can be a fun do-it-yourself project, it's recommended to get ceramic tile countertops installed by a professional.
3. Butcher Block
View this post on Instagram

Butcher block countertops are great choices for adding warmth to your kitchen. They are typically made from strips of wood like bamboo, maple, or oak. The strips are then glued together to create a solid surface. They are a great choice for rustic or bohemian design styles. If you experience scratches or stains, you can sand and reseal the surface to bring it back to life. This countertop requires more maintenance, such as oiling, to keep them in good shape.
4. Concrete
View this post on Instagram

Concrete countertops are a great choice if you're looking for a modern or industrial aesthetic. They can be customized in different textures, finishes, and colors to align with your design style. It's best to hire a professional to install concrete countertops. They are easy to clean, heat-resistant, and durable. Sealing the countertops will make them heat and scratch resistant.
5. Solid Surface
View this post on Instagram

Use solid surface countertops to get the look of natural stone or quartz for less. Materials like acrylic or polyester are great budget-friendly alternatives and are easy to maintain. These surfaces are non-porous and resistant to bacteria growth and stains. You can select solid surface countertops in a variety of patterns and colors. You can easily repair these counters if any scratches or stains occur, so they're a great choice for high-traffic kitchens.
6. Recycled Glass
View this post on Instagram

In addition to being budget-friendly, recycled glass countertops are also eco-friendly. They're made from recycled glass pieces in a cement or resin binder. These countertops are available in a range of colors and patterns and are beautiful to look at. Recycled glass countertops are also heat-resistant, durable, and low maintenance.
---
---
Decorate
Access design inspiration that infuses personality and culture into your spaces.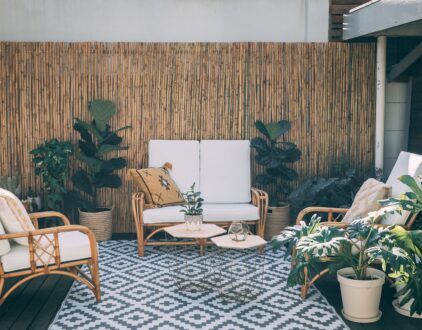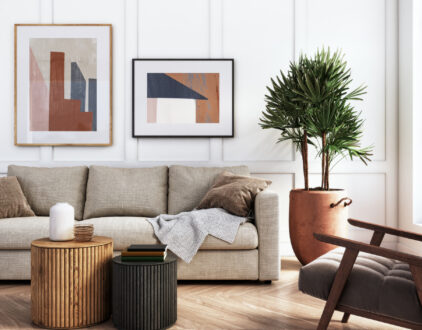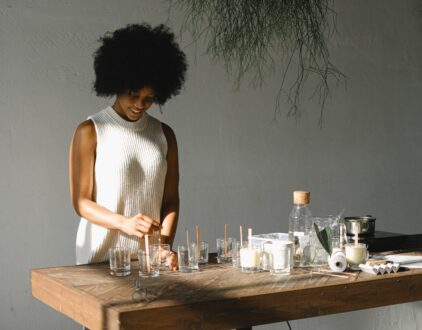 ---
Spaces
Whether it's luxury or ease, every area of your home should be as fabulous and unique as you.
FOLLOW ALONG ON INSTAGRAM
Find us on social for more home inspiration where culture, personal style, and sophisticated shopping intersect to help you create a home where you love to live.