As the leaves change from green to orange and summer fades into a crisp autumn breeze, you may find yourself eagerly embracing the energy the new season brings. Or, depending on where you live, you may be dreading it altogether and holding on to the last few days of blue skies and minimal layers of clothing. While Home & Texture's fall-loving editors proudly belong to the former, we absolutely respect those who aren't quite prepared to deck out their homes in full-fledged fall fashion just yet.
Fortunately, if you're a fan of year-round color, you're in luck: Anthropologie's Autumn in Color Collection is the perfect middle ground between summer and fall decor. These subtle fall pieces are the perfect balance between cozy and breezy, allowing you to enjoy the best of both worlds. What's more, these designs will last well beyond the season and effortlessly transition with you into winter and spring then back to summer and fall again. With a versatile color palette, you can artfully mix and match pieces to curate your ideal home ambiance, tailoring it to your personal fall inclinations.
Why shop transitional pieces for fall?
When it comes to fall decor, there's no one-size-fits-all approach, which is why shopping for pieces that you'll love long after the season's end might just be the answer to your fall interior styling questions.
Timelessness is a key aspect of any good home interior styling approach, so it's important to choose pieces that will allow you to minimize your spending and maximize your number of investment pieces. Rather than regularly replacing seasonal items, you can curate a collection that withstands the test of time, reducing waste and minimizing the need for frequent redecoration.
This also means you aren't limited to browns, burnt oranges, and mustard yellows if you don't want to be — you can infuse your home with just the right amount of autumnal charm while still maintaining a sense of the familiar.
Why Anthropologie?
At Anthropologie, the Autumn in Color Collection offers more than just an opportunity to switch out your throw pillows and add jack-o-lanterns and skeletons to your mantel. Anthropologie's one-of-a-kind pieces and emphasis on quality and craftsmanship ensure that you're investing in items that are both beautiful and durable, so you can elevate your space with curated sophistication that you'll love no matter the season.
McCall Chenille Accent Chair
We're absolutely in love with this sophisticated yet groovy accent chair in the color moss. It's the perfect color and material to introduce an autumnal atmosphere without being too in-your-face fall. Infuse into a neutral color palette with browns, beiges and creams to make more of a statement, or add to an eclectic range of pieces to enhance the already existing decor. With no assembly required, you'll be able to enjoy from the moment it arrives on your doorstep.
Hyacinth Curtain
These curtains are available in two colors — dark turquoise and honey — for the perfect subtle touch of fall. The beautiful floral pattern adds a cozy charm to any space, and the four different sizes allow you to achieve the best fit for your windows. As a more green-leaning shade of turquoise, this color would be gorgeous styled with other pops of dark green for a monochromatic fall look. Honey, on the other hand, adds a touch of warmth that's perfect for holding on to that summer feeling while also nodding to autumn's natural elements.
Sonali Side Table
A side table is the perfect element for introducing a new vibe to your living space without having to completely overhaul your already existing design. The natural wood grain element to this piece offers a warm, organic feel, and the clever design adds visual interest to your space. Because the piece is crafted by hand, expect variations in color and texture and know that the piece you receive is not alike any other piece. It's the perfect piece for showing off your eye for design and styling other fall decor atop it. However, know that some assembly is required.
Velvet Tashi Dining Chair
These dining chairs, available in three colors — dark green, navy and rose — offer the absolute perfect color palette to spruce up a stale dining room for fall. The velvet material introduces a cozy charm reminiscent of the holidays, but their modern design makes them perfect for enjoying year-round. Choose one color for a sophisticated uniform look, or blend two or three colors for an interesting mis-matched look. No matter the combination you choose, your dining room is sure to look elegant and refined for all your holiday hosting needs.
Hand-Tufted Leighton Rug
We have to admit that the Hand-Tufted Leighton Rug might just be our favorite piece from the entire collection. The unique design offers a touch of something different from your typical medallion rug and provides a beautiful textural element that would work in just about any space. With four gorgeous colors and seven sizes to choose from, including one oval shape, you'll be able to seamlessly integrate it into your existing decor. And with a comfortable plush element, it's sure to help your home feel extra cozy this fall.
Maja Dining Table
This dining table is the perfect solution for adding an air of sophistication to your eating space. Its modern design and wood material allow you to make a statement without overpowering your space. We love how the detailing on the base adds a unique element to infuse more character and charm into your dining experience. To clean this table, wipe with a soft cloth and avoid using chemical cleaners. Some assembly is required for this table.
Corduroy Effie Tripod Chair
Corduroy is the quintessential fall fabric if there ever was one. We absolutely love the unique tripod design of this chair. It's guaranteed to add a bit of dopamine to your space, not to mention a bit of cozy charm for the season as well. You'd be hard-pressed to find someone who's not in love with these chairs — they're sure to be the center of attention in any space. Available in light green or pink, these playful options are perfect for adding a little more color to your space.
Our editors love finding you the best products and offers! If you purchase something by clicking on one of the affiliate links on our website, we may earn a commission at no extra cost to you.
---
---
Decorate
Access design inspiration that infuses personality and culture into your spaces.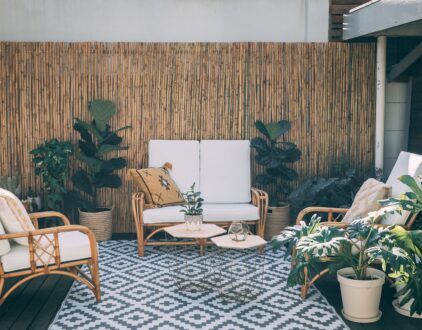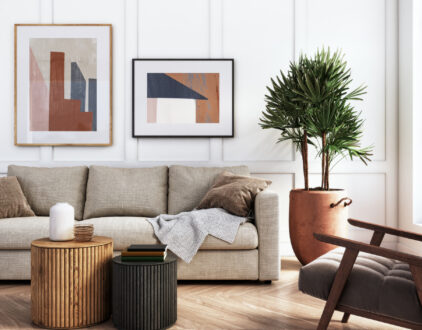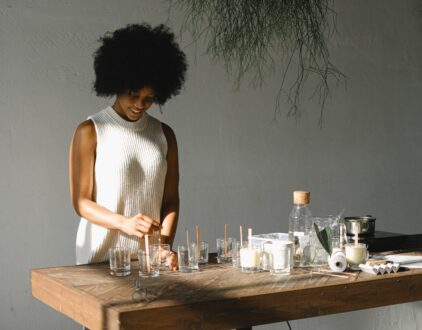 ---
Spaces
Whether it's luxury or ease, every area of your home should be as fabulous and unique as you.
FOLLOW ALONG ON INSTAGRAM
Find us on social for more home inspiration where culture, personal style, and sophisticated shopping intersect to help you create a home where you love to live.