Why spend hundreds of dollars on brunch this summer when you can have a leisurely at-home brunch for half the cost? Enjoying brunch from the comfort of your home allows you to invite all of your friends and enjoy brunch for as long as you desire, with unlimited mimosas and eggs Benedicts. Take your at-home brunch to the next level by creating an experience that is not only delicious but visually appealing, creating memories that will last a lifetime.
Elevating your at-home brunch requires thoughtful planning and attention to detail. Here are some key items you should have in your home to take your at-home brunch to the next level:
Fresh Flowers or a Centerpiece
A stunning centerpiece or bouquet of fresh flowers can enhance the visual appeal of your brunch tablescape. Place fresh flowers in a vase to create a decorative flower arrangement or opt for a beautiful centerpiece. This adds a pop of color and creates a welcoming and inviting atmosphere.
Thoughtfully Curated Menu
Plan a well-curated brunch menu for your friends to indulge in. Curate a menu with a variety of dishes to appeal to different dietary preferences and tastes. Include a combination of sweet and savory options like an omelet station, homemade granola, seasonal fruit platters, and freshly baked pastries. Take your brunch to the next level by ensuring each dish is plated nicely and the spread is visually enticing.
Personal Touches
Intentionally infuse your personal style into your brunch experience. Items like custom place cards, menu cards, or small favors for your guests will really elevate your at-home brunch experience. Other personalization ideas include monogrammed napkins, personalized drink stirrers, and nameplates for your guests. These details show your intentionality and will make your guests feel extra special.
Drink Bar
Break the ice with your guests by having a drink bar at your at-home brunch. Offer a variety of drink options such as freshly squeezed juices, infused water, coffee, and a signature brunch cocktail or beverage. Add garnishes like citrus fruit slices, mint sprigs, and colorful straws to enhance the aesthetic and vibe of the drinks.
From creating a stylish and inviting atmosphere to crafting delicious dishes and drinks, each element will help to transform a simple meal into a memorable occasion. Whether you're hosting friends and family or enjoying a relaxing brunch with your significant other, these tips will help you create an ambiance of indulgence and enjoyment from the comfort of your own home.
---
---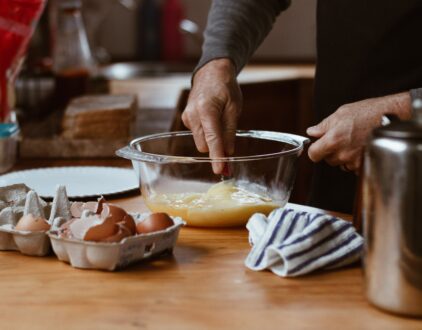 ---
Spaces
Whether it's luxury or ease, every area of your home should be as fabulous and unique as you.
FOLLOW ALONG ON INSTAGRAM
Find us on social for more home inspiration where culture, personal style, and sophisticated shopping intersect to help you create a home where you love to live.