This upcoming Labor Day weekend presents a great opportunity to bring new life into your living spaces. And, as you may already know, Bed, Bath, and Beyond made headlines earlier this year by announcing that it's closing brick-and-mortar store locations. While bittersweet, it's good news for your wallet. If you were thinking about upgrading some essentials or even splurging on totally unnecessary but undeniably cool kitchen appliances, you'll definitely want to check out the major Labor Day deals happening online and at your nearest Bed, Bath, and Beyond. Not only that, but you can even an even bigger discount by shopping on their app. But first, get some style inspo with these design ideas.
Rustic Warmth
Add rustic warmth to your home with earthy tones, distressed wood elements, and cozy textures. You'll find a range of rustic-inspired décor items, from soft throw blankets to plush rugs. Already picturing yourself curled up with a book on a chilly fall evening? Just one or two new pieces can create a whole vibe of the season.
Minimalist Elegance
If you appreciate the beauty of simplicity, consider a minimalist approach. Think clean lines, neutral color palettes, and functional furniture pieces. These Labor Day deals have simple yet decorative storage solutions, minimalist furniture, and sleek kitchen gadgets.
Bohemian Retreat
Capture the free-spirited essence of bohemian design by introducing vibrant colors, eclectic patterns, and global accents. Exotic wall art and funky floor cushions are a great way to introduce this style if you're thinking of redecorating in boho fashion. Not sure where to start? Transform your bedroom or lounge area into a bohemian retreat first, where creativity knows no bounds and relaxation takes center stage.
All About Comfort and Style
As you're thinking about what to add to your home, remember that comfort and style go hand in hand. Don't just focus on aesthetics, prioritize the tactile experience too. Ask yourself what items would truly add joy to your home, or which ones may seem cool but might be better suited for a gift around the holidays. Summer flew by, after all. Blink twice and it will be December before you know it.
1
Humble + Haute Round Papasan Cushion
Indulge in comfort with the tufted round Papasan cushion, designed to elevate your "you" time while you relax at home. Crafted from durable material, this cushion has both premium quality and enduring comfort. It's spacious, offering the ideal blend of utility and style, seamlessly infusing your personal essence into any room. With its distinctive features and characteristics, this cushion can become an integral part of a variety of your design aesthetics. It features 100% polyester fabric that looks nice and is easy to maintain. Just spot clean with mild detergent and water as needed to maintain its pristine appearance. Its compatibility with traditional, contemporary, and transitional styles makes it a versatile addition to your décor.
2
Solaura Metal Outdoor Three-piece Rocking Bistro Set
Transform your outdoor space into an inviting retreat with this set. The charming ensemble comes with two rocking chairs, featuring rounded armrests for maximum comfort, and a square side table with a tempered glass top. Made with a sturdy iron frame, this set is built to last. Relaxation reaches a new level with the inclusion of sponge cushions adorned with polyester covers. Available in brown, grey, or red, these cushions not only enhance your seating experience but also seamlessly blend with your outdoor aesthetic. The timeless design of the set is elevated by button accents and velcro straps, adding a classic flair to your outdoor oasis.
3
Homall Five-Piece Patio Furniture Set
Enjoy a harmonious blend of contemporary design and uncompromising comfort. Sink into the indulgent luxury of thick cushions, creating a whole new standard of relaxation. This set is made from high-quality PE wicker and a robust frame for both durability and aesthetic appeal. The sectional design of the set offers plenty of versatility, making your backyard a blank canvas. Effortlessly adapt the arrangement to accommodate various occasions and spaces, preserving comfort without sacrificing style. This set isn't just about aesthetics and relaxation – it's designed for your ease. With assembly tools thoughtfully included in two boxes, you can set it up quickly.
4
SAFAVIEH Milan Shag Maibritt Area Rug
Add ambiance to your contemporary space with this area rug, a striking addition that seamlessly combines good looks with comfort. This rug is a perfection when it comes to texture, with luxurious plushness that transforms your floor into a welcoming haven. The two-inch thick pile height creates incredible cushion, perfect for building staying in to build pillow forts and watch movies on. The rug's versatility shines through as it effortlessly enhances any room in your home, from the elegant living room to the nurturing nursery. Its non-shedding design, expertly machine-woven from enhanced soft synthetic fibers, guarantees convenience and a polished appearance.
5
SAFAVIEH Handmade Marquee Genta Modern Medallion Wool Rug
The Marquee area rug collection is a testament to the artistry of texture and design, adding an unparalleled dimension of beauty to any room lucky enough to host these masterpieces. Skillfully detailed and thoughtfully handcrafted, each rug within this collection is easy on the eyes and has an upscale bohemian feel. Made from premium wool with a half-inch pile height, these rugs are not just floor coverings but tactile experiences of luxury. The rug seamlessly blends modern design with a contemporary flair. The intricate medallion pattern, woven with precision, introduces an elegance that enriches your interior without overwhelming it.
6
LUCID Comfort Collection 10-inch Luxury Gel Memory Foam Mattress
Sink into personalized comfort with the Lucid Comfort Collection. Whether you lean towards firm, medium, or plush designs, all within the 10-inch mattress profile, your journey to restful nights starts with your preference. These variations accommodate various sleep positions, allowing stomach sleepers to sleep soundly in the firm design, back sleepers to find their solace in medium, and side sleepers to drift off into plush softness. The meticulously crafted mattress composition unites layers of luxury. With three-inch gel-infused memory foam, one-and-a-half inches of support foam, and a foundational five-and-a-half inches of base foam, you can look forward to a blend of support and comfort that aligns your back, hips, and shoulders while regulating sleep temperature through cooling gel infusion.
7
Cheer Collection Ultra Plush Chunky Cable Knit Throw Blanket
This handcrafted blanket, woven from soft and durable acrylic, not only offers cozy warmth but also adds a delightful texture to your surroundings. The cable-knit throw seamlessly combines form and function, boasting a casual yet contemporary style that effortlessly complements a variety of decor themes. With seven colors – white, black, burgundy, ivory, taupe, grey, or off-white – to choose from, you have the freedom to align your throw with your interior's color palette. This throw's charm lies not only in its hand-knit uniqueness, but also in its practicality, providing all-season warmth and comfort for those chilly evenings or breezy days.
8
Adesso Hutch Storage Coat Rack
With four functional coat hooks and three spacious 12-inch cube storage cubbies, this piece provides a seamless solution for keeping essentials within reach. From shoes to hats, it gives you swift access to belongings as you step out the door, streamlining your daily routine. Blending the beauty of natural and walnut wood finishes, the Hutch Storage Coat Rack isn't just utilitarian; it's a design statement that effortlessly adapts to diverse room decors. The marriage of these finishes not only enhances its visual appeal but also underscores its versatility, allowing it to seamlessly complement the looks and feel of your space while serving as a great storage solution.
9
Uber Appliance Five-Quart Air fryer XL Deluxe
Designed to cater to families of all sizes, this appliance has a spacious five-quart basket that can accommodate an entire chicken for a crispy and flavorful air-fried delight. Cleaning becomes hassle-free with its dishwasher-safe basket and grease separator, both equipped with a non-stick coating for effortless maintenance. A simple wipe with a damp, soapy microfiber towel followed by a trip to the dishwasher restores it to its like-new state. Featuring an intuitive touch display, it empowers you to customize temperature and time settings. The digital display streamlines your cooking process with a range of pre-set cooking temperatures and times. Whether it's chicken, steak, fries, wings, or more, achieving culinary excellence is a mere button press away.
10
Electric Tilt-Head Food Stand Mixer
This tool stands as a true asset in any kitchen, boasting a dough hook and a large stainless steel bowl that's perfect for all your culinary needs. With a robust 660-watt motor and six adjustable speeds, absolute control over the mixing process is in your hands. With precision craftsmanship, this mixer effortlessly handles cakes, cookies, and creams. The user-friendly tilting head design, coupled with easily manageable knobs, grants swift access to the bowl. Deliberate design features, including splash guards for cleanliness, a handle for convenient bowl mobility, and non-slip suction feet for stability, show the thoughtful approach behind this mixer's construction.
Our editors love finding you the best products and offers! If you purchase something by clicking on one of the affiliate links on our website, we may earn a commission at no extra cost to you.
---
---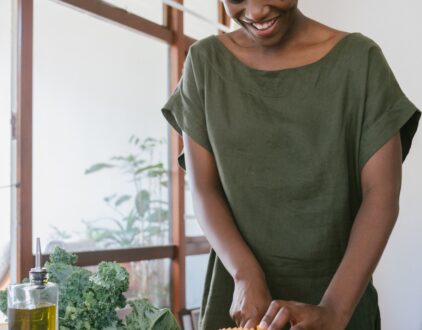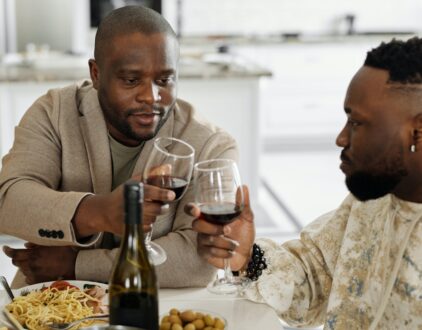 ---
Spaces
Whether it's luxury or ease, every area of your home should be as fabulous and unique as you.
FOLLOW ALONG ON INSTAGRAM
Find us on social for more home inspiration where culture, personal style, and sophisticated shopping intersect to help you create a home where you love to live.