Creating a boho aesthetic in your home is one of the best ways to relax in style. Boho, which is short for bohemian, includes a mixture of different aesthetics, design pieces, cultural and artistic elements, and patterns. This style can often be achieved by mixing different patterns, prints, textures, and designs to create the perfect eclectic space in your home.
Incorporating designs and boho elements such as plants, tassels, baskets, colors, tiles, geometric patterns, and more are all great starters to creating that boho aesthetic. Boho is also versatile, so you can go with different themes like modern, sophisticated, colorful, funky, minimalist, maximalist, and more. Your home is your safe space and most likely the place where you spend the majority of your time. The boho aesthetic is designed to make your space relaxing and zen-like. Here are nine boho aesthetic ideas that will get you excited about coming home every day.
Mix Patterns and Colors
Break the rules with the boho aesthetic and mix and match different prints, patterns, and colors. With this design idea, the world is your oyster. You can use different wallpaper prints, colorful flooring, different paint colors, different furniture designs and colors, and unique decor items to create an eclectic space. This is also the perfect time to mix different textures and embrace designs like florals, geometric patterns, paisley, honeycomb, gingham, and more.
Add Cultural Elements
Boho is tied to cultural and global elements. What better way to celebrate culture and the world than incorporating pieces in your home in a respectful manner? Prints and decor distinctive to African and Asian cultures work well in this design. If you consider yourself a world traveler, display all of the cool souvenirs you've collected on a shelf. Items like candles, woven baskets, rugs, sage, vases, and artwork will make this space pop.
Go for a Modern and Simple Look
For a modern boho aesthetic, you must keep the space simple to achieve this look. Using natural colors like black, white, gray, or sage green works well for a modern look. Add in your basic furniture pieces and decor like soft boho rugs, tassel pillows, and shelving with books, baskets, vases, and other decor pieces. This casual boho aesthetic keeps things simple while still serving as a calm and relaxing space for you and your guests.
Add a Sophisticated Vibe
Boho can also be elegant and sophisticated. Utilizing colors like beige, gray, black, white, or navy blue will make any home space feel elevated. High-end furniture pieces and decor pieces like rugs, pillows, throw blankets, baskets, a fireplace, vases, and framed or canvas artwork will make this aesthetic feel even more elegant.
Layer Textures
Nothing says boho-like texture! Channel your inner boho spirit by adding texture to your home with throw blankets, pillows, and rugs. Your living space or home will enjoy the layers of texture. Include other elements of texture such as different tiles and flooring. Woven baskets, wicker headboards, cane nightstands, dresser knobs, velvet ottomans, and furniture are all unique decor pieces that will add flair and texture to your boho home.
Find Unique Vintage Pieces
Vintage and boho go hand in hand. Try finding budget-friendly decor and home design pieces by thrifting. Check out local value furniture stores and thrift stores for trendy boho items. You can also snag chic boho aesthetic pieces from Facebook's marketplace, Etsy, and Depop. For high-end vintage pieces, try local vintage shops.
Channel Your Inner Artist
Art is the main element to achieving a boho aesthetic in your home. Turn your space into a gallery using prints, paintings, drawings and canvases. Either DIY some of your favorite artwork pieces or pick up a few from your local home decor and items store. If you plan on painting or using wallpaper, matching the art with the paint color makes for an aesthetically pleasing wall gallery. If you're looking for more of an eclectic design, mix and match your artwork for a maximalist and colorful space.
Go for Green
Plants are great for the environment and your home. Arguably one of the most important decor items for a boho aesthetic, adding plants will brighten your home and give it color. Add different plants of different sizes and shapes, incorporate different color potting, or add plants to wicker baskets for the ultimate boho aesthetic. If you don't want to take on the task of watering and taking care of real plants, use fake ones instead.
Create a Scandinavian and Boho Style Combo
While boho and Scandinavian are two different styles, they often go hand in hand. Boho styles tend to have freedom, texture and imperfections while Scandinavian tends to be more elegant, functional, and simplistic. Combining these two aesthetics is a simple task. Incorporate a neutral color scheme in your home and add accessories like vases, baskets, throw pillows, blankets and rugs. Add furniture pieces like couches, shelving, and desk and chair sets.
---
---
Decorate
Access design inspiration that infuses personality and culture into your spaces.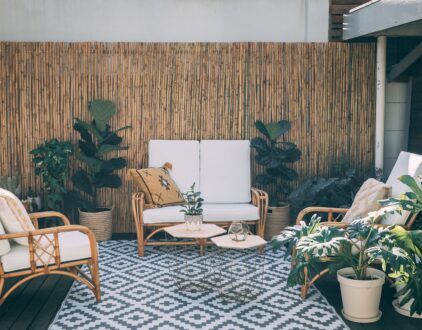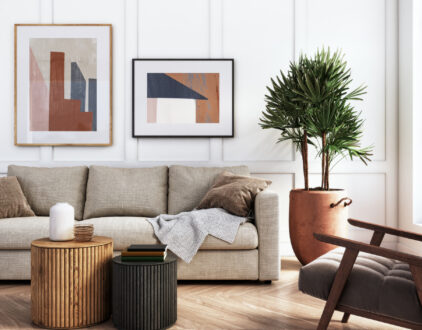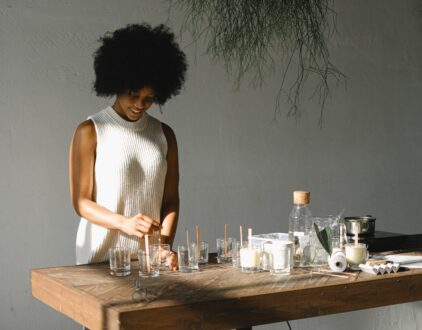 ---
Spaces
Whether it's luxury or ease, every area of your home should be as fabulous and unique as you.
FOLLOW ALONG ON INSTAGRAM
Find us on social for more home inspiration where culture, personal style, and sophisticated shopping intersect to help you create a home where you love to live.