Bohemian, also known as boho, consists of a mix of different cultures, artistic elements, and aesthetics. Boho-style bedrooms combine all of this for an eclectic and unique design. Many bedrooms of this style incorporate different colors, textures, and patterns by using throw pillows, blankets, wall decor, plants, and more. This relaxed and carefree aesthetic allows for design versatility with both minimal and maximal looks.
Whether you choose to go with funky wallpaper, a monochromatic design, textured decor, or a modern boho design, there are so many different elements to choose from. Because the boho style is so versatile, this design is the perfect opportunity to show off your personality and make your space feel like you. Here's how to create and style a chic boho bedroom.
Add Tons of Texture
Adding texture is an easy way to create a boho bedroom and make your space feel comfortable. To create some texture, add one or a few small rugs, some throw pillows, and blankets. Decor pieces like patchwork chairs, baskets, and bamboo-inspired furniture add texture and a quirky look to the room.
Go for a Bit of Greenery
Greenery and plants added to any space make it pop and give it a boho vibe. Add a few plants on your nightstand, by your windows, or in a hanging basket to add a touch of nature. Adding fake vines to your walls will give the space an extra boho touch and add some color to the room.
Make It Pop With Color
Create the perfect boho chic bedroom by adding pops of color. The best boho colors are yellow, oranges, green, burgundy, marigold, fuschia, pink, and blue. Add pops of color by either painting your walls or adding bedding, rugs, and decor to brighten up the room and make it pop.
Put Up Some Funky Patterns
Nothing says boho chic like a funky pattern. Create a playful vibe in your boho bedroom by adding funky patterns on the wall or decorating with quirky furniture pieces. Paint patterns on your wall or use peel-and-stick wallpaper for a unique backdrop. Funky furniture, blankets, pillows, or decor with animal print patterns, geometric patterns, fruit patterns and more will all add a playful and fun vibe to the room.
Keep It Natural and Minimalistic
For a simple and modern boho bedroom, go with a natural and minimalistic look. This look can be achieved with either black, white, or wood furniture. Add in a few neat decor pieces such as baskets, a boho headboard, wall art, and bedding and blankets with tassel details to complete the simple look.
Create a Tropical Oasis
Turn your boho bedroom into a tropical oasis. Feel like you're on a tropical vacation by adding bold leaf wallpaper, blue and teal bedding, fake tropical monstera leaves, and a tropical-style rug. Add flamingo or leaf artwork and decor to add to the space.
Catch a Wave at the Boho Beach
Take a beach vacation in your room with a beach and boho-style mash-up. For this boho bedroom idea, include beach room decor with starfish, the ocean, and seashells. Add a beach or boho-inspired rug to the space to brighten things up. Painting the wall a light blue or ocean blue color will make the space pop and feel like you're at the beach. Tapestry and beach-inspired bedding will give the illusion of relaxing by the beach.
Take It To the Max
For the maximalist who has way too much stuff, this idea is perfect. Instead of putting it away in storage, why not display it everywhere? The great thing about boho being so versatile is that you can incorporate just about any furniture and art piece you have. Display your boho artwork on a shelf or the wall. Fill your space with unique patterns, knick-knacks, decor, and furniture. Display your unique clothing pieces on a clothing rack. This is also the perfect time to combine colors, textures, and patterns and add funky furniture. For the maximalist, the possibilities are endless, literally.
Be 70s Inspired
Nothing screams boho like a 70s-inspired design. This era best encapsulates the boho design. For this bedroom idea, incorporate bright colors like yellow and orange into the space by either painting or with furniture pieces. A shaggy wall, tapestry, lace curtains, patchwork design, a patterned wool bedspread, and a fluffy carpet will take you back in time and add a touch of 70s to the space. Other small decor pieces like a record player, a vinyl record stand, disco balls, and an orange retro clock will make the space feel like an episode of That 70s Show.
Elevate Your Boho Bedroom
Give your boho bedroom space a relaxed and elegant feel. Make the space feel sophisticated by using black, white, or wood furniture. Add a few high-end or luxurious decor pieces like vases, a chunky beige throw blanket, beige or white bedding, and pendant lights. Smaller decor items like a rug, ruffles, tassels, fur, or bamboo decor will make this sophisticated space stand out.
---
---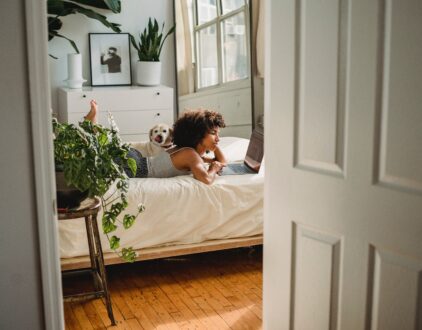 ---
Spaces
Whether it's luxury or ease, every area of your home should be as fabulous and unique as you.
FOLLOW ALONG ON INSTAGRAM
Find us on social for more home inspiration where culture, personal style, and sophisticated shopping intersect to help you create a home where you love to live.