Coffee is the fuel that gets so many people going in the morning. Creating a charming coffee bar at home can elevate your morning ritual and entertain guests in style. An intentional coffee bar seamlessly blends functionality and aesthetics to offer a cafe-like ambiance within the comfort of your home.
Here's how to create a convenient and charming coffee bar for an incredible at-home coffee experience.
Find the Ideal Spot
The first thing you should do when creating a coffee bar is locate the ideal spot in your home. Whether it's your kitchen, dining area, or living room, it should be a space that is easily accessible and not obstructive. Consider the proximity to an electrical outlet for your coffee maker and other appliances. An unused corner or a vacant wall in your home can be transformed into a chic brewing station.
Choose a Theme
Select a theme that resonates with your personal design style and complements your existing decor. From rustic and modern to eclectic, a cohesive look will enhance the appeal of your coffee bar. Mix textures and play with colors to add decorative elements that reflect your chosen theme.
Invest in Quality Appliances
High-quality coffee makers, grinders, and other appliances are essential when curating an at-home coffee bar. Opt for sleek, efficient appliances that offer optimum performance and add a touch of elegance. Functionality shouldn't compromise style. Some appliances blend both.
Organize in Style
Arrange your coffee mugs, containers, and accessories neatly. Use stylish trays, chic containers, and racks to store essentials. Keep your coffee bar area clutter-free and ensure every item has its place. This makes the brewing process smooth and enjoyable.
Add Personal Touches
Make your coffee bar uniquely yours by incorporating personal touches. Display your favorite mugs and artwork to infuse warmth and personality into the space.
Don't Forget the Extras
Stock up on a variety of coffee beans, syrups, and toppings. A selection of teas and hot chocolate can be a delightful addition for non-coffee-drinking guests. Arrange them in stylish jars or containers to add a decorative yet functional aspect.
Charming Illumination
The proper lighting for your coffee bar is essential. Illuminate your coffee bar with charming pendants or under-cabinet LED strips to create a cozy and inviting vibe. Add dimmable lights to adjust the mood according to the time of day.
---
---
Decorate
Access design inspiration that infuses personality and culture into your spaces.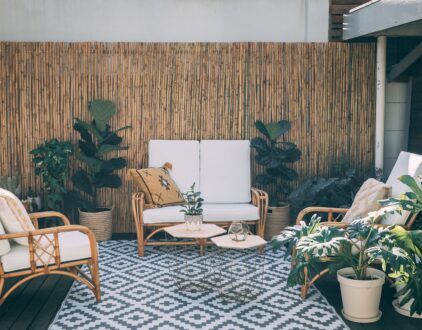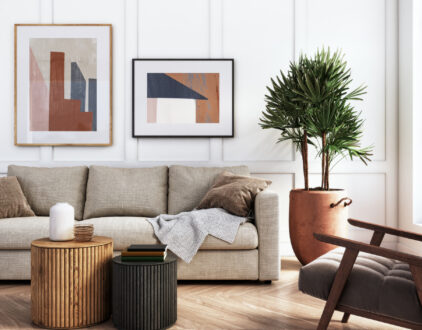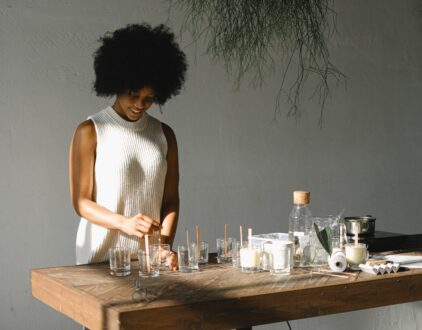 ---
Spaces
Whether it's luxury or ease, every area of your home should be as fabulous and unique as you.
FOLLOW ALONG ON INSTAGRAM
Find us on social for more home inspiration where culture, personal style, and sophisticated shopping intersect to help you create a home where you love to live.