Staying ahead of the curve is key to creating a home that reflects your unique style. And what better way to do that than by incorporating cool and futuristic chrome furniture pieces into your living space? Transform your home as it evolves into the future with these picks for chrome furniture.
A Shiny Statement
Maybe it's the shine of chrome that gives it an elevated feel. The polished, reflective surface of chrome not only adds glamour while creating an illusion of space by bouncing light around the room. Whether you have a small apartment or a spacious house, chrome furniture can make any area feel more upscale.
Durability at Its Finest
One of the reasons why chrome furniture is highly coveted is its durability. Chrome is resistant to rust and corrosion, making it a fantastic choice for furniture that will stand the test of time. This means you won't have to worry about replacing your furniture frequently, saving you money in the long run, and supporting the environment.
The Space-Age Chair
Picture this: a chair that looks like it's straight out of a sci-fi movie. Futuristic chrome chairs often feature sleek, curvy lines and innovative designs that make them look as though they've been transported from the future. These chairs not only provide comfort but also serve as captivating conversation starters.
The Minimalist Coffee Table
In the world of chrome furniture, less is often more. A minimalist chrome coffee table can instantly elevate your living room's aesthetic. Its clean lines and reflective surface create a sense of modern elegance that pairs perfectly with any décor style.
The Chrome Bookshelf
For those who love to display their collection of books or decorative items, a chrome bookshelf is a must-have. Its open design and chrome finish add some industrial chic vibes to your space, making it both functional and visually appealing.
For more inspiration, here are six furniture pieces you can shop to add the perfect chrome flair to your home.
1
Convenience Concepts Town Square Chrome C Table
This table is a shining example of contemporary style and convenience in one sleek package. Crafted from high-quality tempered clear glass and chromed metal, it brings a sophisticated atmosphere to any room while providing functional utility. One major feature is its simple assembly. With only four simple steps, you can have this elegant piece ready to enhance your living space in no time. Whether you need an accent table by your sofa, a bedside companion, or a stylish addition to your office, this product fits seamlessly into any space. Its compact yet functional design means it won't overpower a room while still providing plenty of surface area for your items.
2
Deco 79 Aluminum Drip Accent Table
Embrace the essence of future design with this stunning accent table. A contemporary theme brings together neutral elements and simple yet striking forms, resulting in a bold and statement-making design. Created with precision, this round table is constructed from tempered glass and raw unfinished aluminum, boasting a unique texture with natural pockmarks in the material. The silver polished finish continues to enhance its aesthetic appeal, all crowned by an opaque black glass table top. What truly sets this piece apart is its sculptural base, a work of art in itself. The base features a dripping metal silhouette, not only serving as a striking embellishment but also providing a solid and sturdy structure for the dark glass top.
3
Madison Park Zee Accent Table
This accent side table features a modern, edgy design that combines metal and tempered glass mirror top. The angular aesthetic styling of the table is accentuated by its bold, solid metallic color finish. This design choice not only makes it a conversation starter but also allows it to seamlessly fit into various interior styles, from contemporary to industrial. It provides you with the perfect platform to display your personal items, whether it's a piece of art, a decorative vase, or a stack of books. Additionally, it acts as an accent piece that enhances your existing decor. Durability is key when it comes to furniture, and this side table doesn't disappoint. It's made with premium metal and glass for a robust and stable design.
4
Furniliving Vanity Chair with Arm
This sleek and chic chair is built for stability and durability. The round, chrome-finished base adds a polished feel while maintaining stability, with its capability of supporting up to 285 pounds of weight. Additionally, a rubber ring beneath the base protects your floors from unsightly scratches, and the chair moves quietly and smoothly, thanks to its noiseless design. Comfort is just as important, and this chair excels in that department. The PU leather upholstery, free from any peculiar odors, looks sleek while feeling soft and breathable. Filled with high-density elastic sponge, the chair retains its shape even after long hours of sitting for lasting comfort. Whether you're reading a book or enjoying a leisurely afternoon, this chair offers an outstanding sitting experience.
5
Tangkula Glass Coffee Table
Made from metal and tempered glass, this coffee table is built to last. The tempered glass top is not only safe but also resistant to everyday wear and tear, ensuring longevity. The metal legs provide sturdy support while remaining lightweight, making it easy to move the table to whatever space you choose whenever needed. In terms of design, this coffee table stands out with its modern and compact features. Its oval shape lends a contemporary feel to any room, and the double shelves with irregular boards offer both style and functionality. The top shelf provides an elegant surface for your cups, flowers, or books, while the lower shelf serves as a handy storage space, effectively saving room space and keeping your living area organized.
6
mDesign Metal and Glass Three-Tier Storage Tower
This storage shelf features three easy-reach open front glass shelves, artfully stacked in a compact vertical format. Its slim and modern design is tailor-made for small spaces, making it an ideal addition to cozy quarters. In the bathroom, it's perfect for storing essentials like washcloths, rolled hand towels, and extra rolls of toilet paper. Meanwhile, in living rooms, it serves as an elegant platform for displaying family photos, collectibles, and books. Maximizing unused floor space, this rectangular tower features three generously sized glass shelves, all while making sure your floors remain scratch-free with its plastic feet.
nding you the best products and offers! If you purchase something by clicking on one of the affiliate links on our website, we may earn a commission at no extra cost to you.
---
---
Decorate
Access design inspiration that infuses personality and culture into your spaces.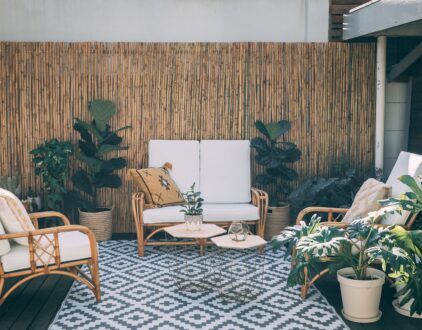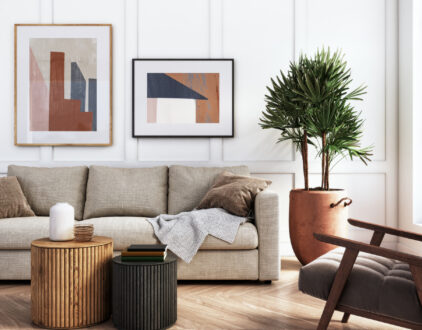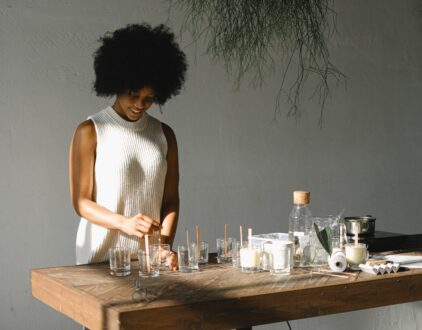 ---
Spaces
Whether it's luxury or ease, every area of your home should be as fabulous and unique as you.
FOLLOW ALONG ON INSTAGRAM
Find us on social for more home inspiration where culture, personal style, and sophisticated shopping intersect to help you create a home where you love to live.