Believe it or not, brown is one of the best colors to have in your home. It brings earthy, cozy, and modern vibes to your space and sets the foundation for a cohesive look. While it can serve as the base color of your home, it can also be used as an accent color that adds textures and new patterns. Though the color is disliked by many, it is loved by those who appreciate simplicity and neutral tones in interior design. The good thing about brown is that it comes in different shades and can be paired with other colors to create color combinations. Keep reading to learn about what colors work with brown.
Shades of Brown
Brown comes in many shades and can likely be found in most of your current home decor. If you look closely at your curtains, pillows, and rugs, you might find that you've unintentionally added this beautiful warm tone to your home. The light or dark shade of each color depends on the undertones and how much of the undertone is applied:
Khaki, Beige, & Tan: The Lighter Shades
When it comes to the lighter shades of brown, you'll almost always find a yellow undertone in them. Beige is more like a sandy light brown. It's very pale with a grayish-yellow hue. Khaki is a shade of brown that has both yellow and white undertones. Lastly, tan is in the yellow family as well. It's a mixture of orange and brown, showing up as a warmer color.
Taupe, Coffee, & Dark: The Darker Shades
Taupe is a shade of brown with gray undertones. It's mostly placed in the same group with lighter browns like tan or beige,  but it's on the darker shade of brown and falls between grey and brown. Coffee brown is a deep, cooler dark brown with purple-red undertones. Then you have dark brown. Coffee brown is similar but cooler than dark brown. Dark brown, the original shade of brown, is versatile and loved for its deep, rich brown shade.
What Colors Pair Well With Brown?
No matter the shade of brown, it pairs well with other neutral and earth tones but also balances brighter colors as well. You can pair it with different colors as a way to color block, add contrast, or simply complement it.
Blue
Blue and brown pair very well together because they are opposites on the color wheel, and together, they create contrast. The light shades of blue help settle the neutral and richness of browns so the two tones balance each other out. The best shades of blue that go with brown are navy, pale, and turquoise blue.
Green
This pairing is pure perfection. Green and brown scream nature, earth, and forest when paired together. Use these two tones if you're going for a calming and refreshing feel for your space. Together, they're pleasing to the eye. The green in the picture above is close to emerald green, but different tones of green and brown will do the job just as well.
Yellow
If fall is your favorite season, you've seen yellow and brown together. Yellow paired with brown adds the splash of lively color that you sometimes need. It steals the spotlight, but if you pair it with different shades of brown, you can also tone down yellow and make it appear less bold. Consider a deep yellow or sunshine yellow when pairing with brown.
Orange
Orange and brown are reminiscent of autumn. It's a natural color combination that meshes well together. If it's not in your home, you'll find these colors together all around you in nature in the fall season. Bright or copper orange looks amazing with any shade of brown.
Pink
The many shades of pink work well with brown because compared to brown, pink will always be the color that lifts up the neutral tone. Light, blush, Barbie, or fuchsia pink all grab the attention of a room. Since brown is a very popular color used for foundational concepts in a home, colors like pink are sure to draw attention, whether it's a book, couch, or pillow.
White
White is another neutral color along with brown. Paired with any shade of brown, white is crisp and clean and enhances the earthy tone of brown. It opens up the space, making it airy, but also complements the brown as well to create a luxurious feeling.
Think about pairing cool browns with cool tones and warm browns and warm tones. Play with it a little to find the best shades of colors that best complement and bring balance to your home. You really can't go wrong with incorporating any of these pairings into your decor.
---
---
Decorate
Access design inspiration that infuses personality and culture into your spaces.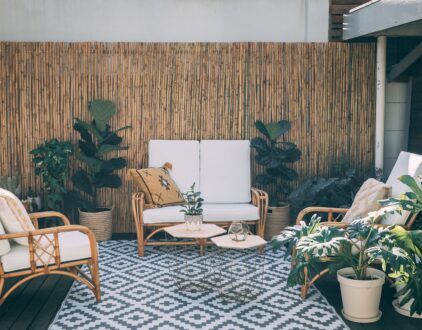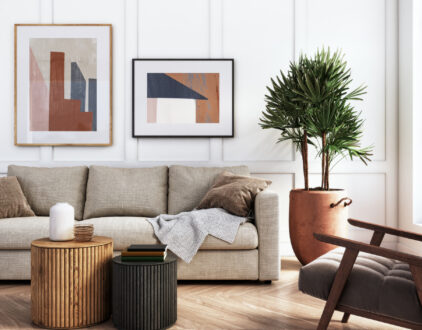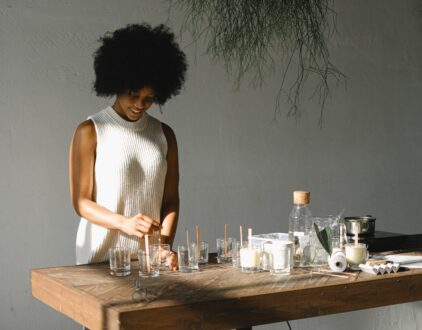 ---
Spaces
Whether it's luxury or ease, every area of your home should be as fabulous and unique as you.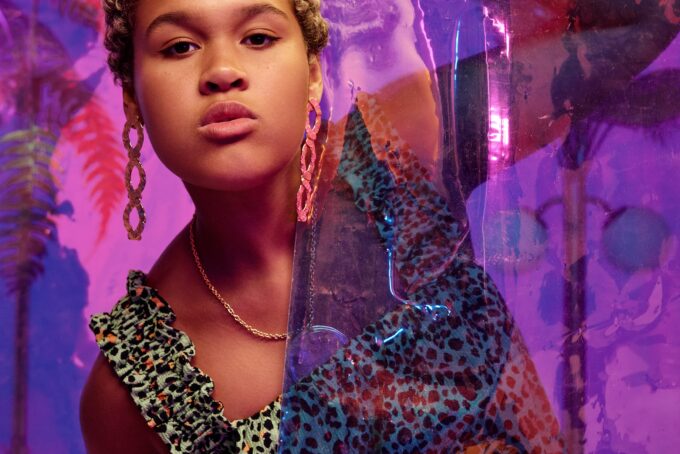 FOLLOW ALONG ON INSTAGRAM
Find us on social for more home inspiration where culture, personal style, and sophisticated shopping intersect to help you create a home where you love to live.