Thanks to a having a world of information at your figure tips, you can now learn how to decorate your living room like an expert if hiring a designer isn't currently in the budget. Professional interior designers have strategic methods for styling and designing homes, and following a few of those simple rules can give your home a curated, professional look with little to no effort.
As homeowners, it's easy to become overwhelmed when decorating an entire home from scratch. The living room in particular is one of the most popular spaces in a home, so it's important to make a good first impression. In a recent Wall Street Journal article, several designers and experts were interviewed on what would be considered rules that all designers live by. Here is what they shared and how you can use this guide for your own home.
Arrange Seating To Encourage Conversations
Atlanta-based designer, Vern Yip explained that 42 inches should be the minimum space between seats in your living room. Yip also said that anything closer than that "feels like you're intruding on somebody's personal space." However, the maximum space shouldn't be more than 120 inches, and anything more, Yip says "you no longer feel like you're in the conversation."
Get Adjustable Lights And Place Fixtures Accordingly
Now with smart devices, you can adjust lights to your mood. However, if you don't have a smart home device that connects your lights, you want to keep in mind where you put your lamps. "This way, when you're sitting, the shade doesn't go above eye level," he explains.
When it comes to chandeliers, Yip advised that you should make hanging lights  76 inches from the floor but not more than 84 inches. "You see a lot of houses that have double stories—you know, homes in suburbia trying to be mansions—where the poor fixture is hugging the ceiling and doesn't feel like part of the room," said Yip. "So, when you're sitting, the shade doesn't go above eye-level," he adds.
With Rugs, Bigger is Always Better
A beautiful rug can elevate your living space by bringing more color and texture to an area. If you select a rug that is too small, though, it can make your area look smaller than it is, making your space look cramped.
Learn How To Accurately Measure
Knowing the measurements of your living room can help you narrow down what will fit the best. Measure the walls and corners to determine what size couch will work best for your room. You can save yourself a lot of time knowing exactly how much space you have before buying your furniture.
Embrace Long Drapes
"It doesn't matter if you have thousand-foot-tall ceilings," Yip said. "Take your drapery as high as you can go." Those floor-length curtains are not just dramatic but they leave a lasting impression, too.
Don't Be Shy, Max Out Your Viewing Space
Whether you want to add a big-screen television, a grand mirror, or an exquisite piece of art, you want to ensure you are maximizing your viewing space. "Roughly 1½ to 2½ times the diagonal measurement of the screen," Yip said. You want your company to have something interesting to look at and to keep them engaged. Try to keep television and wall pieces at least 90-150 inches away from your couch or sofa chairs. "Any farther and you won't feel engaged," confirmed Yip.
These designer and expert tips should help you decorate an inviting and timeless living room you can enjoy for many years to come.
---
---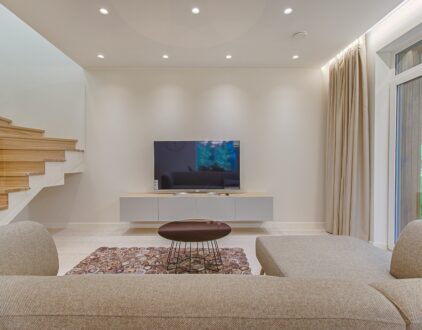 ---
Spaces
Whether it's luxury or ease, every area of your home should be as fabulous and unique as you.
FOLLOW ALONG ON INSTAGRAM
Find us on social for more home inspiration where culture, personal style, and sophisticated shopping intersect to help you create a home where you love to live.