Having a long, empty wall can be discouraging when it comes to decorating. The reason is that sometimes it can be difficult to create division in one large space that is destined for two separate areas. The secret? Wall dividers—they're essential to creating division and the illusion of two rooms in one.
Breaking up the wall visually is the key here. Placing a tall item, or wall divider, in the middle makes it feel like two separate rooms.  This can be done with tall lamps or pendants, plants, and more. Keep reading on how to decorate an extended wall and make it appear as if there are two rooms in one.
Wall Decor Ideas
Large Canvas
Buying or creating your own oversized canvas will instantly direct all attention to your walls. Consider purchasing one large horizontal piece of artwork that will float over your sofa, or two to three medium-sized wall arts that complement each other. Large canvas can definitely set the tone.
Gallery Wall
Gallery walls are a great idea to add personality and pops of color to your home. For a more polished look, use cohesive and minimal frames and opt for black and white. To emphasize character and personality, opt for a variation of frames within the same color scheme and go for art that is different sizes with bold, bright colors.
Shelving
Adding floating shelves will help you store and display your home decor pieces. You can install them on your own and produce a gravitating effect on your wall. Store photos, small plants, candles, or anything else you can think of.
Wall Divider Ideas
Creating separation on one wall isn't as hard as it may seem. You'll want to use wall dividers to accomplish this task. Make sure the items you choose to serve as your wall dividers will add to your home decor and help elevate your space. Here are a few ideas.
Tall Plants
If you are already looking to add greenery to your home, this is the perfect time to do so. A tall plant, real or faux, normally placed at the end of your sofa, will make your canvas-like wall more attractive. It will immediately change the tone and aesthetic of your lengthy wall, giving it an earthy, natural feel while also offering a pop of color. Consider choosing a tall plant that is about five feet or more in height. To add more height, buy a plant stand and planter for your plant.
Lighting
Modern, tall lamps can be used to stand in between your sofa and the area you'd like to separate. You're not limited to only lamps, though. LED lights can also be used to create art and add lighting to your walls.
Add Paneling or Peel-and-Stick Wallpaper
Feeling a home project coming on? Stay committed to your goal and use this opportunity to turn your wall separation into a DIY project. Grab peel-and-stick wallpaper to create an accent wall. Try new patterns and colors to distinguish the two spaces shared into one. For example, if your extended wall stretches across your living room and dining room, consider using a dark-toned wallpaper to differentiate the two.
Or go for panelings to infuse your space with different textures and refresh your space. Wooden board panels can really give your space a whole new look and offer the upgrade you need.
If these items above don't spark your interest to help break up your wall, think about a bookshelf, a wall shelf unit to display your decorative pieces, a vertical gallery wall, a mirror, and more. Get creative and think about the best way to break up your extended wall while also staying dedicated to your personal style.
---
---
Decorate
Access design inspiration that infuses personality and culture into your spaces.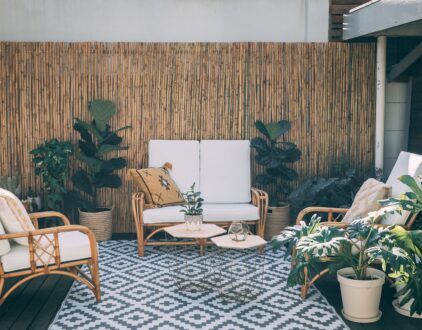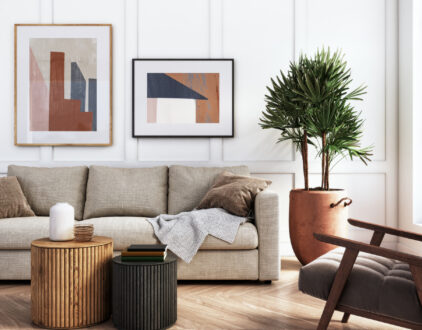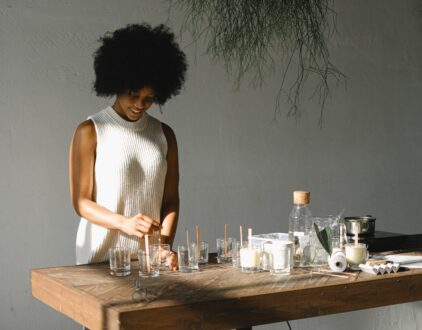 ---
Spaces
Whether it's luxury or ease, every area of your home should be as fabulous and unique as you.
FOLLOW ALONG ON INSTAGRAM
Find us on social for more home inspiration where culture, personal style, and sophisticated shopping intersect to help you create a home where you love to live.