The most popular home trends include little to no color. While this theme can create a calm, relaxing and very sophisticated look, sometimes it can get a little lifeless and flat. As long as you have the staple items to set the foundation of your space, you can switch out home decor to add a pop of color with new textures and personality.
Typically, adding a pop of color to your home can be as simple as adding greenery, decorative pillows or small pieces of decor. However, you can more when you think outside the box. Here are four ways to add a pop of color to your neutral space.
Paint Your Accent Wall
A super easy and fun way to add a major pop of color is with an accent wall. This also is a great way to add texture to your neutral space. A lot of times people avoid touching their walls to keep the white space and natural light alive in their homes, but that's still possible with an accent wall.
Depending on the color you decide to paint your wall, consider the energy you want this room to have and how much light is already there. This should narrow down your color choices. Get bold and vivid by picking a color that already lies within your fabrics or linens in your space.
Hang Bold Art
View this post on Instagram
Bring life to your neutral space with art. Go big or go home with a large, rich and eye-catching piece of art. If you want more than just one large piece of art, try a gallery wall. Scale together smaller works of art that take up a decent amount of the wall. In each photo, choose different colors, patterns and designs to build contrast, while still considering the same colors that may already be in your space. All art doesn't have to match with everything. Using different colors can go well together and that's a great a way to create personality.
Color in Your Floors
View this post on Instagram
Rugs make a great impact in your home. It essentially brings everything together creating a homey and comfortable feel in your home. This is what makes it a great way to implement color to your space. The designs for rugs are limitless. You can go for a traditional, abstract, geometric or antique style. It all depends on the vibe you're going for in your space.
The other great thing about rugs is how easily movable and replaceable. Change them from one room to the next when you grow tired of it in one place.
Drama is the New Color
Though majority of a neutral area is commonly blacks and whites, sometimes all it needs is a little drama. You can make a statement with bold prints with your selection of furniture pieces. Consider using an attractive chair or modern light fixture that isn't your typical choice. Instead of purchasing the ottoman piece that comes with your couch set, buy one with color and pattern that matches well with the neutral tones. Pillows, throw blankets and home decor accessories also can do the job.
---
---
Decorate
Access design inspiration that infuses personality and culture into your spaces.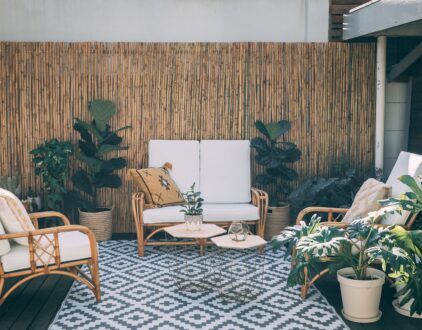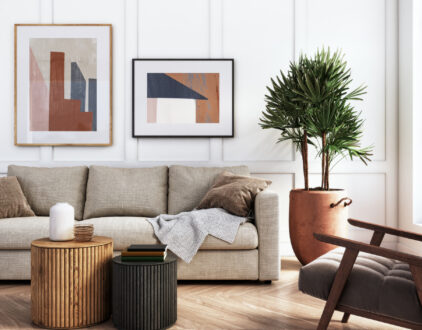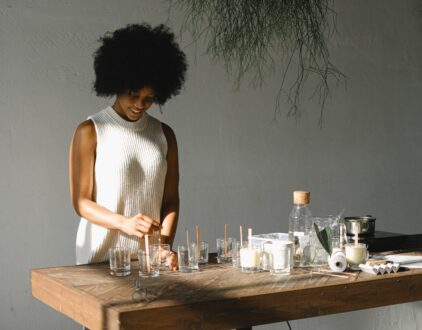 ---
Spaces
Whether it's luxury or ease, every area of your home should be as fabulous and unique as you.
FOLLOW ALONG ON INSTAGRAM
Find us on social for more home inspiration where culture, personal style, and sophisticated shopping intersect to help you create a home where you love to live.