Throw pillows are a great way to add a pop of color to your space. Of course, you could always buy them premade from a shop, but where's the fun in that? Designing your own throw pillows is a fun way to personalize your home. And because there are so many ways to decorate, you can really tap into your creative side. Decorating your pillow with fabric paint is another fun option. The best part? It's super easy to do.
To learn how to design a throw pillow using fabric paint, here's a step-by-step guide to help:
Step 1: Gather your supplies.
Before you start your project, gather all of your supplies in one place so you can access them easily when you need them. To complete this project, you should have the following supplies:
A pillow cover
A pillow form
Fabric paints
Paintbrushes
Masking tape
Stencils
Iron-on fabric sheets
Newspaper
Step 2: Determine the design placement.
Next, decide where you want to place your design. You can use a ruler or masking tape to help you mark some guidelines for reference. Remember to stretch your pillow cover, holding it taut so that you get a more accurate placement.
Step 3: Start painting.
Now that you know where you want your design to be, it's time to start painting. Squeeze the paints onto a palette so you can access them easily. Then, dip your paintbrush into your desired color before applying it to the pillow cover using smooth strokes.
Step 4: Build your color.
If you want a richer hue, add another layer of paint to your existing design. Before you do, make sure the paint on your cover has fully dried to prevent smudging.
Step 5: Let it dry.
After your paint project is complete, let it sit until it's fully dried. Then, heat set the fabric paint following the manufacturer's instructions to make sure it stays permanent.
Step 6: Insert your pillow form.
Once your pillow cover is all set and ready to go, insert your pillow form, fluffing it out so that it fills the corners and edges. Then, display your new throw pillow anywhere in your home.
5 Ways To Design Your Own Throw Pillow with Fabric Paint
Now that you understand how to design a throw pillow using fabric paint, you can get creative and really personalize your pillow. Here are five ideas for how to design your throw pillow:
Try stencils.
To create more defined shapes like flowers or cacti, try using stencils for help. Place the stencil onto your pillow cover and paint over it. Then, let it fully dry before removing the stencil.
Blend, blend, blend.
For a cool gradient effect, try blending the edges of each color into each other using a dampened brush.
Create geometric shapes.
Use masking tape and stencils to recreate sharp lines needed for geometric shapes. To do it, simply attach a strip of tape to your pillow cover. Then, paint over it before letting it dry fully. Once it's dried, gently remove the tape and voila! — crisp, clean lines for the perfect geometric design.
Transfer an existing design.
If you want to transfer a hand-painted design from iron-on fabric, paint your design in reverse on its paper backing. Then, use scissors to cut out the design before ironing it onto your pillow cover. Finally, peel off the paper for a beautiful painted print.
Use your favorite sayings.
Add your initials or your favorite phrase onto your throw pillow by lightly sketching the letters in pencil first. You can use your sketches as a guide for where to place the paint. Then, using a small paintbrush, carefully outline each letter before filling it in.
---
---
Decorate
Access design inspiration that infuses personality and culture into your spaces.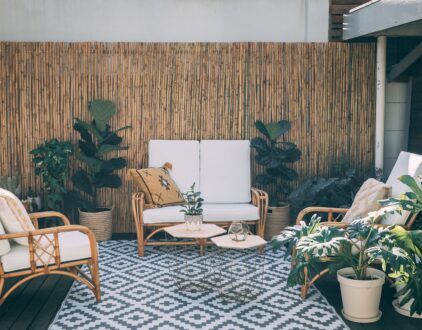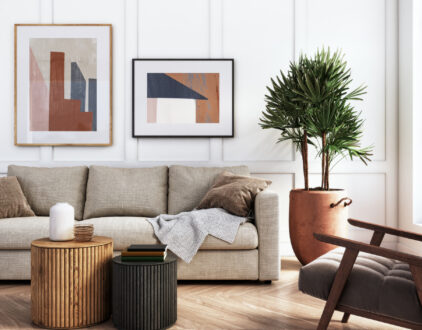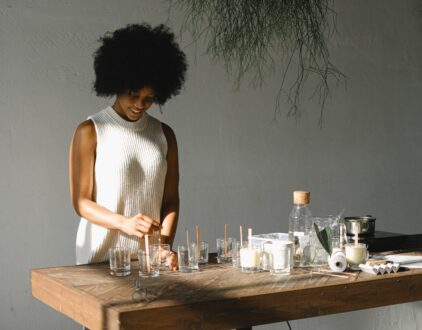 ---
Spaces
Whether it's luxury or ease, every area of your home should be as fabulous and unique as you.
FOLLOW ALONG ON INSTAGRAM
Find us on social for more home inspiration where culture, personal style, and sophisticated shopping intersect to help you create a home where you love to live.