The way you set your table can play a heavy role in your dining experience. Whether you host a casual dinner or a swanky gathering, a decorated table is not only attractive but adds to the atmosphere of the meal.
Table Setting for Success
There are a number of tips to consider if you want to create a table setting that wows your guests. Take linens, for instance — you can add a pop of color to your mealtime experience with vivid tablecloths, napkins, and placemats.
If you host a special event such as a wedding or holiday dinner, you can create a sophisticated table setting that your guests are sure to enjoy. For example, you can consider an arrangement of fancy tableware to accommodate multiple courses. In a formal arrangement, a single place setting may include a charger plate, dinner plate, salad plate, bread plate, glassware, and varying utensils.
For an informal table setting reserved for couples' game night or a girls' night in, keep it simple. These should be less formal but still organized. Include a dinner plate, salad plate, napkin, utensils, and a water glass. And depending on the menu, you can also add soup bowls, bread plates, or dessert utensils.
How To Properly Set a Table
Table setting can seem confusing and overwhelming. To help, here are a few guidelines to remember. To properly decorate, always start with clean and appropriately sized tablecloths or placemats. Then, place the dinner plates at the center of each place setting.
Next, arrange your utensils in the order of use, with forks on the left and knives and spoons on the right. You can either fold or place your napkins on top of the dinner plate or to the left of the forks.
To finish, position the glasses and stemware above the knives and spoons, arranged in the order they will be used.
Unique Ideas for Setting Your Dining Table
Table settings are a great way to tap into your creative side. They also are a way to express to family and friends that you care. You can experiment with multiple shapes and styles of tableware, centerpieces, and other types of decor to create a pleasing dining experience for everyone. Here are five ideas to help get you started:
This Setting for Summertime Fun
Decorate your space with fresh fruits and ample greenery to celebrate summer in style.
This Floral Tablescape
This tablescape filled with fresh, aromatic lilacs is perfect for hosting dainty tea parties and baby showers.
This Modern and Sleek Tablescape
Add a pop of color like this subtle sea green shade to a neutral tablescape for a modern, yet simple design.
This Au Naturale Tablescape
Incorporating plants such as olive branches or succulents, plus dinnerware made from natural materials such as wood, can create a clean and tranquil space that mimics the Great Outdoors.
This Minimalist Dual Tablescape
This reversible split placemat features two shades of silver for a sleek yet minimalist tablescape. When working with neutral tones, consider adding a dash of color. In this case, Robin Blue eggs and decor can help celebrate the spring season.
---
---
Decorate
Access design inspiration that infuses personality and culture into your spaces.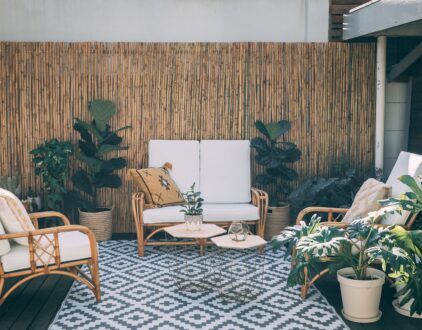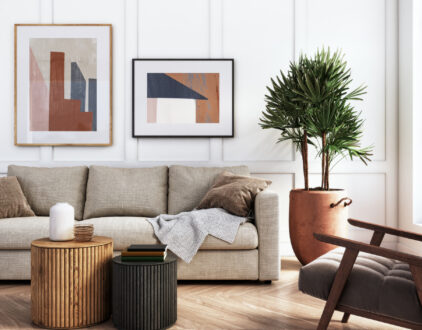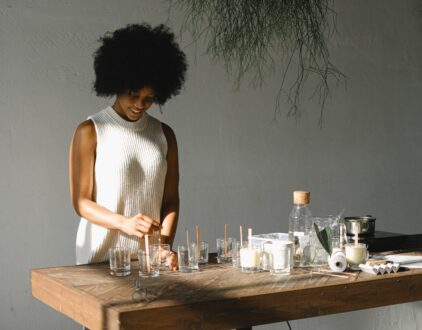 ---
Spaces
Whether it's luxury or ease, every area of your home should be as fabulous and unique as you.
FOLLOW ALONG ON INSTAGRAM
Find us on social for more home inspiration where culture, personal style, and sophisticated shopping intersect to help you create a home where you love to live.