As the season continues to change, your home decor should, too. This is your chance to tap in to decorating your front porch with all things Fall and Autumn, and if you're feeling festive, Halloween, too. A cozy front porch that displays autumn inspired decor accent pieces is just the flair you need to embrace the season. Whether you have a small or grand entrance or are a minimalist or maximalist, you can find the right decor pieces that speak to you and your style.
If you're looking for budget friendly home decor ideas for your front porch, keep reading to add a touch of fall charm to your home. Use these ideas to show off nature and fall's best colors, while easily creating your front porch to be the most appealing in your neighborhood.
Play with Pumpkins
With the spooky season creeping up, pumpkins are the perfect accessory to add to your front porch decor. Big or small, they're a great way to add color and make a festive, Halloween-inspired front porch. Line them up and down your stairs and strategically set them to compliment each other based on size. You can add other decor pieces in between them, too. If you really want to feed into the Halloween theme, add other decor such as skeletons, spiders, or lanterns.
Fresh Florals
There's nothing more natural than floral decor. Fall colored flowers will remain a staple item when it comes to implementing freshness and greenery to your home exterior. Use color from the fall color schemes when picking out your flowers, and to switch things up, mix and match the pots stylish look.
Add Lighting with Lanterns
Lanterns are an elegant touch that creates a sense romance and ambiance, especially at night. Think about lanterns that come in more than one size, usually sold as a set, to place together. This will enhance the look of your front porch. Use your creativity to spruce up your lantern by adding small decor pieces inside of it like pumpkins or floral arrangements. From candles to battery operated lights or nothing at all, find ways to fill your empty lantern and take advantage of its multifunctional purpose.
Decorate Hay Bales
Hay bales aren't at the top of list for front porch decor because they aren't as trendy as other pieces. Luckily, you can change that and standout. Hay bales are the stacks of square shaped hay that you'd typically find on a farm or in the country, but this time we're bringing it to your front porch. They add a cozy and realistic touch and a little bit of well needed texture to your autumn inspired porch. Make use of the height difference and spread your decorative accents out based on that.
Fall Colored Wreath and Welcome Sign
What better way to welcome family, friends, or guests than with a fall colored wreath and welcome sign? Wreaths can be on the expensive side, but by creating your own, you can have one of your liking at half the cost. Inspired by nature, make this a DIY project to blend with the season's color changing leaves. For a finishing touch, you can add a bow or ribbon.
Add a welcome sign to attract attention. Customize it with your surname or something that relates to fall, like pictured below.
---
---
Decorate
Access design inspiration that infuses personality and culture into your spaces.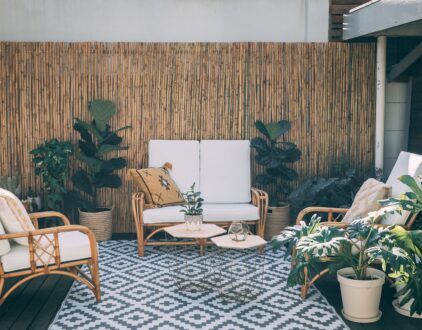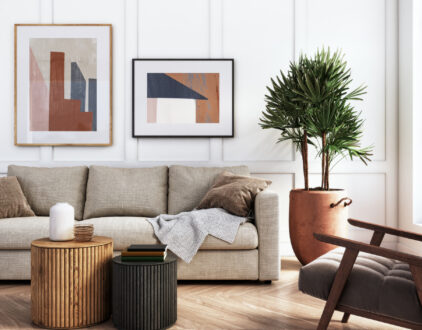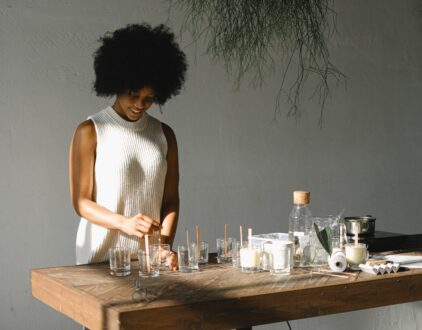 ---
Spaces
Whether it's luxury or ease, every area of your home should be as fabulous and unique as you.
FOLLOW ALONG ON INSTAGRAM
Find us on social for more home inspiration where culture, personal style, and sophisticated shopping intersect to help you create a home where you love to live.