Being a woman isn't one-dimensional. We can take on multiple roles and personas and channel both feminine and masculine energy. Black millennial women have taken up space, becoming bosses, entrepreneurs, and leaders in their respective industries. We also are soft and deserve luxury and femininity in every aspect of our lives, including our homes.
Our homes are more than a place to sleep at night. They are an extension of who we are — our lifestyle, desires, and personalities. The same energy we put into getting dressed to face the world every day should be put into our homes. After having to show up daily as a boss or leader, coming home to a feminine space is a subtle reminder of our softness as women. It's a warm welcome and haven.
Feminine Touches Through Your Unique Design Style
Adding feminine touches to your home doesn't mean an overload of lace, frills, pears, and pink. There are ways to channel feminine energy without being cliché. Incorporating feminine touches into your home is about honoring your personal design style and balancing elements of femininity. Whether you're a lover of the eclectic design style and crave bold prints and colors, or you're more of a minimalist design style with muted tones, there are many ways to infuse feminine style into your space.
If your design style is bohemian, natural materials like linen and cotton are great additions to your home. These materials add warmth to your space. Contemporary design styles can incorporate warm lighting and openness to your design. Luxe legacy design styles can go all out with fur rugs, gold accents, and large floral arrangements.
Tapping into your feminine energy for your home is all about curating a space that truly reflects your design style and personality. Your space will be a feminine sanctuary with soft textures, warm lighting, and a luxurious fragrance.
Jump to Products
---
5 Items You Need To Tap Into Your Feminine Energy At Home
Antoinette Geometric Wallpaper
This wallpaper subtly brings out femininity in a space with its elegant botanical pattern inspired by Art Deco motifs. Perfect for bohemian design styles, you can complement this Antoinette Geometric Wallpaper with a Bird of Paradise plant or any other plant that suits your fancy. The arches in the wallpaper's print resemble medallion florals with its dotted technique. The geometric influence adds an artsy element to the design. With a matte finish, this wallpaper can easily be cleaned. You can gently scrub the wallpaper with soapy lukewarm water if there's a mark or scuff. When you're ready for a change in aesthetics, the wallpaper can easily be removed.
Arched Shagreen and Polished Brass Floor Length Mirror
A huge part of tapping into your feminine energy is spending time in front of the mirror, appreciating and embracing your beauty. A full-length mirror is also necessary for ensuring you're on point from head to toe before leaving the house. This floor-length mirror exudes luxury and femininity. It's wrapped in ivory shagreen, a textured hide dating back to Japan in the Middle Ages. The mirror is framed by unlacquered polished brass and will age beautifully with you. Because the brass has no protective coating, each mirror varies in tone. Polish the mirror to bring it back to its original tone. Treat the mirror like you would yourself, and don't use abrasive cleaners. Instead, clean with a soft and dry cloth.
2-Tier Cosmetic Storage Basket
This 2-tier cosmetic storage basket is great for makeup and skincare, but we're also eyeing as a home for our fragrances. Try  channeling your feminine energy with sensual fragrances like bergamot, lavender, and rose notes. When collecting fragrances, you should have a beautiful display for them. That's where this gold and black marbling 2-tier storage basket comes into play. It adds a glamorous touch to your vanity. Perfect for luxe legacy design styles, this storage basket is both stunning to look at and functional. Each tier is designed at different heights, making it great for storing varying sizes of fragrance bottles and makeup, skincare, and more.
Silk Roses Arrangement with Vase
Add a feminine touch to your home office with an elegant flower arrangement. If you don't have time to purchase and take care of fresh flowers consistently, these silk roses are a great alternative. With faux eucalyptus and rose, this arrangement is timeless and chic. The vase is adorned with a heart-shaped pendant and hemp rope. It's a beautiful reminder of self-love. Place it on your office desk to brighten your day during Zoom meetings or busy work days. The flowers are made from high-quality silk. Branches and leaves in the bouquet can be adjusted to suit your desired height. The arrangement is feminine without being overwhelmingly so.
FORVR Mood Spice Of Life Candle
Transform your home into a spa with the light of a candle. There's nothing more relaxing than getting home after a long day, running a hot bath, lighting a candle, and indulging in your favorite glass of wine or bubbles. Candles can instantly add a feminine touch to a space with their scent and vibe. FORVR Mood is a Black woman-owned lifestyle brand specializing in great-smelling candles. Founded by the queen of luxury Jackie Aina, you're guaranteed a great experience when lighting this candle. This candle's earthy and woody scent is a result of the key notes: ginger, clementine, and vanilla. This candle can burn for up to 65 hours.
Our editors love finding you the best products and offers! If you purchase something by clicking on one of the affiliate links on our website, we may earn a commission at no extra cost to you.
---
---
Decorate
Access design inspiration that infuses personality and culture into your spaces.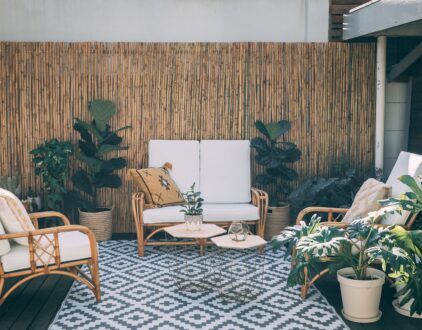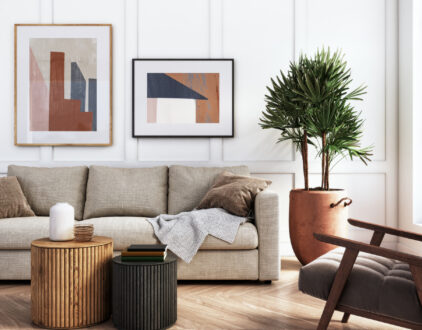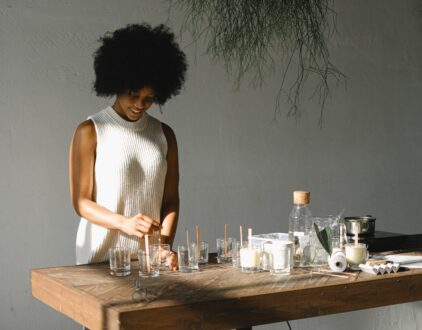 ---
Spaces
Whether it's luxury or ease, every area of your home should be as fabulous and unique as you.
FOLLOW ALONG ON INSTAGRAM
Find us on social for more home inspiration where culture, personal style, and sophisticated shopping intersect to help you create a home where you love to live.