As the leaves turn golden and the air suddenly has a bite of chill, that means spooky season isn't far behind. Living in Los Angeles, you definitely need a little imagination since leaves don't turn—really ever—but throw on an oversized knit sweater and ankle booties and no one on Instagram would ever know it's 75 degrees outside. Regardless of the climate where you live, fall's spooky season has truly become a lifestyle. And if you're a Halloween enthusiast, there's no better way to celebrate this time of year than by creating epic yard displays that will send shivers down your visitors' spines. There's an art to themed lawn decor, and we've got plenty of Halloween yard decoration inspiration to give your home some curb appeal that's just … to die for.
Crafting a Haunting Narrative
Every epic Halloween display has a story to tell. Dive into the dark corners of your imagination and conjure a chilling narrative that unfolds as visitors come by. Maybe there's a cursed tale of a long-forgotten family, a ghostly legend that has been passed down for generations, or you could always grab inspiration from your favorite horror movie. As visitors make their way through your display, they become part of the story. Immerse them in the haunting lore you've created!
Sinister Cemetery
Create a mini graveyard with weathered tombstones, each inscribed with its own macabre quote. Use weathered wood, foam, or even repurposed materials to craft these markers of the deceased. Arrange them in uneven rows, making the cemetery feel forgotten and overgrown.
Enchanted Witch's Lair
Cast a spellbinding enchantment over your yard by designing an enchanted witch's lair. Adorn your space with bubbling cauldrons, mystical potion bottles, and witch silhouettes that will transport visitors to a world of magic.
Ghoulish Graveyard Gathering
Transform your yard into a ghastly graveyard where the undead come to party. Incorporate zombie decorations, skeleton musicians, and flickering lanterns to create a haunting celebration that's both spooky and entertaining.
Eerie Soundscapes
Sound is a powerful tool when it comes to crafting an immersive Halloween experience. Set up hidden speakers throughout your yard to play eerie soundscapes. From distant howls and faint whispers to the tolling of phantom bells. These sounds will create an otherworldly atmosphere that captivates and terrifies.
1
12-Foot Halloween Inflatable Spider with Seve Colors-Changing LED Lights
This impressive 12-foot inflatable spider comes to life with captivating LED lights that cast an eerie glow in seven different colors. With glowing eyes and menacing fangs, it's the showstopper your spooky gathering needs. Its lifelike design attracts all ages of trick-or-treaters, setting the perfect frightful ambiance for your home. Elevate your Halloween atmosphere with two types of built-in LED lights. The intense seven-color LED lights in the eyes emit an eerie glow, while mesmerizing flickering rotating lights in the abdomen make it the centerpiece of your setup, leaving your guests in awe. Crafted from high-quality thicken 190T Polyester, this Halloween inflatable is weatherproof, fade-resistant, and ready to withstand light rain or wear and tear.
2
Danxilu Eight-Foot Halloween Inflatables
This captivating decoration showcases six charming pumpkin combinations, a small skull, and a tombstone, perfect for your Halloween festivities. Infuse your outdoor space with intrigue using the chilling design of six pumpkin combinations. Varying in size and expressions, these playful pumpkins are dynamic with personality. From mischievous grins to spooky surprises, they create an immersive Halloween atmosphere, delighting guests of all ages. Prepare to be entranced by the built-in LED lights, lighting up your inflatable pumpkins and bringing them to life. This captivating ambiance captivates onlookers, setting the stage for an unforgettable Halloween celebration.
3
DAZONGE Two-Pack Spooky Ghost Decorations
Create a chilling Halloween ambiance with these glowing ghosts, perfect for welcoming neighbors and trick-or-treaters to your haunted house. These spectral decorations are bound to be a hit, setting a spooky tone for your Halloween festivities. It features battery-operated string lights for a spooky illuminated experience. Made from plastic and metal, these ghosts can stand alone, and their white fabric sheet adds the ultimate haunted vibe. Assembly is simple with the included set of two ghost mounting accessories. Once assembled, these ghosts stand at an impressive 49 inches tall.
4
10-Pack Foam Tombstone Halloween Decorations
Indulge in a unique design featuring 10 large tombstones. Each tombstone has distinctive RIP, skeleton, and bat designs, creating a spine-chilling horror scene that's perfect for spooky season. Never worry about them fading. These headstones are waterproof and resistant to fading. They can withstand rain and sunshine, maintaining their spooky allure throughout the Halloween season. Durable and reusable, these foam tombstones can be easily stored for future use, adding convenience to your Halloween decorations. Setting up your graveyard has never been easier. Secure the foam gravestone headstones using the included 20-pack stakes in two different ways – horizontally or vertically.
5
Jetec Three-Piece Inflatable Halloween Pumpkin Ball Decorations
This set of three captivating pieces is designed to bring the essence of the season to life, ensuring your celebrations stand out in the most enchanting way. Discover the perfect size with this set of inflatable Halloween pumpkin decorations, each printed with unique plaid designs. Made from thickened PVC material, they're long-lasting. Whether you're preparing for a Halloween-themed party, carnival, or special event, these decorations are unique with an upscale feel. These decorations are both waterproof and reliable, making them great for both indoor and outdoor use.
6
JESTOP Halloween Spider Web
Featuring 180 brighter purple LED lights and an expansive nine spider web lines, this decoration is sure to captivate attention and infuse your house or Halloween party with a chilling atmosphere. The package includes both a plug and battery box, giving you the flexibility to choose your preferred method of turning on the lights. Experience eight different lighting modes that enhance the eerie effect. You can select from flashing, fading, or steady modes to set the perfect tone for your neighborhood. Built to withstand the elements, the Halloween light-up spider web is waterproof and durable. Made from high-quality materials, this outdoor Halloween decoration is built to last, becoming a staple for all your Halloween celebrations year after year.
7
Light Up Screaming Witches Decorations
This haunting display captures the essence of darkness as faceless heads glow and flicker, while a witch emits bone-chilling screams through a sound-activated sensor. Standing at approximately 66 inches each, these witches attain the perfect life-size appearance. Dressed in spooky flowing black dresses and hats, they exude an aura of haunting mystique. For seamless functionality, the battery pack resides discreetly at the back of the head and includes a pocket for storage. Displaying these enchanting witches in your front yard is effortless, thanks to the three-prong stainless steel ground stakes.
8
Vokora Fog Machine
This powerful smoke machine boasts a high-quality fog nozzle and 18 LED lights in 13 captivating colors. With four light modes—fade, flash, smooth, strobe—and adjustable brightness, you'll create an unparalleled experience that mesmerizes. Heating for just 60 seconds, it generates 60 seconds of consistent fog. Its 1000W power produces non-toxic fog with a range up to 15 feet, while a wired and wireless remote offers convenient control over fog and light color. Effortless operation is at your fingertips. The user-friendly design comes with an intuitive manual, allowing setup and operation in minutes. No technical expertise required—just plug in and play!
9
KYEKIO 12-Pack Purple Solar Halloween Lights
These solar lights for your yard will create a captivating dancing flame effect, casting a gorgeous purple glow through upgraded 12 LEDs. With a total length of 20.6 inches, they're the perfect mini solar torch lights for your Halloween outdoor decorations. Whether adorning your garden, pathway, patio, porch, lawn, or yard, they're a simple yet flawless choice. Made from high-strength ABS, they're IP65 waterproof, dustproof, heatproof, and frostproof for exceptional performance in all conditions. Regardless of temperature, these Halloween solar lights excel as long as they're charged with sunlight. These torches light up for up to eight hours in summer and up to six hours in winter after a full solar charge. Equipped with a photosensitive control switch on the solar panel, they work automatically based on outdoor lighting conditions.
Our editors love finding you the best products and offers! If you purchase something by clicking on one of the affiliate links on our website, we may earn a commission at no extra cost to you.
---
---
Decorate
Access design inspiration that infuses personality and culture into your spaces.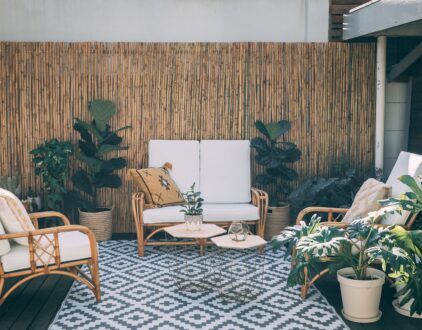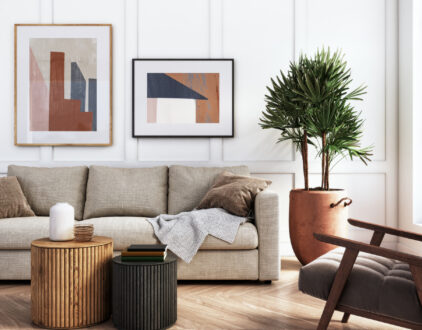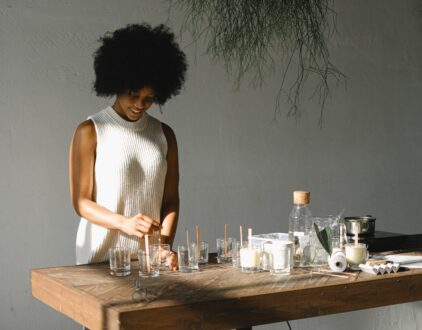 ---
Spaces
Whether it's luxury or ease, every area of your home should be as fabulous and unique as you.
FOLLOW ALONG ON INSTAGRAM
Find us on social for more home inspiration where culture, personal style, and sophisticated shopping intersect to help you create a home where you love to live.