The days of trick-or-treat past were cute. You knew all the neighborhoods that gave out the good candy, had an endless list of spooky movies to look forward to watching, and had your costume planned out for weeks—or if we're being honest, months. Turns out, things aren't much different several decades later. Except now, you're the cool house with the good candy. It's an honor you've worked hard to earn, and there's still time to make this year's Halloween the best one yet, thanks to the abundance of options on Amazon.
Spine-Tingling Decorations for Every Corner
When it comes to Halloween, decorations are everything. Here are some spine-tingling ideas to make your home the talk of the neighborhood:
Ghastly Ghosts: Hang translucent, floating ghosts on your porch to create an ethereal and eerie atmosphere. These spooky apparitions are sure to send shivers down your visitors' spines.
Sinister Spider Webs: These are effortless, but really go a long way. Cover your bushes and trees with giant spider webs, complete with massive furry spiders lurking in the shadows. It's a quick way to turn your yard into a haunted lair.
Pumpkin Palooza: No Halloween is complete without pumpkins. But instead of carving, try painting them with glow-in-the-dark paint. Your front steps will be aglow.
Hauntingly Clever Hacks
Halloween hacks can make your preparations easier and more fun. Here are some ingenious tricks:
Flickering Flames: Create the illusion of flickering candles by placing glow sticks inside empty paper towel rolls. Then place these in your candle holders for a spooky, candlelit effect without the risk of real flames.
Bloody Handprints: Use red washable paint to create bloody handprints on your front door or windows for a gruesome effect.
Monster Mash Photo Booth: Set up a photo booth area with a backdrop of spooky scenes and props like masks, hats, and fake weapons for your guests to take memorable Halloween photos.
Candy Cornucopia: Display your candy in a unique way by filling clear, disposable gloves with candy corn and tying them off at the wrist. It's a fun and creepy twist on the traditional candy bowl.
For inspiration on how to make your Halloween party a hit, check out these decoration picks from Amazon.
1
Cauldron Essential Oil Diffuser
This enchanting cauldron-shaped diffuser is the perfect addition to your Halloween decor, and it offers a range of benefits that will elevate your ambiance. It boasts high-frequency atomization technology, ensuring that any fragrance you add is instantly released into the air. Just add your favorite essential oils to the generous 360ML water tank, and watch as your space is transformed into a fragrant haven. What sets this diffuser apart is its unique witch cauldron design, adding mystique to your Halloween setup. But that's not all—the Cauldron Oil Diffuser also features different lights that simulate flickering flames, setting the perfect mood for spooky gatherings.
2
Juegoal Halloween Decorations
This remarkable piece stands at about four feet long and five-and-a-half feet tall when fully inflated, making it a captivating centerpiece for your holiday setup. The 3D octopus legs add a unique twist that sets it apart as one of the most attractive Halloween decorations around. What makes this inflatable octopus tentacle even more enticing is its built-in LED lights. When night falls, it comes to life, illuminating your surroundings and turning your home into a bewitching spectacle in your neighborhood. Plus, the quality is top-notch, made from thickened waterproof polyester fabric to ensure years of use.
3
Scary Giant Spider
These super lightweight arachnids are perfect for creating a hauntingly unforgettable atmosphere, whether it's for Halloween yard decorations or to decorate the exterior with spider web-inspired eeriness. With their creepy red eyes, hairy exterior, and realistic black fur-covered legs and bodies, they're bound to induce spine-tingling fear. What sets these spiders apart is their versatility. All legs can be easily bent and adjusted into different poses, allowing you to achieve that perfect creepy-crawly look. Plus, they're built to withstand the elements, so they'll hold up even in rain and winds, making them ideal for outdoor use.
4
Banjo Playing Skeleton
This cowboy animated skeleton features movable joints, allowing you to pose it in various positions and create the perfect spooky scene that suits your style. Whether you want a chilling Halloween display or a comical setup, this skeleton can do it all. When your guests approach, they'll be greeted with unexpected screams or touches, creating a spine-tingling Halloween atmosphere that's sure to delight everyone. With funny music, glowing eyes, and spooky motions, this skeleton is designed to light up your Halloween decor and add an extra layer of spookiness to your celebrations.
5
Life Size Skeleton Stakes with Spider Web Set
These realistic Skeleton Garden Stakes are not only visually striking but also easy to use. Each accessory comes with low-mountable stakes, including the skull with ground stakes for stability, so they stay put even in rainy and snowy conditions. You won't have to worry about them blowing away, disintegrating, or collapsing easily. These Halloween Decorations are constructed from high-quality, weather-resistant plastic, making them perfect for long-term outdoor use. The skeletons are both durable and realistic, allowing you to pose them in your preferred manner. The intricate details of the skull and bones add a creepy and eerie vibe to your garden graveyard.
6
Halloween Animated Standing Pumpkin Scarecrow
Step into the world of spooky with a life-size pumpkin scarecrow, standing tall at more than five-and-a-half feet. This eerie figure features menacing eyes, a wicked mouth, and a malevolent facial expression, eagerly awaiting the arrival of trick-or-treaters. With posable pumpkin head and arms, you can easily reposition this scarecrow into terrifying poses, enhancing the creepy atmosphere around your home. When night descends, prepare for a spine-tingling sight as the scarecrow's eyes come alive with a fearsome green glow. Your house will become a must-visit destination, known for its unique and popular Halloween display.
7
Spider Webs Halloween Decoration
Get ready for the spookiest Halloween ever with this Ideal Halloween Decorations set! This comprehensive kit includes spider webs, spider silk, and artificial big spiders, all designed to create a horrifying atmosphere in both outdoor and indoor spaces. These spiders feature flexible legs that can bend and stretch, and their eerie red glossy bead eyes add to their scary appearance. The soft, downy texture of their bodies enhances the realism, making them a spine-chilling addition to your Halloween setup. To add to the eerie ambiance, you'll receive stretch silk made from soft cotton, giving it a realistic and delicate appearance. You can pull it at will to achieve the desired effect, making it perfect for various scenes.
Our editors love finding you the best products and offers! If you purchase something by clicking on one of the affiliate links on our website, we may earn a commission at no extra cost to you.
---
---
Decorate
Access design inspiration that infuses personality and culture into your spaces.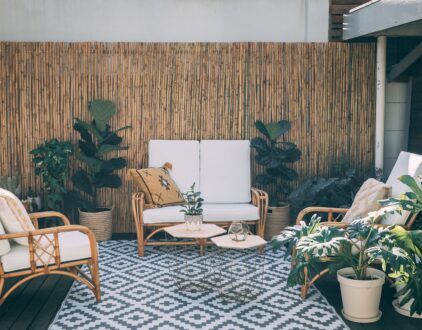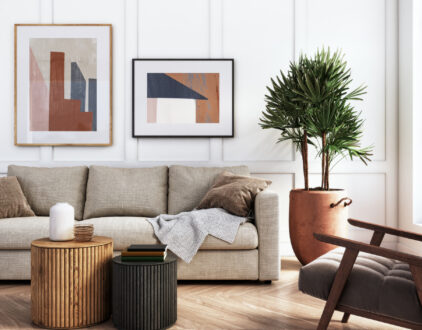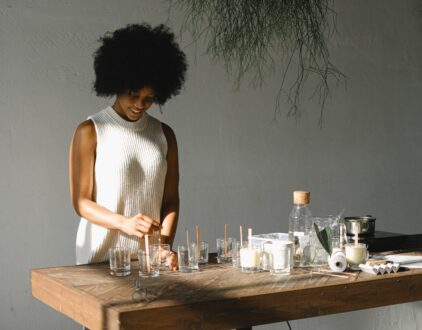 ---
Spaces
Whether it's luxury or ease, every area of your home should be as fabulous and unique as you.
FOLLOW ALONG ON INSTAGRAM
Find us on social for more home inspiration where culture, personal style, and sophisticated shopping intersect to help you create a home where you love to live.