Good quality pillows make a world of difference in your sleep routine. The pillow you sleep on every night has the power to impact your comfort, spinal alignment, and the quality of your breathing during the night. If you're looking for a pillow to enhance your sleep quality at night, the gel pillow from Beckham Hotel Collection is a great choice. This pillow is a great option for those who sleep on their stomach, back, and side. You can choose from queen or king size to suit your needs. The pillows are made with cotton and filled with soft, down alternatives for a cozy sleep experience. Each pillow was made in an OEKO-TEX Standard Certified factory, which ensures that they meet safety and environmental standards. In order to obtain this certification, textile-based products have to be tested against over 1,000 chemicals that can be harmful to human health.
Unboxing: Trust the Process
When ordering these pillows on Amazon, they come in a set of two and are compress-packed tightly in a cardboard box. When taking the pillow, wrapped in plastic, out of the cardboard box, it may seem that they're flat. However, it's important to trust the process when unboxing this product. Once removed from the plastic, the pillows slowly expand into comfortable, plush support for your neck and back. It is suggested to wait 24 hours for the pillows to be fully expanded. Once the pillows are ready to be used, insert the pillows inside your favorite pillowcases and place them on your bed to bring the finishing touch together in your bedroom.
Soft to the Touch
With a 250-thread count, these pillows are soft to the touch. They're great for keeping cool during the night. Each pillow has enough breathability to help combat night sweats. The great thing about these pillows is that they can be used in all seasons. This gel pillow is different from memory foam pillows. They're designed to easily throw in the washing machine and can be tumble dried. Wash your pillows on a delicate cycle using cold water to get the best results. Lay the pillows out on a flat surface in a well-ventilated area to dry. These pillows have a bounce-back design that keeps the shape of these firm pillows no matter what kind of sleeper you are.
Optimal Well-Being
You can choose between two sizes of pillows, which fit standard queen and king-size beds and pillowcases. After sleeping with this pillow at night for a week, you'll notice a big difference in the quality of sleep. The pillow is firm enough to support your neck and back and soft enough to provide optimal comfort during the night. Whether you enjoy sleeping with one pillow at night or two, these gel pillows are great to support and comfort your body for a great night's sleep. If they get a bit flat during the night, they will fluff back up throughout the day. When you have the right pillow, you are more likely to achieve deep and restorative sleep. Prioritizing your sleep health can help improve your mental health and overall well-being.
Queen-sized gel pillows from this collection cost $30.69 each or $61.37 when bought in a set. The king-sized gel pillows cost $40.02 each or $80.03 when bought in a set. These prices are definitely worth it if you're looking for pillows that are long-term investments. These high-quality pillows deliver great support and are easy to clean.
These pillows are conveniently available for purchase on Amazon. Keep scrolling to learn more about these firm and comfortable gel pillows to improve your sleep experience.
Jump to Products
---
Beckham Hotel Collection Gel Bed Pillows With Down Alternative
These gel pillows by Beckham Hotel Collection are an excellent investment if you're looking for a great night of sleep. Made with cotton and filled with a soft, down alternative, these pillows are the comfort you've been searching for. The pillows can be used in all seasons and are great for keeping cool during the night. The pillow's breathability will relieve you if you tend to overheat at night. You can use these pillows regardless of if you're a back, side, or stomach sleeper. The pillows have a bounce-back design that keeps their shape. They're also very easy to clean and maintain. Pop them in the washer on a gentle cycle with cold water and lay them flat to air dry, or you can tumble dry them.
Our editors love finding you the best products and offers! If you purchase something by clicking on one of the affiliate links on our website, we may earn a commission at no extra cost to you.
---
---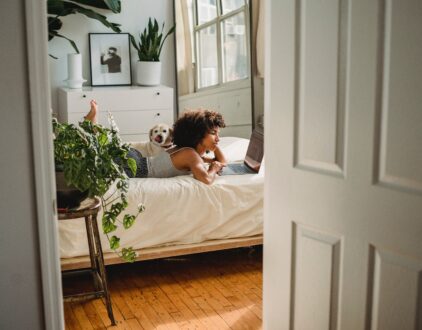 ---
Spaces
Whether it's luxury or ease, every area of your home should be as fabulous and unique as you.
FOLLOW ALONG ON INSTAGRAM
Find us on social for more home inspiration where culture, personal style, and sophisticated shopping intersect to help you create a home where you love to live.