Global inspirations in home decor can make a living space more distinct and culturally rich. For this reason, many homeowners use pieces from around the world to add unique touches that create a sense of wanderlust in their homes. From antique furniture inspired by Asian designs to bold, intricate wall hangings from South America, the options are endless for anyone who wants to add a little global flair to their home.
How To Incorporate Global Inspirations in Your Home Decor
You can explore textiles and patterns from different cultures, such as Moroccan rugs, Indian tapestries, and African textiles, and use them as area rugs, wall hangings, or throw pillows.
Art and artifacts from around the world can also add a global flair to your home. For example, you can display paintings, photographs, sculptures, and pottery crafted by artisans from different countries to showcase landscapes and cultures. To add a personal touch, you can create a gallery wall by displaying the items that you collected during your travels.
Consider incorporating natural materials that represent various regions, like bamboo or rattan furniture for a tropical atmosphere, or hand-carved wooden items from Africa or Asia. Ethnic-inspired furniture and decorations, such as a Japanese low coffee table or a Moroccan-style pouf, can transport your space to a different cultural location.
To set the tone of your space, use global colors inspired by different regions. For instance, you can go for vibrant hues for a Moroccan vibe or earthy tones for a Mediterranean atmosphere.
Global Inspirations: Infusing Cultural Elements in Your Living Room
Incorporating global influences in your home decor means celebrating diversity, embracing various cultural aesthetics, and creating a space that reflects your own story while connecting you to the world around you. Here are five furniture items with global inspirations to help you get started:
Jump to Products
---
1
Mayan Textile Floor Rug
Welcome your guests in a stylish way with this Mayan Textile Floor Mat. You can show off your appreciation for ancient art and culture with this mat that has a beautiful Mayan textile design. It comes in two sizes for your convenience. Plus, its backing is made using foam rubber for anti-slip, durable, and safe use. Even better, cleanup is a breeze. This custom floor mat can be a great addition to your home decor or a thoughtful gift for homeowners interested in Mayan art and history. Now you can add a touch of ancient elegance and sophistication to your doorstep with this mesmerizing floor mat.
2
Wooden African Stool
This gorgeous, vintage wooden stool from Cameroon can be used as seating or an accent to enhance any space. The stool is made from a single piece of solid wood and features detailed carvings that give it a distinct shape and texture. It has a warm, rich tone that complements the traditional Cameroonian tribal art markings and patterns. And the meticulous handiwork involved in its creation is showcased in its handcrafted design. Speaking of design, this antique African stool has a classic design that is popular among African art and design collectors and enthusiasts, especially due to its compact size.
3
Chiapas Dining Chairs
Introducing this set of Chiapas Dining Chairs that are designed to add a little Bohemian charm to your dining space. To showcase their regional artistry, the chairs feature hand-embroidered fabric from Chiapas, Mexico. Plus, its velvet base is vibrant and adds a touch of sophistication and color. The best part? You have the option to customize the set using a number of colors including hot pink, purple, lime green, yellow, orange, and navy blue. With this feature, you can create a distinct combination that matches your space perfectly. Moreover, 5% of the sales proceeds from buying this set will be donated to the National Breast Cancer Foundation.
4
African Beaded Stool
Discover Cameroonian history with this Beaded African Stool made from a single hand-carved piece of wood. This stool is designed to reflect the historical significance of seating, which was a symbol of royalty in African tradition. Throughout history, such stools were reserved for important people such as the Fon (king), chiefs, Ma Fo (powerful women), and select nobles in the societal hierarchy of Western Cameroon. And even though many are intended for daily use, others are used strictly for ceremonial meetings of traditional societies. This Beaded African Stool is not just furniture but a work of art. It features intricate beadwork and meaningful symbols that make it a very special piece.
5
African Bongo Table
Made from two different types of wood, this African Bongo Table can be a beautiful addition to any living space. The top of the table is expertly finished on both sides, creating a smooth and sleek appearance. And its legs are joined to the top using mortise and tenon joinery, which demonstrates that it was made with immense care. Plus, the precise slot fittings in the legs ensure that the structure is firm and sturdy, so you may not even need glue. You can also personalize your Bongo Table by selecting from the different types of wood, including Ambrosia maple, Birdseye maple, and curly maple — each boasting its own distinct features and benefits.
Our editors love finding you the best products and offers! If you purchase something by clicking on one of the affiliate links on our website, we may earn a commission at no extra cost to you.
---
---
Decorate
Access design inspiration that infuses personality and culture into your spaces.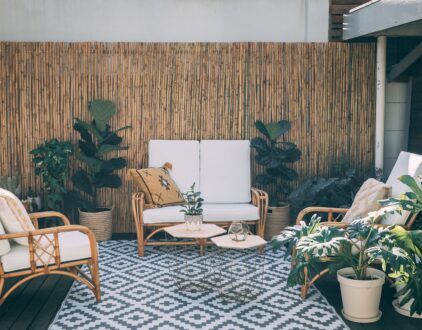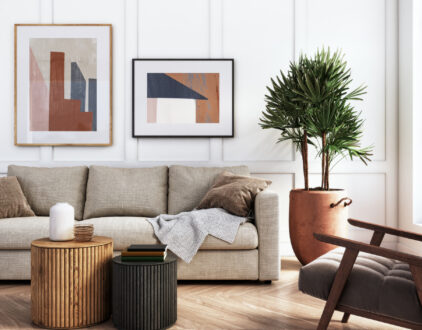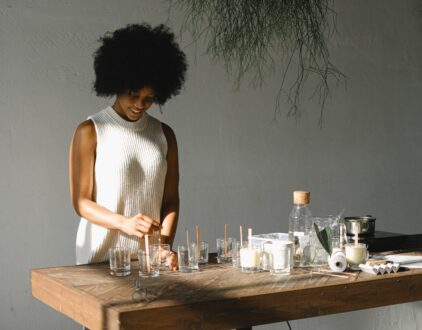 ---
Spaces
Whether it's luxury or ease, every area of your home should be as fabulous and unique as you.
FOLLOW ALONG ON INSTAGRAM
Find us on social for more home inspiration where culture, personal style, and sophisticated shopping intersect to help you create a home where you love to live.