Decorative wall paneling can enhance the allure of any home. Adding simple or intricate paneling to your walls creates a visual focal point in your space. While full wall paneling is a gorgeous artistic addition, there are other ways to use paneling to bring creativity out of your home. Have you considered paneling half of the wall and pairing it with wallpaper or vibrant paint?
Specifically, you can panel the top or bottom half of one or multiple walls for stunning visual appeal. Since partial paneling opens the door to several designs, Home and Texture scoured the internet for inspiration to help you craft the walls of your dreams.
Brick Tile
Ceramic white brick tiling on the bottom half of the wall of this serene bathroom nook turns the aesthetics up a notch. Its reflective properties allow the light of the candles to surround the tub in a warm embrace. Sit and read a book with a cup of tea. Listen to the whistle of smooth jazz and admire the greenery. Whatever you're doing, it will surely be a bath to remember.
Although white tiling is a great choice to match your tub, you can use tiling of any color. To turn your corner wall into a showstopper, consider using patterned tile.
The glossy brick backsplash tiling in this kitchen and dining space directs the eyes. Because the tiling is a bit of a different shade than the paint, it's a perfect accent that doesn't call too much attention away from what is surrounded by it. Mahogany brown trimming accentuates the white tile, further distinguishing it from the upper portion of the wall.
Raised Panel Gallery Wall
Raised wood paneling on the upper half of this wall elegantly encloses the gallery, pointing all attention to the art. If you want to try this style in your home, select the size of the paneling first. Then, spend time curating the art and frames. Instead of art, you can also create a wall of mirrors and add textured wall decor. Though the design choice is to use small and medium-sized art here, one large photo would be a great addition, too.
Need a renter-friendly paneling option? You can apply this kind of molding to your walls without damage!
Wainscoting
Narrow wood panels brushed in sage green paint transform this space from bland to beautiful. The pastel and muted colors pair well with the natural wood for a minimalistic yet elevated appearance. Since the paneling is a different color than the wall, the wood trimming along the top helps to create a natural line of separation for a less drastic look.
Board and Batten
Another sage green paint wood paneling transformation, this bedroom is an example of how to separate the top and bottom halves of the wall without trimming. The shelf above the bed acts as a less evident but functional separator. It's not sitting directly where the green begins, which is an expert styling choice. The space gives the wall's design an airy and light appearance so that each section feels like one. The linen throw pillows also help pull the look together by creating a relationship between the wall and the bed.
Acoustic Wood Slat
Not only do these contemporary panels add luxurious glamour to your space, but they also have sound-absorbing qualities. Perfect for a bedroom, bathroom, or living room, use these panels for decoration or anywhere you want to reduce outside noise. The buttery wood pairs seamlessly with the gold accents in this bathroom for ultimate elegance. These panels offer style, peace of mind, and a break for your ears.
---
---
Decorate
Access design inspiration that infuses personality and culture into your spaces.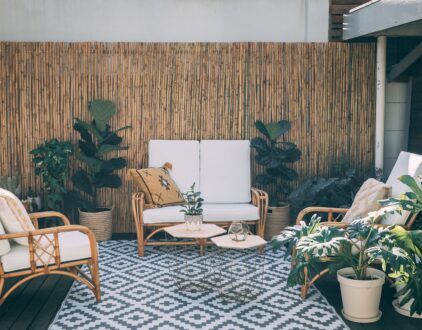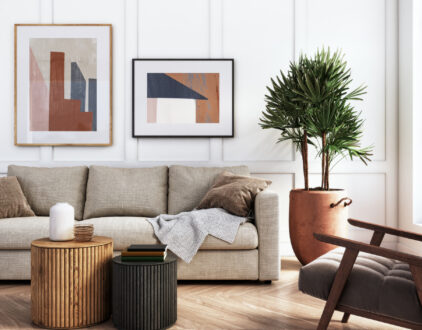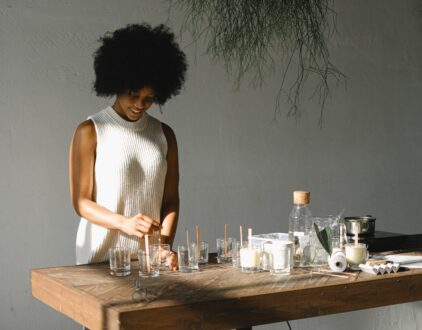 ---
Spaces
Whether it's luxury or ease, every area of your home should be as fabulous and unique as you.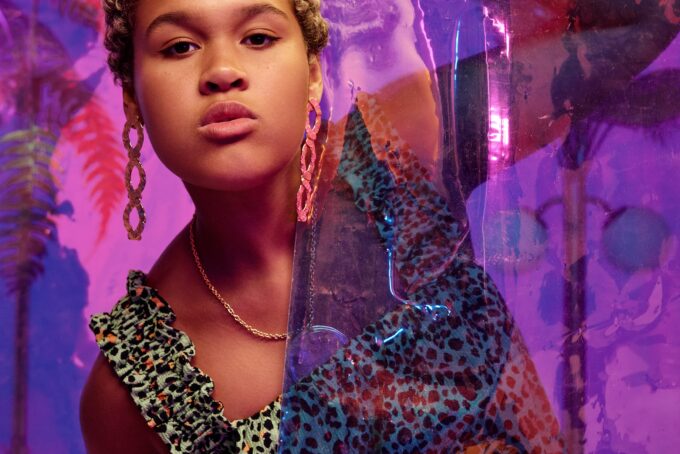 FOLLOW ALONG ON INSTAGRAM
Find us on social for more home inspiration where culture, personal style, and sophisticated shopping intersect to help you create a home where you love to live.