Spooky season is finally here, which means it's time to break out the haunted Halloween decor for another frightening year of fun! Every year, people prepare their homes for the big day by decorating their porches with creepy jack-o-lanterns or terrifying welcome mats. But this Halloween, you can go even bigger by decking out your entire front yard.
Quick and Easy Ways To Decorate Your Front Yard for Halloween
Let's face it, the homes with the creepiest decor are always the coolest to visit (bonus points if you turn your home into an actual haunted house). If you want to be the spookiest home on the block, here are a few easy ideas to get started:
Carve Pumpkins
No Halloween is complete without pumpkins, but not just any pumpkin — jack-o-lanterns! Turning a pumpkin into a creepy jack-o-lantern is an easy way to celebrate the frightening festivities, and you can find pumpkin-carving kits at most stores for a hassle-free experience.
Shop Inflatable Decor
For a more convenient way to decorate, shop for inflatable decor featuring spooky characters like ghosts or skeletons. When it comes to inflatable decor, there are many options to choose from. This means you can really get creative with gigantic monsters or light-up pumpkins.
Hang Spider Webs
Fake spider webs are a must for Halloween decor, especially if you're trying to recreate that creepy, abandoned haunted house feel. To DIY it, you can create thin wisps out of cotton balls or pillow stuffing. Or, for a quicker solution, shop for fake spider web material at your local craft store to drape over bushes and trees for a chilling effect.
Create Spooky Sounds
There's nothing more hair-raising than hearing a whisper or a creak in the night. To recreate that eerie feeling, set up a Bluetooth speaker near your front yard to play spooky ambient sounds such as footsteps or howling wind.
Set Up Skeletons
For a classic Halloween display, decorate your front yard with a spooky skeleton or two. You could prop your skeleton up on a lawn chair or porch swing or even lay it face-down on your lawn. To kick it up a notch, you can scatter fake skeleton bones throughout your yard for an even more unsettling display.
5 Scary Home Entrance Ideas for a Frightening Front Yard
From scary synthetic cobwebs to spooky ghost sounds, turning your dream home into a Halloween nightmare can be pretty easy to do. All you need are a few decent props and a little creativity and you can easily have the scariest front yard in the neighborhood. To learn how to make a frightening first impression, here are five spooky home entrance ideas to try out for Halloween:
A Humongous Inflatable Frankie
Nevermind decor, this gigantic green Frankenstein inflatable is all you need for a spooky addition to your home entrance.
A Lineup of Friendly (and Not So Friendly) Jack-o-Lanterns
What better way to celebrate Halloween than with a bevy of jack-o-lanterns? Try to use pumpkins in varying shapes, sizes, and facial expressions for the best results.
A Super Lit Halloween Entrance
Illuminate your walkway just like this home entrance that uses different types of lighting to create a spooky home entrance for trick-or-treaters.
A Frighteningly Festive Front Door
Festive wreaths aren't just for Christmas. You can shop for a creepy Halloween wreath like this one, or you can turn it into a DIY project using a wire frame and some raffia ribbon.
A Pair of Dangling Boneheads
Take your skeleton decor to the next level by wrapping them in gauze to create mummified skeletons.
---
---
Decorate
Access design inspiration that infuses personality and culture into your spaces.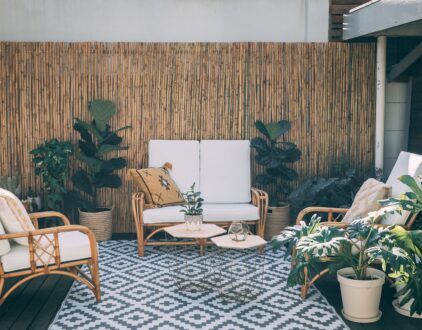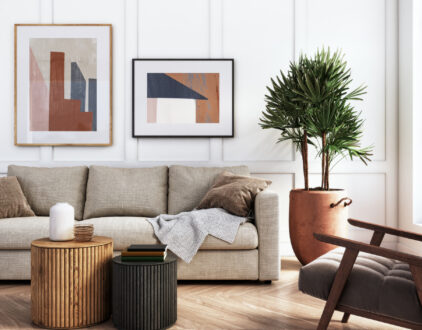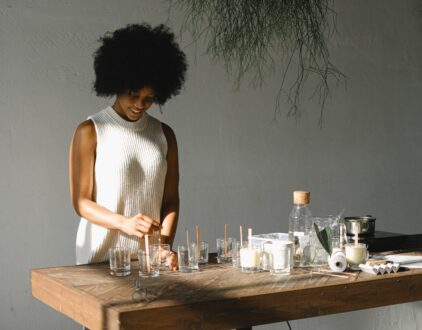 ---
Spaces
Whether it's luxury or ease, every area of your home should be as fabulous and unique as you.
FOLLOW ALONG ON INSTAGRAM
Find us on social for more home inspiration where culture, personal style, and sophisticated shopping intersect to help you create a home where you love to live.