Haunted Halloween parties are a fun and spooky way to kick off the changing seasons. Part of throwing a blood-curdling bash involves lots of Halloween decor to usher in a creepy ambiance. And from scary silverware to paranormal party hats, options are endless when it comes to preparing your home for your spooktacular event.
A Quick Guide To Planning a Haunted Halloween Party
Preparing for a Halloween party can take a lot of work, but with a bit of careful planning, you can ensure your party runs smoothly from start to finish.
When planning a party, you should calculate how much available space you have to host your guests. If you have a lot of space, you can plan for fun activities such as spooky scavenger hunts. Or if your home is on the smaller side, consider using your backyard instead.
Speaking of activities, you should also decide what you and your guests will do when the party starts. For example, you could cuddle up near your outdoor fireplace to exchange ghost stories. Or, you could create a playlist for a spooky dance party. A Halloween costume contest is a fun way to highlight the most festive partygoer. And a DIY cocktail craft station is perfect for livening up any party.
Spooky Decor for Your Haunted Halloween Bash
Now that temperatures are starting to cool down and the leaves are changing colors, many people are gearing up the celebrate the spookiest day of the year. And throwing a haunted Halloween party is a great way to celebrate this special, spooky day with loved ones. Whether you host a menacing meal with friends or a ghoulish game night with your neighbors, your Halloween party is sure to be a hit with the right decor. To discover creepy crawly, blood-curling decorations, here are seven spooky decor finds to shop for your Halloween bash:
1
48" LED Lighted Trees & Branches
This holiday season, swap the Christmas tree for this creepy black Halloween tree from The Holiday Aisle. This tree is decorated with teeny tiny orange lights to add a bit of spooky sparkle to your decor. And instead of leaving presents under this tree, you can sweets and treats for trick-or-treaters to enjoy.
2
Spooky LED Neon Sign
Brighten up your space with the 'Spooky' LED Neon Sign. You can hang your neon sign on the wall to welcome guests as they enter your home or you can place it on a table or countertop as decor. No matter how you decide to use it, this neon sign is a surefire way to spice up your Halloween party.
3
Halloween Fire Pits Skulls Decoration
Add frightening fuel to your outdoor fire pit with this set of six Fire Pits Skulls. Each skull is made from quality resin, making them strong and durable for lasting use. And the intricate detail in their design is terrifyingly realistic.
4
Vampire Neon Sign
This striking Vampire Neon Sign is the perfect decor for your spooky bash. Instead of glass, this sign is made from premium acrylic, which ensures it lasts longer. Plus, it promises up to 20,000 lifetime hours so you can display even after Halloween is over.
5
Inflatable Ghost Lamp
This extra-large inflatable ghost is a great addition to your haunted house. Each ghost comes equipped with a red light to give your ghost a glowing glare. Whether you use it indoors or outdoors, this ghoulish find is sure to be a hit at your next party.
6
Halloween Potion Bottles
Conjour up a spell or two with this set of Halloween Potion Bottles. Made from recycled glass, each bottle is handcrafted in varying sizes to add a realistic touch.
7
Carved Witch Pumpkin
This year, take the hard work out of pumpkin carving with this super convenient Carved Witch Pumpkin. This haggard witch is made from polyester resin, making it durable enough to use year after year. And without any lights, you can display this brooding witch inside and outside your home.
Our editors love finding you the best products and offers! If you purchase something by clicking on one of the affiliate links on our website, we may earn a commission at no extra cost to you.
---
---
Decorate
Access design inspiration that infuses personality and culture into your spaces.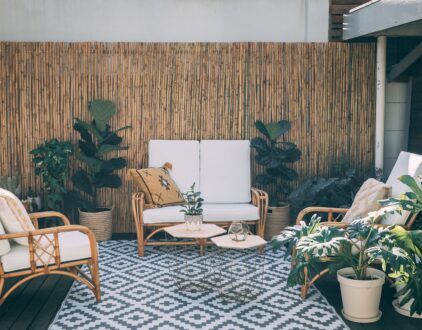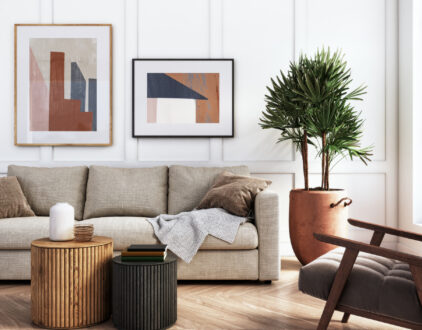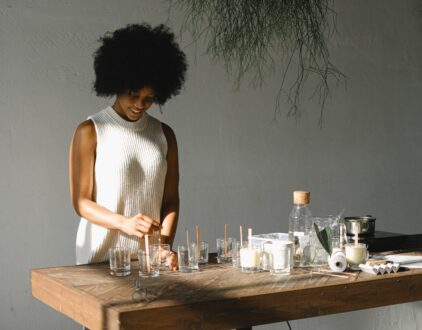 ---
Spaces
Whether it's luxury or ease, every area of your home should be as fabulous and unique as you.
FOLLOW ALONG ON INSTAGRAM
Find us on social for more home inspiration where culture, personal style, and sophisticated shopping intersect to help you create a home where you love to live.